KEEPERS: Dynasty reload - NL Outfielders
By Jock Thompson

@JOCKatHQ
December 2nd, 2011 12:00am
This is the seventh of a 10-column series designed to help owners playing in keeper league (KL) and dynasty formats look ahead over the next few years to address their weak spots. From now through December, we'll be putting forth by-position lists of our favorite low-dollar players and prospects. All could be relatively available in your leagues--and could earn double-digit dollars sometime over the next three seasons, between 2012 and 2014. Our criterion includes the following:
Player must be growth-age--27 years old--or younger as of Opening Day
Player must have earned less than $10 in 2011
Player must have accumulated at least 100 AB above A+ ball
It's easy to identify the top players at a given position looking forward, even without numbers at our fingertips. But while Adam Dunn's miserable 2011 reminds us that there are no sure things, the one certainty is that most "established" players are already firmly entrenched on one of your league's 2012 keeper rosters--and likely available only via trade offer of equal value. The ability of dynasty owners to identify available breakout-ready talent is a must in order to compete on an ongoing basis.
Like the AL, the NL has plenty of growth-age players who have a real shot at profitability--and at least a few now in a post-hype stage where some owners are willing to cash them in. We also have a few flyers that you may not have considered.
Jason Heyward (OF, ATL) struggled with LHPs, bad luck -- in the form of a 26% h% -- and shoulder injuries for most of 2011. But he was also just 21 years old for most of the season, which tells us to pay more attention to Heyward's pedigree, his double-digit bb%, and power metrics that included a 14% hr/f in spite of the health issues. Durability and the high GB% are concerns, but if the Heyward owner in your league has weak hands, now is the time to approach him.
A broken hand in March and an in-season thumb injury likely had something to do with Domonic Brown's (OF, PHI) 2011 power outage, and even perhaps some of his h% issues. The good news is that Brown's patience showed significant improvement--13% bb% -- while his speed held firm in a lost season. Brown just turned 24 years old, and like Heyward, we'd advise patience if you own him, and a call to his owner if you don't.
Jose Tabata (OF, PIT) is another young NL OF who never really got going in 2011 thanks to injuries--in his case, hamstring, thumb, quad and finally a season-ending hand fracture. These issues clearly cut into his Spd and running game, but Tabata's patience actually perked up (11% bb%) in an otherwise forgettable sophomore year. With better health, his recent xBA and contact history--along with a green light on the base paths -- should fuel a rebound into double-digit fantasy earnings.
A .342 hitter over 1100 minor league AB, J.D. Martinez (OF, HOU) hiked his power and patience during his 2011 AA-Corpus Christi performance, helping him earn a 2H call-up. His patience didn't hold up, but his power and a .274 BA / .280 xBA looked fine in a 200 AB MLB debut. Martinez has adjustments to make over the short-term, suggesting that he might struggle in 2011. But Minute Maid Park is friendly to RH hitters, and he has a chance to put up some decent seasons there.
One-trick ponies Eric Young (OF, COL) and Tony Campana (OF, CHC) exhibit plus Spd and enticing SBOs. And in spite of seeing less than 200 AB, both came within a hair of earning $10, thanks to elite SB%s that resulted in 27 and 24 swipes, respectively. Both are powerless and relatively contact-challenged for lead-off types; Young needs to show better defense and Campana needs better patience to see more AB. But both are already rosterable for deep-league owners needing speed.
Similarly, a 126 Spd is the only above-average tool being flashed by Alex Presley (OF, PIT), and his plate skills--particularly a 6% bb% -- are light for a leadoff hitter. But Presley parlayed nine SBs and a little more pop into a decent .285/.276 MLE BA/xBA over a 215 AB season. Even with limited upside, Presley barely fell short of earning $10 in 2011. His handedness gives him a chance to see 350-400 AB in 2012.
Brandon Belt (1B/OF, SF), Jerry Sands (OF, LA), Yonder Alonso (OF, CIN) and Kyle Blanks (OF, SD) all received mention in our column on first basemen as having double-digit earnings potential. All of them already qualify in the OF in 20/5 leagues, while Belt has the added attractiveness of qualifying at both positions in spite of his limited MLB time in 2011.
Missed the cut, but worth mentioning ...
Carlos Gomez (OF, MIL): Could clueless pitch selection be mitigated slightly by new swing-for-the-fences approach, as suggested by PX, xPX? Looks platoon-ish, but still owns plus running game, defense.
Chris Coghlan (OF, FLA): Plagued by shoulder and knee issues, and fortunate 2009 is long gone. Still, xBA says he's not a .220 hitter, and prior Spd, SB% suggest double-digit dollar upside. With health and playing time.
Jordan Schafer (OF, HOU): Without power, he needs to re-discover double-digit bb% to take advantage of speed. Has first shot at HOU CF job, though details of his recent arrest suggest that his brain remains a work-in-progress.
J.B. Shuck (OF, HOU): Career .300 hitter, 89% ct%, 11% bb% in minors all translated well in 81 AB MLB trial. Good defender with no idea how to use 128 Spd on base paths (62% SB%) -- yet. Mild surprise potential?
Collin Cowgill (OF, ARI): Suffered initially due to lack of patience in MLB debut, but AAA performance says it's there, along with some base running skills and a little pop. Limited upside, needs opportunity.
Tyler Colvin (OF, CHC): In spite of awful 2011 bottom line, xPX and FB% says power upside remains--but at the cost of your BA. Handedness works in his favor PT-wise, but his opportunity clock is ticking.
Dave Sappelt (OF, CIN): Slashing contact hitter whose CIN debut was marred by mediocre patience and too many GBs. Overachiever with limited MLB upside, but minor league numbers say he's watchable.
Bryce Harper (OF, WAS): Elite hitting prospect likely won't make MLB debut until late 2012 at best, but he's an obvious inclusion here. Could be profitable as early as 2013.
Brett Jackson (OF, CHC): Power, patience, defense will play at MLB level, but poor contact could make him a BA liability at least in the short-term. Growing pains are possible in 2012-2013.
Fernando Martinez (OF, NYM): Hard to believe he's still just 23. Durability, pitch selection remain obstacles, but age, LH power and athleticism are on his side. With health, he could still have a career.
Starling Marte (OF, PIT): Still plagued by poor pitch selection, still not maximizing all of his athleticism. But he also led all AA Eastern League hitters in BA, hits and doubles while playing solid CF defense. Any improvement could bring him to PIT in a hurry.
For more information about the terms used in this article, see our Glossary Primer.
Shopping Cart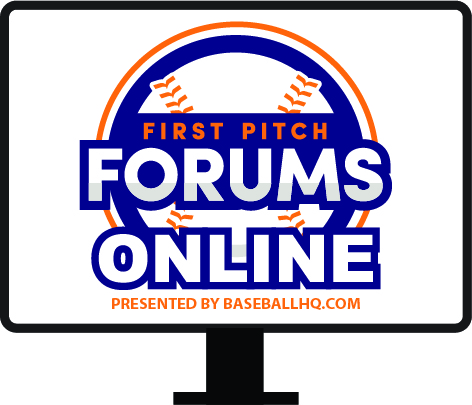 Our virtual First Pitch Forum returns!
Three online-only events: March 5, 11, 17
Join us live, or watch when you want
Just $19!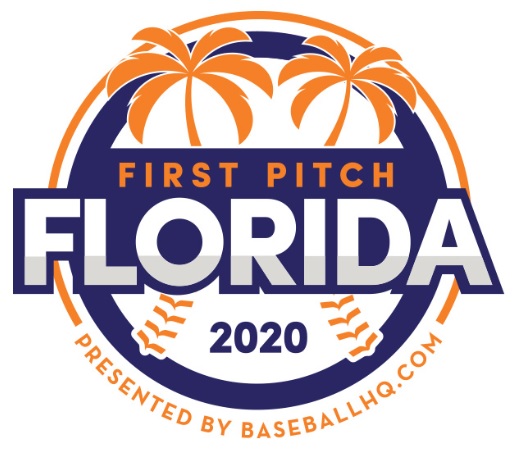 Inaugural Event!
February 28-March 1, 2020
St. Petersburg, FL
A few seats still left!