KEEPERS: 2020 Building Blocks—OF (NL)
By Brad Kullman

@BradKullman
January 28th, 2020 1:05am
We continue our annual off-season series focused on helping keeper league and dynasty owners identify useful targets that may be available in the current off-season. Each week we examine a different position, looking for players ("pieces") that have potential to be solid parts in the construction of a winning fantasy franchise. We group them under three general designations:
CORNERSTONES – Premium quality franchise difference-makers, essential to the foundation of a true dynasty juggernaut. These pieces are top priority acquisitions, either by draft or trade.
BUILDING BLOCKS – High quality players with potential to be solid elements of a winning core. Desirable pieces that should be targeted as part of the ongoing championship franchise building process.
SUPPORT PIECES – More interchangeable lower grade parts that may provide help in a specific category or offer a lower ceiling than more desirable foundation pieces.
Players are listed with 2020 season age and major league organization, along with a designation if left-handed hitter (*) or switch-hitter (#).
We will attempt to identify top building targets who may be available by using the following criteria:
​Will play majority of 2020 season at 25 years old or younger (25 as of July 1, 2020)
Earned less than $10 in standard 5x5 roto in 2019
Reasonably projected to be MLB-ready at some point during 2020 season (may extend time horizon for Cornerstones)
Please see the Organization Reports in our Scouting section for more detailed, team-by-team analysis on prospects discussed here. Also, from time to time there may be slight differences between evaluations offered in this series and in our Organization Reports. Use that as your reminder that evaluations can differ. For each individual roster decision, you must factor in your specific team needs and goals.
Previous articles in this series: C | 1B | 2B | 3B | SS
With our look at the infield complete, we now move to the outfield. We examine the National League this week, followed by a look at the American League next week.
CORNERSTONES
Corbin Carroll* (19, ARI) – The Diamondbacks' first round pick last summer out of high school, Carroll is more of a grab-and-stash target for keeper leagues that reward long-range speculation. It's not that he is a "project" by any means. To the contrary, Carroll is quite refined for a youngster, which encourages confidence in betting on his future production, unlike many of the other players highlighted in this week's group. With speed to burn and elite acceleration, Carroll has exciting SB upside, but he is no one-trick pony. Superior control of the strike-zone (0.71 Eye) portends a high OBP, combined with the ability to hunt pitches with which he can do damage. When he swings, Carroll is no punch-and-judy type. He swings with authority and shows the potential to develop more power than his 5-foot-10 stature might suggest. Lenny Dykstra, another 5-10 sparkplug, makes for an intriguing comp. The solid foundation combined with upside potential makes Carroll a premium Cornerstone target at whichever point a keeper league's structure rewards investing in such a young player.
Dylan Carlson# (21, STL) – A prep first baseman known for his power, Carlson was selected in the first round out of high school in 2016 and has been pushed aggressively by the Cardinals despite consistently mediocre results. In 2019, as the second-youngest player in the double-A Texas League, he finally blossomed, posting a career-best .281/.364/.518 line before finishing with an even better three-week run at triple-A. The key to the switch-hitting Carlson's breakout was a massive improvement from the left side of the plate, as he posted a career-best .299/.381/.551 line against right-handed pitching while his solid numbers versus lefties remained stable. A curious aspect of Carlson's approach at the plate is that he seems to be very pull-oriented from the left side, while he has a much more all-fields approach from the right side. This is unusual for a switch-hitter, as they tend to have opposite profiles for reasons that are beyond the scope of this column. Twenty-seven of Carlson's 32 (84%) professional home runs from the left side have been to the pull side, as opposed to only 6 of 15 (40%) from the right side. His overall spray charts are similar. Career pull-center-oppo rates are 48-28-24% vs. RHP and a more balanced 32-36-32% vs. LHP. This is relevant mainly because Carlson's breakout coincided with a rather high 34.4-percent hit rate from the left side that jumped to 37.5% at triple-A. It will just be interesting to see if his LHH improvement is somewhat neutralized by aggressive defensive shifts in the big leagues. Carlson is, by all accounts, a very hard worker, who has developed the ability to play all three outfield positions, putting himself in the mix for quick major league consideration toward the second half of 2020.
Heliot Ramos (20, SF) – A first round pick at 17 years old in 2017 out of Puerto Rico, Ramos was considered a big-time power prospect who was extremely raw. While his contact rate has been marginal at best, his ability to find success as one of the youngest players in the high-A California League is encouraging. Ramos displays a fine all-fields approach at the plate (only half of 16 HR in 2019 were to pull side), which helps him to handle right-handed pitching just as well as lefties and should support making better contact as he matures and continues to gain experience. While Ramos could reach triple-A this season, his big league debut will likely not come until mid-2021.
BUILDING BLOCKS
Hunter Bishop* (22, SF) – The tenth overall selection in last summer's amateur draft, Bishop offers plus-plus power and plus speed with the only question being if he can make enough contact to make the exciting tools play. Bishop tends to work deep counts, which aids his OBP but can also put him in a hole. He may need to become a bit more aggressive as he faces better pitching. While he finished the season in advanced short-season rookie ball, as a major college product (Arizona State), Bishop could potentially move quickly. His tools are worth targeting.
Drew Waters# (21, ATL) – A switch-hitter who laces line drives to all fields, Waters projects as a fine hitter with a modicum of power and moderate speed on the bases. While slightly better from the left side of the plate, Waters is no slouch from the right side. Interestingly, he has posted very high hit rates from both sides of the plate throughout all three years as a professional. The biggest concern is an aggressive approach a that has seen Waters post anemic contact rates, especially the past two seasons. Waters was the youngest player in the IL (that's International League, of course) as he offset a horrid 60-percent contact rate with a ridiculous 42.9-percent hit rate over the final month of the 2019 season. Amazingly, this was slightly below the ridiculous 43.6% hit rate Waters rode over the four months before that at double-A. As he approaches the big leagues, it would stand to reason that something's gotta give. Either big league pitchers will find a way to exploit his aggressiveness or superior glove men playing advanced defensive shifts will neutralize his stratospheric hit rates. Or maybe Waters is just that good of a bat handler. It will be worth watching.
SUPPORT PIECES
Adam Haseley* (24, PHI) – While his track record is not one suggesting exciting upside, Haseley makes good contact, which he complements with moderate power and speed. He is still young enough to grow and has performed reasonably well enough against left-handed pitching as a professional. Best of all, Haseley is positioned to enter 2020 spring training as the Phillies everyday center fielder, which holds significant value.
Jared Oliva (24, PIT) – An unheralded seventh round draft pick out of U of Arizona in 2017, Oliva has quietly made his way up through the Pittsburgh farm system. He has shown he knows how to get on base and then knows how to use his wheels once he gets there. Oliva's career-best 36 stolen bases ranked second in the double-A Eastern League in 2019 before he paced the Arizona Fall League with 11 more swipes during a sterling campaign that saw him post a .312/.413/.473 line. He has a bit of pull-side power, though it is not a big part of his game. Oliva will likely begin the season at triple-A, but is just the type of under-the-radar player who can get a mid-season call and make an unexpected impact, similar to what Bryan Reynolds did in the same organization last year. Keep Oliva on your radar (along with the status of snake-bitten Gregory Polanco).
Josh VanMeter* (25, CIN) – Though not in position to start as spring training approaches, VanMeter appears on the depth chart at virtually every position for the Reds, which is an asset that tends to come in handy in most fantasy formats. VanMeter came out of nowhere last year with a fantastic start at triple-A, which he carried to the big leagues, posting a .296/.383/.459 line over his first 62 major league games. While he ran out of gas down the stretch, his versatility combined with a mix of decent power and speed offer good potential under-the-radar value.
Ian Happ# (25, CHC) – Once looking like a future star, Happ increasingly looks more like a poor man's VanMeter. After spending the first four months of 2019 banished to the minors to "work on making contact," Happ, along with his anemic 68.5-percent triple-A contact rate, was recalled. Surprisingly, his contact actually improved a bit over the final two months in the big leagues, as he slugged a surprising .564. Happ offers similar potential versatility to VanMeter, having appeared in at least five games at every position except catcher and first base. He is penciled in as the Cubs starter in center field as spring training approaches, but his maddening whiffiness continues to make him a high-risk investment.
Austin Riley (23, ATL) – Called up in mid-May of last year, Riley broke in with a bang before fizzling out after his first trip around the league. He is included in this column, as he played mainly left field last season, but Riley is now reportedly in line to move back to third base in 2020. The challenge will be overcoming an anemic 61-percent contact rate that dipped to a horrendous 55 percent as he finished with a .164/.217/.329 line over his last 46 games. The power is real and he seems to have a legitimate opportunity for playing time, but if the Braves plan to contend again, Riley could just as easily find himself back in triple-A trying to figure things out. Quickly turning into a BA-drag, power-only, high-risk investment.
Tyler O'Neill (24, STL) – Boatload of power, but difficulty making enough contact to make it useable. Fortunately for his sake, O'Neill missed so much time in 2019 due to injury that the Cardinals braintrust apparently feels he is still going to magically work through it. As such, O'Neill is in line to head to spring training with the left field job his to lose, and lose it, he most probably will. The only question is time. The continued development of phenom Dylan Carlson, above, may have something to do with it.
Cristian Pache (21, ATL) – An excellent center fielder, Pache might make for a more interesting target in sim leagues. The speed that allows him to excel defensively has failed to translate in the form of effective base-stealing, leaving him dependent on his moderate pull-oriented power for offensive value. Unfortunately, a subpar contact rate combined with the fact that every one of his 21 professional home runs have been pulled to left field does not bode well for difference-making results against big league pitching. He has time on his side, but Pache has much more work to do before he can be counted on as a solid dynasty league foundation piece.
Monte Harrison (24, MIA) – A poor man's Billy Hamilton. While Harrison's power-speed combo bring upside dreams similar to the unreal SB potential Hamilton once provided, the embarrassing inability to put the bat on the ball is far worse for the latest phenom. To put it in perspective, Hamilton's worst season of whiffing in the minor leagues (71.7% contact rate his first year in Rookie ball) was far better than the combined (64.8%) contact rate Harrison has managed across six professional seasons. In fact, Harrison has been so inept that pundits seem to be impressed that he raised his anemic rate of making contact to an atrocious two-thirds of his at-bats in 2019. Sure, he may run into a few long balls and swipe a few bags for the perennially tanking Marlins, but the occasional blips of fantasy goodness will not be worth the heartache.
DON'T FORGET ABOUT...
Brandon Nimmo* (27, NYM) – A bulging disk in his neck led to missed time and was likely a drag on Nimmo's subpar performance even when he was able to get on the field in 2019. Nimmo still offers a moderate power-speed mix with an intriguing ability to work a walk. Finally healthy, Nimmo quietly posted a strong finish, with a .283/.400/.604 line over the final three weeks. He now heads to spring training penciled in as the starting center fielder. Nimmo offers late-round profit potential.
For more information about the terms used in this article, see our Glossary Primer.
Shopping Cart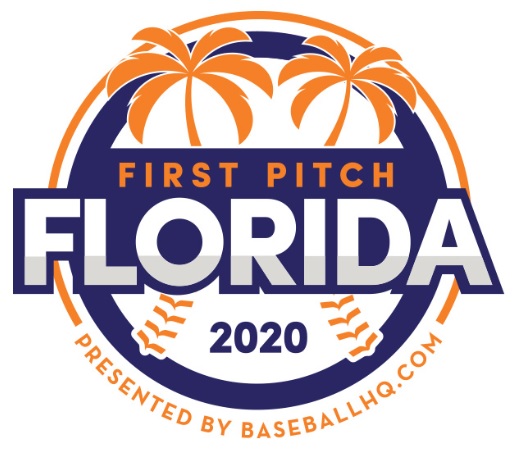 Inaugural Event!
February 28-March 1, 2020
St. Petersburg, FL
A few seats still left!