KEEPERS: 2019 Building Blocks—Catcher
By Brad Kullman

@BradKullman
December 18th, 2018 12:04am
Photo: Kiebert Ruiz (C, LA)
This is the first installment of our annual off-season series focused on helping keeper league and dynasty owners identify emerging targets that can ensure perennial title contention. We've refreshed the format this year and have renamed the series "Building Blocks," but the goal remains the same: To identify top prospects and young players at each position who can be procured before they become household names, so keeper league owners can continually build upon the foundation for long-term success that prevents the need for white-flag-waving, tanking-oriented rebuilds.
Each week we will examine a different position, looking for players ("pieces") that have potential to be solid long-term contributors to a winning fantasy franchise. Obviously different keeper/dynasty formats allow for varying degrees of speculation on unproven players, so you will need to adjust your sights on these targets. Accordingly, for the purpose of this series, we will group players under four general designations:
Cornerstones: Premium quality franchise difference-makers, essential to the foundation of a true dynasty juggernaut. These pieces are top priority acquisitions, either by draft or trade.
Building Blocks: High quality prospects with potential to be solid elements of a winning core. Desirable pieces that should be targeted as part of the ongoing championship franchise building process.
Support Pieces: Interchangeable lower grade parts that may provide help in a specific category or offer a lower ceiling than more desirable foundation pieces.
Dicey Accessories: Lower probability, high-risk players who may be targeted for upside gambles, but who should not be counted on as core championship pieces. (Possible trade-chip candidates if timed properly.)
Players are listed with 2019 season age and major league organization, along with a designation if left-handed hitter (*) or switch-hitter (#). Please see the Organization Reports in our Scouting section for more detailed analysis on specific players and be sure to pick up a copy of the Minor League Baseball Analyst which makes a great complement to the indispensable Baseball Forecaster for league-winning insights on all relevant players.
We will attempt to identify top building targets within the following criteria:
​Will play majority of 2019 season at 25 years old or younger (25 as of July 1, 2019)

Less than 200 MLB AB in 2018 and less than 500 MLB AB career

Reasonably projected to be MLB-ready prior to conclusion of 2020 season (may extend time horizon for Cornerstones)
We start our tour of the diamond behind the dish. As discussed on the site and in the Baseball Forecaster, the catcher position has been increasingly devoid of significant offensive contributors in recent years, let alone difference-makers. Especially in two-catcher leagues, teams that can manage to field a pair of non-negative performers will gain an edge on the competition.
CORNERSTONES
Kiebert Ruiz# (20 years old, LA) – After emerging as possibly the best hitting catching prospect in the game over his first two seasons as a pro, Ruiz cooled off a bit in 2017, slashing .268/.328/.401. While the marks were all career lows, it should be noted that he was the second-youngst player in the Texas League (behind only Fernando Tatis Jr.) and is slated to start the 2019 season in triple-A as a member of the Dodgers 40-man roster, all of which puts him on the verge of making his big league debut at any time. Though defense is not his calling card, it is a sufficient complement to his fine offensive game. With a solid contact-oriented all-fields approach at the plate, Ruiz has the potential to give fantasy owners one less thing to worry about as he provides solid value at a tough position. The lack of difference-making power limits him to borderline cornerstone status, but with the state of catching as it is, we'll keep him in our sights as a premium foundation piece.
Francisco Mejia# (23, SD) – May not be premium cornerstone piece he was once considered to be, especially in new pitcher-friendly home park, but still offers excellent long-term potential. Padres appear committed to keeping him behind the plate, though he may work in as complement to incumbent Austin Hedges in the near term as Mejia refines his defense. Power expectations should be kept in check, but the potential for switch-hitting offensive production keeps him at cornerstone status. A young catcher still worth investing in for the offensive potential, possibly at a price that has been depressed by a pair of underwhelming MLB cameos.
BUILDING BLOCKS
Danny Jansen (24, TOR) – Projected to take over starting catching duties for the Blue Jays, Jansen offers a solid all-around offensive profile. Always featuring solid plate discipline, Jansen's career took off in 2017 after he realized he needed glasses. He offers solid power with a chance for plus batting average and maybe even the occasional SB. At the offensively barren catcher position, Jansen is worth targeting as both a long-term asset and immediate contributor.
Andrew Knizner (23, STL) – Excellent bat, and has only been catching since 2015 when he was converted from 3B in college. "He always hit," testifies Washington shortstop and college teammate Trea Turner, and his pro track record has consistently been more of the same. Still a bit unrefined behind the plate, but good athleticism provides basis for optimism in completing conversion. Trade of Carson Kelly to Arizona opens door for Knizner to become understudy and heir apparent to Yadi Molina.
Daulton Varsho* (22, ARI) – Offering a strong, athletic profile with a blend of power and speed, the stocky Varsho swiped 19 bases in 80 games in the offense-oriented California League. Perhaps the biggest risk to Varsho's building block catcher status is fringe-average arm strength. Combined with his plus athleticism, he runs the risk of eventually being converted to a still useful utility type if he can't stick behind the plate, though the Diamondbacks have resisted moving in that direction to this point.
SUPPORT PIECES
Sean Murphy (24, OAK) – Rocket-armed defense-oriented backstop. May get enough regular at bats to be moderate contributor in counting stats, but projects to be more valuable in sim leagues and real life than most fantasy formats.
Carson Kelly (24, ARI) – Though hyped as the heir apparent to Yadier Molina, the defensive-oriented Kelly has yet to post anything close to respectable offensive numbers in brief big league opportunities over the past three seasons. Of more concern are rather pedestrian numbers in the Pacific Coast League during that same span. The Cardinals shipped him to Arizona in the recent deal for Paul Goldschmidt, which would seem to open up opportunity for Kelly. The question will be if he can hit enough to work his way into significant playing time.
Chance Sisco* (24, BAL) – A supposed bat-first prospect, Sisco has essentially struggled with the stick since reaching triple-A. With the Baltimore job his for the taking, the time is now. Until he can show otherwise, however, he cannot be counted on for more than a flyer by fantasy owners. Only his immediate pending big league opportunity keeps him from officially dropping into Dicey territory.
Victor Caratini# (25, CHC) – Good numbers in the hitter-friendly PCL the past two years have not translated to major production in his limited big league opportunities. He may still be considered to have some offensive upside if given extended opportunity, but as a backup catcher, his fantasy value is limited at best.
Reese McGuire* (24, TOR) – A plus defender that hits adequately from the left side is the tried and true recipe for a lengthy MLB run as a backup catcher. McGuire seems to fit the bill and would complement aforementioned right-handed hitting building block Danny Jansen nicely. Combined with a lack of power, this outlook severely limits McGuire's fantasy utility.
Meibrys Viloria* (22, KC) – With a similar profile to McGuire above, Viloria showed how valued this type can be to the big league club, as he jumped all the way from high-A to the big leagues last September. He should be expected to be a frequent passenger on the AAA-MLB shuttle over the next couple seasons.
Nick Ciuffo* (23, TB) – Yet another lefty-swinging plus defender, the once-high hopes for Ciuffo's bat that made him a first-round pick out of high school back in 2013 may be waning. He has never hit higher than .262 at any stop and his .189 mark in a limited 37 AB sample during his first big league look last September did nothing to alleviate concern. With minimal power, his attractiveness for fantasy purposes is severely lacking.
Thomas Nido (25, NYM) – A plus defender with power potential more evident in the batting cage than in games, Nido's outlook is more of a big league backup type with minimal fantasy utility.
DICEY ACCESSORIES
Zack Collins* (24, CHW) – Left-handed power bat complemented by patient approach, but undermined by inability to make consistent contact. Biggest concern is that subpar defense may prevent him from getting the consistent opportunity needed to allow patience and power to play.
Austin Allen* (25, SD) – Offensive-oriented lefty who may have trouble sticking behind the plate. Held his own at double-A in 2018, but started to see reps at first base. Big league home park will do him no favors either, though power upside makes him worth monitoring.
Garrett Stubbs* (26, HOU) – Though slightly older than our arbitrary cut for this column, we'll include Stubbs with the acknowledgement that catchers sometimes take a bit longer to develop. While his short, slender stature fosters concern about his ability to withstand the rigors of catching every day, his line-drive approach at the plate and heady defense behind it make him a prospect worth tracking. Recently added to the Houston 40-man roster, Stubbs stands to see big league opportunity beginning in 2019.
Tyler Stephenson (22, CIN) – Cincinnati's first-round pick out of high school in 2015, Stephenson has been on the slow track, due in part to injury issues. Above-average arm strength is offset by concerns that his large 6-4 frame will force him from behind the plate in time. The hope is that the size will someday transmit to plus power production, though signs of that development have been rare to this point.
Will Smith (24, LA) – A high school shortstop who converted to catcher in college, Smith has developed into an outstanding defensive receiver with a strong arm. His power potential further excites the imagination of scouts, but the reality of a contact-challenged approach at the plate significantly dampers his odds of it all paying off for fantasy owners. The offensive upside of cornerstone talent Kiebert Ruiz, who is nipping at Smith's heels in the same organization, further clouds his outlook.
Jacob Nottingham (24, MIL) – Acquired from Oakland in the Khris Davis deal prior to the 2016 season, the hulking Nottingham was viewed as a future slugger whose powerful bat would make his marginal defense passable. Other than a 50-game stint in the thin air of Colorado Springs last summer, however, the power has been largely absent since coming to the Brewers. Despite the fact his major league park offers a fine power hitting environment and there is little substantive competition standing in his way, it would appear the smart move for a dynasty league owner would be to sell the power potential while you still can.
Alex Jackson (23, ATL) – Drafted in the first round by Seattle out of high school as a big-time power hitting prospect, Jackson has been unable to make enough contact to consistently tap into that power. Though he has a plus arm, Jackson's marginal defense combined with the bleak offensive outlook make him a very long shot for significant fantasy value.
Jake Rogers (24, DET) – An outstanding defensive backstop with some pop in his bat, the only thing holding Rogers back is the ability to consistently put the ball in play. Unfortunately, that is a major flaw, making his odds of providing fantasy value relatively long.
For more information about the terms used in this article, see our Glossary Primer.
Shopping Cart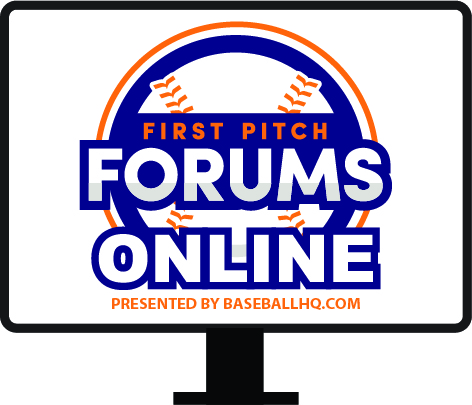 Our virtual First Pitch Forum returns!
Three online-only events: March 5, 11, 17
Join us live, or watch when you want
Just $19!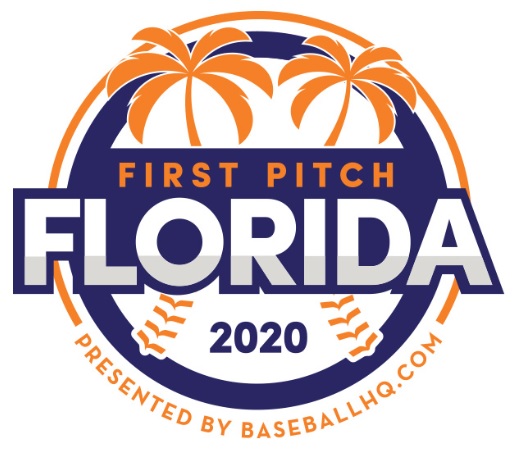 Inaugural Event!
February 28-March 1, 2020
St. Petersburg, FL
A few seats still left!