KEEPERS: 2019 Building Blocks—1B
By Brad Kullman

@BradKullman
December 26th, 2018 12:00pm
Photo: Peter Alonso (1B, NYM)
This is our annual off-season series focused on helping keeper league and dynasty owners identify emerging targets that can ensure perennial title contention. We've refreshed the format this year and have renamed the series "Building Blocks," but the goal remains the same: To identify top prospects and young players at each position who can be procured before they become household names, so keeper league owners can continually build upon the foundation for long-term success that prevents the need for white-flag-waving, tanking-oriented rebuilds.
Each week we will examine a different position, looking for players ("pieces") that have potential to be solid long-term contributors to a winning fantasy franchise. Obviously different keeper/dynasty formats allow for varying degrees of speculation on unproven players, so you will need to adjust your sights on these targets, accordingly. For the purpose of this series, we group players under four general designations:
Cornerstones: Premium quality franchise difference-makers, essential to the foundation of a true dynasty juggernaut. These pieces are top priority acquisitions, either by draft or trade.
Building Blocks: High quality prospects with potential to be solid elements of a winning core. Desirable pieces that should be targeted as part of the ongoing championship franchise building process.
Support Pieces: Interchangeable lower grade parts that may provide help in a specific category or offer a lower ceiling than more desirable foundation pieces.
Dicey Accessories: Lower probability, high-risk players who may be targeted for upside gambles, but who should not be counted on as core championship pieces. (Possible trade-chip candidates if timed properly.)
Players are listed with 2019 season age and major league organization, along with a designation if left-handed hitter (*) or switch-hitter (#). Please see the Organization Reports in our Scouting section for more detailed analysis on specific players and be sure to pick up a copy of the Minor League Baseball Analyst which makes a great complement to the indispensable Baseball Forecaster for league-winning insights on all relevant players.
We will attempt to identify top building targets within the following criteria:
​Will play majority of 2019 season at 25 years old or younger (25 as of July 1, 2019)

Less than 200 MLB AB in 2018 and less than 500 MLB AB career

Reasonably projected to be MLB-ready prior to conclusion of 2020 season (may extend time horizon for Cornerstones)
Previous articles in this series: Catcher
This week we continue our tour around the diamond at first base. Today's offensive environment mandates that big bats be a priority at the corners and there are a few good ones on the way at the first sack worth targeting in dynasty formats.
CORNERSTONES
Peter Alonso (24 years old, NYM) – Tremendous raw power whose home runs have quickly become the stuff of legend, Alonso predictably has some swing-and-miss in his game, but complements it with solid patience. His 16% walk rate and .60 Eye across double-A and triple-A last season are both excellent marks. Though he is a clogger on the bases and a subpar defender, Alonso is praised for his work ethic and should at least be competent enough at first base to play every day in the National League. As arguably the premier power hitting prospect in the minors heading into 2019, Alonso is a premium dynasty target.
Ryan Noda* (23, TOR) – An athletic, lefty-swinging slugger, Noda's remarkable patience and discerning eye are quickly evoking memories of a young Kevin Youkilis, who coincidentally is a graduate of the same University of Cincinnati that produced Noda. Interestingly, Noda asserts that he models his "selective aggressiveness" hitting approach after Joey Votto, who he played in close proximity to during his time at UC. Though he has initially been moved slowly by the tanking ("rebuilding") Blue Jays during his first two professional seasons, it would not be a surprise to see Noda's development accelerated this summer if he continues to produce as Toronto shifts back into "compete" mode. Noda is a very good athlete, who is not only a plus defender at first, but possesses enough speed and arm strength for the outfield, as well. He has appeared in five games in center field during his first two pro seasons, while swiping 21 bags, providing hints that speed is part of his game, as well as his plus power. All of this combined with the waiting offensive environment of his future home park, make Noda an intriguing cornerstone target who is still flying under the radar.
Josh Naylor* (22, SD) – Drafted with the 12th overall pick in 2015 because of his prodigious raw power, all Naylor has done since signing is hit. Ironically, he has had some difficulty translating his raw power into game production, which is probably why he doesn't get more respect from scouts. Concern is compounded by a stocky, pudgy build that draws comparisons to a young Prince Fielder. Er, how'd that turn out? Interestingly, several clues point to more than just a similar build to Prince. They may also share the same hardwired makeup (explained in depth at First Pitch Arizona 2017), which would explain Naylor's surprising athleticism for his size. While early scouting reports insisted he would be confined to first base despite his plus arm, the Padres deployed him in left field for 89 games last year in double-A. ("He's graceful and athletic out there," according to his double-A manager.) Immaturity has also been brought up as an issue, which is reminiscent of Yasiel Puig, another player with the same hardwired makeup as Prince Fielder. If this is, indeed, the case, Naylor's range may well be limited, but he should be quite capable of tracking and reeling in a fly ball. The apparent reason for the outfield work is the albatross of a contract San Diego hamstrung themselves with in tying themselves to seven more years of Eric Hosmer. Even if the outfield conversion is not successful, however, this could be favorable for fantasy owners, as the Padres may resort to trading Naylor, which would get his bat into a better hitting environment than LH-killer PETCO Park. Either way, Naylor comes off a season in which he showed good power growth and a fantastic Eye (0.93), and is now projected to open the season at triple-A as just a 21-year old (he does not turn 22 until June). It may admittedly be going out on a limb by giving him cornerstone status, but this is a guy worth tracking for sure and getting him on the cheap before your competitors even know his name.
BUILDING BLOCKS
Evan White (23, SEA) – The rare lefty thrower/righty hitter, White's sweet swing is reminiscent of one from the port side. He is an excellent all-fields hitter and a good athlete with the potential to hit for adequate power as he gains strength. A superior glove man around the bag at first, White projects as an everyday player with all-star potential who can produce in every fantasy category, including a handful of stolen bases. The only thing keeping him from Cornerstone status is the question of how much power he will hit for. He projects as a quality addition in virtually all formats.
Nate Lowe* (23, TAM) – The older brother of outfielder Josh Lowe, who Tampa Bay selected in the first round of the 2016 draft, Nate was an afterthought to most observers when he was selected in the 13th round of the same draft. That all changed when he slashed .330/.416/.568 across three levels this past summer, shooting up to triple-A after two relatively nondescript pro seasons. An adjustment to his swing during the offseason reportedly enabled him to better turn on inside fastballs, resulting in his plus raw power finally showing up in games. After hitting only 11 home runs over his first two professional seasons, Lowe erupted for 27 long balls in 2018. Though he cooled off somewhat after reaching triple-A, his all-fields approach combined with plus patience (12.5 bb% and 0.69 Eye over three pro seasons), offer encouragement that his development will continue.
SUPPORT PIECES
Seth Beer* (22, HOU) – A widely hyped phenom since being named national collegiate baseball player of the year as a freshman in 2016, Beer was the first round pick of the Astros last summer. His big-time raw power from the left side excites scouts, but is offset by poor athleticism that not only makes him a clogger on the basepaths, but has him on a DH-type projection. While his pro debut was reasonably strong, he tailed off a bit in the final month after a promotion to the high-A Carolina League. Development will need to be monitored for clues that he can be capable enough defensively to eventually qualify at first base or left field, while he will need to hit enough to allow the power to play. Beer may well end up being a fantasy asset, but there's too much risk surrounding him at this point to count on it.
Matt Thaiss* (24, LAA) – A converted catcher with a solid hit tool, Thaiss does not project to hit for much power, limiting his fantasy usefulness. Though he would appear to be close to the majors after spending the entire 2018 season in triple-A, he is not yet on the 40-man roster, which leaves him further from his next promotion than it might appear. This profile is the type that can be added for short-term help based on need once he is actually playing regularly at the major league level.
Bobby Bradley* (23, CLE) – The poster child for what makes up a classic prospect in today's game, Bradley features lots of home runs, even more strikeouts (68.7% contact rate across four professional seasons), and a pedestrian batting average that is trending lower. Subpar defense and a platoon-type profile round out the package. More likely to provide a short-term power boost during hot streaks than to be an integral part of a fantasy championship core.
Edwin Rios* (25, LA) – A lefty slugger with an aggressive approach, Rios has surprisingly been able to hit .302 across four professional seasons despite a mediocre 72% contact rate. While that may be in part to a seemingly unsustainable .378 BABIP, it also may be a testament to how hard he hits the ball when he does make contact. A strong work ethic may help him to overcome defensive limitations, increasing his versatility, while a trade could also open up opportunity.
Ryan O'Hearn* (25, KC) – Was surprisingly productive over a 44-game debut trial with the Royals to finish last season as the team played out the string. Has the inside track to win the starting job at first to begin 2019. Potential to approach 20 homers while being a drag on batting average.
Rowdy Tellez* (24, TOR) – Bounced back from disappointing 2017 with a solid 2018 that got even better after promotion to big leagues. Some metrics point to his small sample success not being supported, however, including a 2/21 BB/K in just 73 plate appearances. Home park increases odds of production, but increasingly looking like more of a short-term need-based addition than a dependable investment.
Sam Travis (25, BOS) – Now has a three-year track record of middling production across the board between triple-A and the big leagues, but with substantial splits favoring production versus left-handed pitching. Unfortunately, weak side platoon advantage does not usually translate to a profitable fantasy investment.
DICEY ACCESSORIES
Brendan McKay* (23, TAM) – Perhaps the most perplexing of the top first base prospects, McKay maintains his top prospect status due to his two-way potential. Widely considered the best college hitter in the 2017 draft, McKay has struggled to a .221/.361/.366 line across his first two pro seasons. His overwhelming success on the mound at the same time sees his slow development as a hitter now serving as a drag on his mound development. We will examine this situation closer later in this series, but investment in McKay as a fantasy hitting asset is looking like an increasingly risky proposition.
Brent Rooker (24, MIN) – Plus power is compromised by a subpar 70% contact rate. As a right-handed hitter with a pull-oriented approach who struggles with hard stuff up in the zone and is susceptible to offspeed down and away, this is a significant red flag. Invest at your own risk.
Ryan McMahon* (24, COL) – Despite being hyped during his rise up the minor league ladder, the Rockies seem unwilling to commit to giving McMahon an extended everyday opportunity. His failure to force his way into more playing time over his first 200 MLB at bats has only further clouded the picture. A 65.5% contact rate has been the primary culprit and his substandard 71% rate over six minor league seasons dampens any enthusiasm that this is a passing issue. Adding first and second base to his defensive resume is the most encouraging development, as it lends hope to potential usefulness as a multi-position utility type, though finding consistent ABs may always be an issue.
Dominic Smith* (24, NYM) – Similar to McMahon, Smith has failed to impress during a pair of big league trials in part because of a weak 69% contact rate. For someone billed as a "pure hitter" as he rose through the minors, this is a surprising development, especially after he boasted an 82% contact rate while hitting .296 across six minor league seasons. The major league stumbles could see him soon running out of time with the Mets, as Peter Alonso is on the verge of forcing his way into the lineup and experiments with Smith in left field have failed to yield positive results. If he is going to become a fantasy asset, it will likely be with another MLB team.
DON'T FORGET ABOUT
Jake Bauers* (23, CLE) – Never got untracked after promotion to big leagues, posting a disappointing .201/.316/.384 line over 96 big league games last year. Now with a chance for a fresh start in Cleveland, Bauers will get the opportunity to contribute both at first base and left field. Near-term upside is probably moderate power with more help in OBP than BA.
Greg Bird* (26, NYY) – Tantalizing displays of power have been short-circuited by intermittent injuries and a meager 70% contact rate. Though hot-hitting Luke Voit usurped the starting job from a struggling Bird down the stretch last season, it appears the Yankees are not ready to throw in the towel on a player GM Brian Cashman once proclaimed "the best pure hitter" in the Yankees system. Of course, this early in the offseason, don't count the Yankees out of making a splash with some kind of high profile acquisition that reduces his odds, but Bird's health, opportunity, and production are worth keeping on the radar.
For more information about the terms used in this article, see our Glossary Primer.
Shopping Cart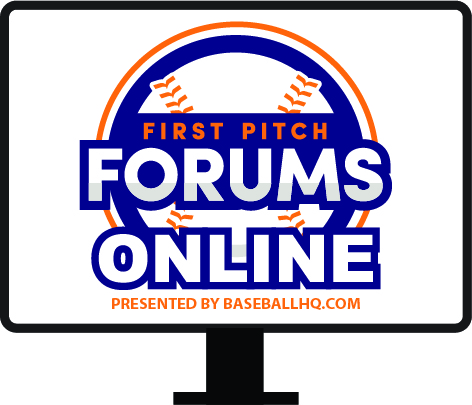 Our virtual First Pitch Forum returns!
Three online-only events: March 5, 11, 17
Join us live, or watch when you want
Just $19!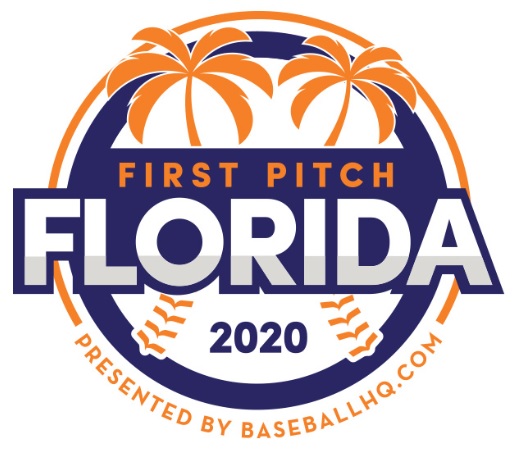 Inaugural Event!
February 28-March 1, 2020
St. Petersburg, FL
A few seats still left!