KEEPERS: 2018 Dynasty Reload—2B
By Jock Thompson

@JOCKatHQ
December 10th, 2017 12:04am
This is the third installment of our annual off-season series aimed at helping keeper league (KL) and dynasty owners address needs over the next 3-5 years. Each week we will examine a position, and note young players and prospects who 1) could be available in your league; and 2) we think have a good shot at earning double-digit R$ sometime between 2018 and 2020.
Stable, established contributors are more difficult than ever to acquire, be it by trade or off your league's free agent list. This is even more valid for rebuilders with little excess talent to barter, and particularly relevant with respect to position players in deeper leagues.
We'll attempt to identify the best and most MLB-ready of both marginal producers and legit prospects with upside, some with little to no MLB track record. And of course context matters—in terms of opportunity, risk, health, age, price and productivity timeline. Our above-the-cut filter uses the following criterion:
Player must be growth-age—27 years old—or younger as of April 1, 2018
Player must have earned less than $10 in a 5x5 format during 2017
Player must have 100+ AB above A+, AFL experience, or 5 years in professional foreign ball
Links to previous positions: C | 1B
Even though our 2017 list was mostly filled with low-ceiling targets, not-quite-ready-for-prime-timers and mid-season promotion candidates, Ian Happ's $14 coming out party as a CHC 2B-and-OF utility went as suggested, as did the returns of Joe Panik and Kolten Wong back to moderate double-digit profitability. Now a year later, our list offers up several names with terrific / immediate upside. And due to position questions, we've omitted a number of others (Brendan Rodgers, Raul Mondesi, Jorge Mateo, Bo Bichette just to identify a few) with similar breakout potential, be it now or within the next three seasons. They'll obviously be referenced elsewhere in this article series. But at least a few of them (and others) could either initially break in or eventually end up at second base—or qualify here at least temporarily based on their club's immediate needs alone.
​Simply put, this position poses a problem for our purposes, while offering plenty of pre-season and in-season opportunities for KL owners. Obviously most of the better prospect athletes don't begin their careers at 2B, but migrate there if certain aspects of their defense elsewhere fall short at the MLB level—or if their organization has a better glove-first option, at SS for example.
The fantasy opportunities obviously come from the seemingly increased willingness of MLB clubs to station bat-first or at least viable offensive players at second base or as part of a utility role. Anecdotally for instance, Chris Taylor's off-the-radar breakout came as an OF/2B utility, even though he'd been primarily a SS by trade. 2017 rookie sensation Paul DeJong played 20 games at 2B—more than in his entire minor league career—even though his primary position was shortstop. Looking forward, it's possible that rookie and natural SS J.P. Crawford could see 2018 time at 2B barring off-season trade activity from his parent club; COL bat-first corner-infielder Ryan McMahon was beginning to get 2B reps both at Triple-A and in his small sample MLB stint in an effort to improve his versatility... the examples are seemingly endless.
In short, if you don't own one of the elite second basemen, there's little need to overpay. Like first base, alternative ways of filling this slot will appear in-season if you're paying attention. Last year, 127 players had five games or more at second base, tops among all infield positions—and this number could increase in 2018. But some high-impact 2B names are definitely on the horizon.
​
In last year's piece, we suggested that Ozzie Albies (2B, ATL) was a year away from exceeding our $10 target due to an injury and more projected 1H time in the minors. His $8 season in just 218 AB (.286 BA, 6 HR) following the trade deadline almost made us look bad. Albies' partial-season MLB debut came as a 20-year-old, and he never suggested for a minute that he didn't belong. Obviously his running game (8/1 SB/CS in ATL, 21/2 at AAA-Gwinnett) stands out, but the plate skills (9% bb%, 83% ct%) and a career .304 minor league average as a precocious youngster points to plus BAs—and that 113 xPX hints at power upside down the road. His future is now; a playing-time-fueled breakout is likely.
Similarly, 21-year-old Franklin Barreto (2B, OAK) is another talented youngster who has been pushed aggressively through the minors. But despite posting a reasonable .290/.336/.456 line over 469 AB in his first Triple-A test, his plate skills looked thrashed (27/141 BB/K, 15/8 SB/CS) and he struggled in his small-sample OAK introduction (.197 BA, 5/33 BB/K in 71 AB). Barreto will likely start out again at AAA-Nashville for some clean-up, and could be MLB-ready by mid-season—but he may not offer significant value until 2019.
Despite the drop-off from his promising 2016 rookie season ($13 R$), Brandon Drury (2B, ARI) still owns the ARI second base job for now, which along with his age (25) and $9 2017 is enough to give him some benefit of the doubt. But a .247 BA with just 5 HR and a 97 HctX in the 2017 2H all suggest his grasp may be tenuous. Another sub-100 xPX doesn't project well for his power. And now after 1038 MLB AB, Drury's significant home/away splits—.893 OPS in Chase Field; .648 elsewhere—indicate that he may not be a particularly good long-term play. He's young enough to adjust and grow, but you've been warned.
Scott Kingery (2B, PHI) had been previously well-regarded for his compact line-drive swing and fundamentals, but his 2017 was an unexpected leap forward. Kingery displayed more than just gap power, mashing a career-best 26 HR between AA/AAA (previous high was 5 over two levels in 2016). He also posted a career best .304 BA along with 29 SB (5 CS) and a playable 41/109 BB/K over 543 AB. Plus defense completes what observers believe is a well-rounded MLB-ready game. He'll make his MLB debut at some point in 2018—and though he appears to fall just short of elite upside, Kingery is a still-developing 23-year-old who could make a sizeable impact either this year or next.
The numbers look mixed (199 AB, .231/.225 BA/xBA, 63% ct%, 13% bb%) in Yoan Moncada's (2B, CHW) 2H debut with his new club. And his running game fell off from the 94/15 SB/CS posted over the previous two seasons. But he finished with an .806 OPS and 5 HR in 95 September AB, and the power/speed combination for this 22-year-old remains legit. He is another youngster on a rebuilder, with plenty of immediate playing time opportunity. A 20/20 2018 season would not surprise us.
Shoulder and more recently knee injuries have kept Devon Travis (2B, TOR) shelved more often than not in his short MLB career. When whole, he's offered 80% ct%, a .292 career BA, and at least average power with hints of a little more. His health at the end of March may tell us whether we erred in keeping him above the cut.
As a 19-year-old turning 20, Luis Urias (2B/SS, SD) displayed his ample plate skills (68/65 BB/K, .298 BA, .398 OBP in 442 AB) at Double-A. A .310 career hitter despite sub-par power and speed, Urias' patient, hard contact skills could translate quickly to MLB play, where SD will likely have middle infield opportunity for him at some point in 2018. Urias split his Double-A time between 2B and SS, and he could begin his Padres career at the latter spot or as a utility player. But with mega-talent (and SS prospect) Fernando Tatis also on a fast track, Urias profiles better at 2B. Urias' less-than-well-rounded skill set and ceiling are certainly questionable, but that floor offers some value.
Missed our cut, but worth watching:
Carlos Asuje (2B, SD): Held his own in 307 AB (.270 BA) as primary 2B over latter part of rookie 2017. But just 4 HR, no SB and nothing-special defense were also in line with history and point to low upside. A .283 BA vR, 108 xPX offer glimmers of hope.
Gavin Cecchini (2B, NYM): Prior to 2017, a career .321 hitter in high minors backed by solid plate skills. Slid to .265 BA in second Triple-A go-around, though was better (.287) after the All-Star break. Average glove says 23-year-old needs to hit to be anything more than an off-the-bench utility type.
Kaleb Cowart (3B/2B, LAA): One-time Top 100 prospect posted .865 OPS (12 HR, 19 SB, 11% bb%, 80% ct%) in 367 Triple-A AB, and LAA has 3B and 2B needs—at least for now. 25-year-old flashed improvement in third MLB try (.245 xBA, 128 xPX) over 102 AB, but will he get an extended shot?
Isan Diaz (2B/SS, MIL): 2017 pre-spring Top 100 name stumbled badly (.222 BA, 13 HR, 62/121 BB/K in 383 AB) in first High-A attempt. Age (21) and 2H hamate bone fracture give him a mulligan, but he won't be an MLB fantasy factor this year. Think longer term play.
Mauricio Dubon (SS/2B, MIL): Superior glove has kept 23-year-old at SS during his minor league ascent, but the big league club has Orlando Arcia. Second base, though, is up-in-the-air. Now after 743 high minors AB, a .298 career BA and 98 SB over the past three seasons, he's a 2018 sleeper.
Alen Hanson (2B/OF, CHW): Another one-time Top 100 name, still young (25), with history of 80-ish% ct%, good wheels (11/3 SB/CS, 221 MLB AB in 2017 rookie effort)—and who now appears to have opportunity as a utility player. Soft 66% HctX and 5% bb% need work.
Dilson Herrera (2B, CIN) One-time Top 100 bat-first prospect plagued by shoulder woes all season, finally succumbed to season-ending surgery to remove bone spurs in late July. 24-year-old owns .295/.357/.461 in almost 2500 minor league AB—and is now out of minor league options.
Keston Hiura (2B, MIL): 21-year-old 2017 first-round pick has yet to sniff Double-A. But collegiate experience and plus hit tool suggests he'll be ready to contribute by 2020 if not sooner.
Chad Pinder (2B/SS/OF, OAK): $5 rookie season fueled by 15 HR (146/119 PX/xPX) in just 282 AB as a infield/outfield utility. HR minor league career-high, and despite good versatility, shaky plate skills (6% bb%, 67% ct%) leave us guessing at his value going forward. High-risk, moderate reward flyer.
Max Schrock (2B, OAK): Pint-sized 23-year-old lacks over-the-fence power, but has barreled up to a career .324 BA over 1123 minor league AB with a 133/100 BB/K. Size and range make 2B his only viable MLB position. On the cusp of his Triple-A debut, seems blocked in OAK.
Kelby Tomlinson (2B/3B, SF): 27-year-old bench utility with career .282 BA over 478 AB (.313 vL), 14/2 SB/CS over last two seasons (300 AB). Near-zero power, sub-par HctX, .259 BA vR keep him looking for his first 200+ AB campaign.
Tyler Wade (2B, NYY): Struggled to make MLB contact (67% ct%, .155 BA) and generate running game (1 SB) in 58-AB MLB debut. But .310 BA (78% ct%) and 26/5 SB/CS in 339 AB at AAA-Scranton suggests 23-year-old might be capable of more. And with Castro gone, will have a smidge more of an opportunity come March.
For more information about the terms used in this article, see our Glossary Primer.
Shopping Cart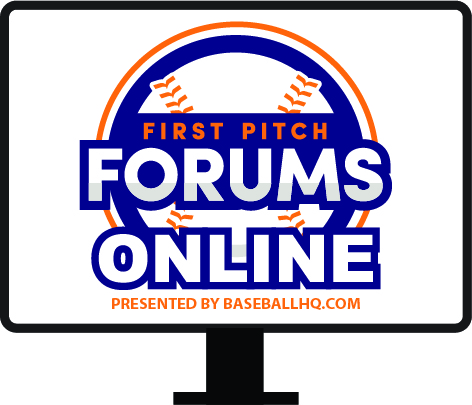 Our virtual First Pitch Forum returns!
Three online-only events: March 5, 11, 17
Join us live, or watch when you want
Just $19!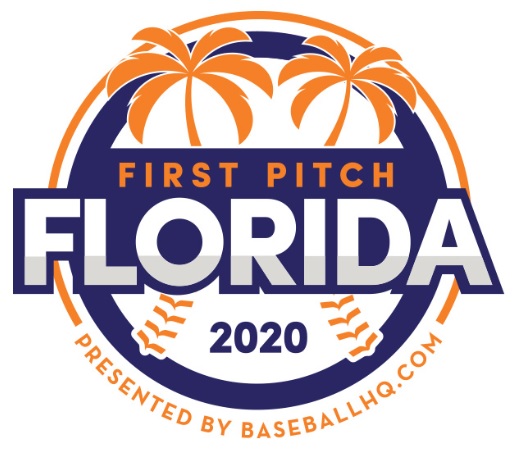 Inaugural Event!
February 28-March 1, 2020
St. Petersburg, FL
A few seats still left!