KEEPERS: 2017 Dynasty Reload—NL OF
By Jock Thompson

@JOCKatHQ
December 30th, 2016 12:05am
This is the seventh installment of our annual off-season series aimed at helping keeper league (KL) and dynasty owners address needs over the next 3-5 years. Each week we will examine a position, and note players and prospects who 1) are likely available in your league; and 2) we think have a good shot at earning double-digit R$ sometime between 2017 and 2019.
Stable, established contributors are more difficult than ever to acquire, be it by trade or off your league's free agent list. This is even more valid for rebuilders with little excess talent to barter, and particularly relevant with respect to position players in deeper leagues.
We'll attempt to identify the best and most MLB-ready of both marginal producers and legit prospects with upside, some with little to no MLB track record. And of course context matters—in terms of opportunity, risk, health, age, price and productivity time-line. Our filter uses the following criterion:
Player must be growth-age—27 years old—or younger as of April 1, 2017
Player must have earned less than $10 in a 5x5 format during 2016
Player must have 100+ AB above A+, AFL experience, or 5 years in professional foreign ball
Links to previous positions: C | 1B | 2B | 3B | SS | AL OF
Wil Myers was the breakout performer from last year's list, when as expected he shifted to 1B from the outfield, stayed healthy, and exceeded even our lofty expectations, earning $28. But we also successfully tabbed Steven Piscotty, Marcel Ozuna and Joc Pederson as double-digit earners, and noted the opportunistic Adam DuVall ($18), Travis Jankowski ($12), David Dahl ($10) and Alex Dickerson ($7) below the cut.
The current 27-and-under NL OF crop looks similar, with several names offering immediate breakout upside. And like 2016, you'll find plenty of less-experienced names with long-term potential below the cut—whose 2017 opportunities should be monitored. Standing out among teams with unsettled or tenuous outfields looking for someone to step up include CIN, LA, PHI and SD, all of which have multiple entries on this year's list.
Albert Almora's (OF, CHC) 2016 MLB debut (.277 BA, .455 Slg in 112 AB) was only a mild surprise to us, having listed him below last year's cut. After landing on at least a few Top 100 prospect lists back in 2014 as a 19-year-old, Almora's physical tools never translated into big HR/SB numbers, leaving him a disappointment to some. But Almora has always had fine bat-to-ball skills and good speed, both of which helped him post a .303 BA and 10/3 SB/CS over 320 AB in his first Triple-A exposure last year. Almora is easily the Cubs' best CF, but the addition of Jon Jay may allow him to begin 2017 in Triple-A to work on his plate patience. With gains there, Almora's ceiling is a .280 hitter with double-digit HR/SB upside and a fine glove. More immediately, his 2016 growth and Jay's health / limited upside tabs Almora as a 2017 sleeper.
Lewis Brinson (OF, MIL) is one of two above-the-cut names missing MLB experience. And Brinson struggled at Double-A amidst shoulder issues early on, hitting .237 prior to being dealt to the Brewers. But he finished strong, and despite lingering questions about his plate patience, Brinson has the skills to post double-digit HR and SB while playing elite CF defense quickly at the MLB level. Keon Broxton currently tops the MIL CF depth chart, but his age (27), tradeable contract and a 60% ct% on a rebuilding club doesn't etch his place in stone.
Despite a scorching April, Michael Conforto (OF, NYM) was unable to build on a fine 2015 debut, as he suddenly stopped making contact and lost his everyday job by the end of May. Even while struggling in part-time play, Conforto showed off his skills again during two Triple-A stints—1.209 OPS, 9 HR, 13/18 BB/K over 128 AB—and raised his MLB ct% and bb% significantly in limited September AB. He's guaranteed nothing and has plenty to prove in 2017 following his .220 BA / 304 BA performance. But this looks like an adjustment blip and buying opportunity.
Alex Dickerson's (OF, SD) .382/.425/.622 Triple-A line (217 AB) from April through June earned him extended 2H playing time in an Padres OF decimated by injuries and trades. And despite an unfortunate August h%, Dickerson managed to take advantage of his opportunity, posting a .261/.341/.452 line over 230 AB, supported nicely by a 10% bb%, 83% ct% and 117 HctX—including a .267 BA vL. Dickerson's performance and minor league career suggests just a tick-above-average power, which at his advanced age (27) don't point to much growth or big upside. But his handedness, plate skills and solid minor league numbers (.309/.367/.501 over almost 2000 AB) suggest he'll have an MLB career. He'll need to fight off SD's younger OF prospects in 2017.
Although he'll still be just 27 as of Opening Day, Jayson Heyward (OF, CHC) can hardly still be considered under development following seven full MLB seasons. With 530 AB, only a miserable 2016 performance (.230 BA, 7 HR, $6) earns Heyward a berth here as a potential turnaround candidate. Consistent plate skills, double-digit SBs, defense and contract keep us optimistic that Heyward will get plenty of opportunity. But long-term power and HctX erosion—62/72 PX/xPX, 88 HctX in 2016—leave us pessimistic as to his upside. Heyward will come to spring training with a retooled swing, but he looks like a limited counting stat play at best.
Manuel Margot (OF, SD) didn't light things up in his September SD debut (9-for-37, 2 SB)—and just six HR with 36 BB over 517 AB at Triple-A launching pad El Paso leaves plenty of questions as to his long-term power and patience. But having just turned 21 in September, Margot has moved up the professional ladder and has plenty of development time left ahead. He already offers plenty of contact (88%), plus speed and running game (30/11 SB/CS), and Gold-Glove-level CF defense, a combination that can play at the MLB level—and offer fantasy value if he can keep his BA above water during the interim. He'll challenge Travis Jankowski for the Opening Day CF job in March.
Austin Meadows (OF, PIT) is the other name here without MLB experience—and like Brinson, he struggled for most of 2016 with injuries, early and late while collecting 308 AB between AA and AAA. But trade rumors are swirling around Andrew McCutchen, and Meadows is the long-term heir apparent to the next OF opening. Though he has yet to show the 20-HR power that many scouts have long projected, Meadows' underlying metrics and a career .480 Slg (1182 AB) suggest that he's close. And even with the recent interruptions, his plate skills, running game (17/5 SB/CS) and defense are progressing nicely. Meadows is now knocking on the MLB door before turning 22 this May. He'll likely need at least a couple more months of Triple-A reps, but don't underestimate his near-term upside.
Yasiel Puig (OF, LA) earned $6 in 2015 and just $9 in 2016 after $49 combined in his first two MLB seasons—which pretty tells the story here. The skills are there; health, approach and consistency too often aren't. His 2H flash—.276/.346/.472, 5 HR, 10% bb% in 110 AB—offered a glimpse of his skills sandwiched by DL stints and a minor league demotion. Now two years above the cut as an "established" MLBer, he's due, but you should be well aware of the risks by now.
Injuries have kept Roman Quinn (OF, PHI) from accumulating more than 365 AB (a 2016 high) in any single season since the beginning of his professional career back in 2012. But Quinn's skills include both terrific speed and running game, patience and perhaps just enough contact to make him dangerous. The combination of a poor PHI OF and good end-of-season health gave Quinn a September opening of which he promptly took advantage, hitting .263 while drawing eight BBs in 65 PAs and swiping five bases in six attempts. Still without a Triple-A AB, the 23-year-old Quinn has plenty to prove, both physically and his ability to put the ball in play at higher levels. But the PHI OF still offers opportunity, and Quinn's 159/46 SB/CS in the minors point to his short-term fantasy potential.
Hunter Renfroe (OF, SD) upped his ct% to 78% at Triple-A El Paso, where his historically poor bb% (4%) didn't hurt—as seen in a .306 BA, 30 HR 2016 performance. Renfroe continued this routine in his 35 AB SD debut, going 13-for-35 with 4 HR, 5 Ks and just one walk, leaving him poised to seize an Opening Day starting job with a good March. Longer term, his power is legit, but Renfroe won't match his career .281 minor league BA; the remaining questions are when and how much he adjusts, and what he eventually becomes. Over the near-term at very best, expect a modest-BA / low-upside slugger in a home venue that has become more friendly to right-handed HR hitters. More Triple-A time is a possibility.
Coming off of a promising 2015 MLB debut (16 HR, 13 bb%, 117 HctX in 232 AB), Kyle Schwarber's (OF, CHC) regular season ended in the third game of the 2016 season thanks to a torn ACL. But following a lengthy rehab, Schwarber looked fine (7-for-20, 3 walks, an SB) in World Series play vs. CLE and should be ready again on Opening Day. Schwarber's risk is sub-par contact—particularly vL—that could make him a platoon player and limit his AB at least over the short-term. But even with his days at catcher perhaps over, Schwarber's very legitimate patience and left-handed power (163/158 PX/xPB in 2015) make him a good dynasty play.
Domingo Santana (OF, MIL) and his upside may be the best-kept secrets on this list, IF he can stay on the field and maintain just passable contact. Following a promising March and April, shoulder and elbow injuries limited Santana to just 69 AB. Finally healthy in September, Santana posted a .946 OPS, 126 HctX, six HR and a 70% ct% in a season-high 88% AB. Santana's BA won't ever be stellar, but as the Baseball Forecaster ​notes, with health he's a .260 BA / 30 HR year waiting to happen.
Handedness, a strong 2016 2H finish and opportunity give Scott Schebler (OF, CIN) a nod above the cut here, but it's tenuous. Fueled by an improved 80% ct% and 33% h%, Schebler hit .290 with 8 HR over his final 193 AB. But a pedestrian 7% bb%, 51% GB% and a meh 95/60 PX/xPX during this same period aren't optimistic about his HR going forward. Schebler has posted good career power numbers in the minors (.499 career Slg over 2500+ AB) and his helped by an extremely friendly home venue. But at age 26, he appears to have a limited ceiling and little projection remaining. Schebler and Jesse Winker could easily switch places in this piece.
A 15% bb%, 83% ct% and 8/0 SB/CS in June suggests that Mallex Smith (OF, ATL) was beginning to find himself before a HBP left him with a broken thumb and out for three months. Ending his 2016 MLB debut with just 189 AB and a .238 BA, Smith's speed fueled a $6 performance. He has no power and struggles vL, but Smith has improved his patience, defense and even his contact enough to make his speed a legitimate platoon weapon both in the real and fantasy games. A 230/60 SB/CS and career .297 BA mark in the minors suggest that he's capable of double-digit earnings for a few seasons at the MLB level.
Having been released by TAM and out of baseball for all of 2015, Andrew Toles (OF, LA) wasn't on anyone's radar entering this past season, even after being re-signed by his old GM now with the Dodgers. All Toles did subsequently was rip through three minor league levels (.321 BA, 23 SB, 7 HR over 323 AB) en route to LA, where he took advantage of LA OF injuries by posting a .314/.365/.505 line over 105 AB. Toles is an athletic work-in-progress who saw his first high-minors AB in 2016. And the Dodgers have plenty of OF depth with more kids on the way, all of which suggests that Toles must continue to prove himself—and could use some early 2017 Triple-A finishing before his next opportunity. But minus any meaningful high-end experience, Toles showed no big weaknesses and plenty of upside during his meteoric rise. He's more than roster-worthy over the near-term as we wait to see what happens next.
Missed our cut, but worth watching:
Ronald Acuna (OF, ATL): Injuries held him to 148 AB and kept him in A-ball, where he hit .311 with a 14/18 BB/K and swiped 14 bases as a 19-year-old. Scouts and observers rave about his across-the-board tools and ceiling. At least two years away from his MLB debut, but he'll be in deep-league demand now.
Aaron Altherr (OF, PHI): March wrist surgery killed follow-up to interesting 2015 audition, clearly wasn't the same after late July return. Still projects double-digit HR+SB upside and plate patience, with contact and age (26) being his biggest obstacles. Low ceiling, and he'll never have a better opportunity than in 2017.
Harrison Bader (OF, STL): 22-year-old stepped up at Double-A, posting a .283 BA with 16 HR in 318 AB before struggling in 147 Triple-A effort. Contact is his only issue, he can play all the OF positions, and we've learned not to overlook unheralded STL prospects.
Dylan Cozens (OF, PHI): LH elite power that thrived (40 HR) in Double-A bandbox, willingness to take a walk (10% bb%) and even a 21/1 SB/CS all speak to his strengths and tools. And he's a decent defender. But 64% ct% will be exposed at the MLB level. Will begin in Triple-A with work to do.
Eloy Jimenez (OF, CHC): Southern League OPS leader at age 19, Futures Game star then held his own in the AFL (.813 OPS in 55 AB) before his first A+ AB. Several years away from the bigs, but an immediate trade target/chip in deeper leagues.
Jordan Patterson (OF, COL): Career .290/.369/.487 line with double-digit HR/SB track record in minors. 25-year-old with limited upside is behind plenty of Rockies OF on the depth chart, but still bears watching as a Coors Field play.
Victor Robles (OF, WAS): Tool-heavy scout favorite wasn't overmatched (.280/.376/.423 over 421 AB) at A/A+ as 19-year-old. Won't make MLB debut for a couple of seasons, but defense, speed and a clue at the plate tab him as the starriest of potential shooting stars. And a more-than-viable trade chip for dynasty owners playing for now.
Andrew Stevenson (OF, WAS): Just gap power and may never hit more than .260 at MLB level, but speed, base-running (39/14 SB/CS between A+ and AA), handedness and solid CF defense keep him watchable. Now blocked by Eaton in Nationals OF, with Robles coming up from behind.
Raimel Tapia (OF, COL): Hiked contact near elite levels while posting .328 BA in first crack at AA/AAA. But near-zero HR power, inability to take a walk and running game (23/17 SB/CS) still leave much to be desired. Still, 22-year-old could get a crack this year, and Coors effect suggests that we might be underestimating his short-term impact.
Trayce Thompson (OF, LA): Off to a nice start before fractures in lower back dragged him down and eventually ended his season in early July. Showed contact and patience flashes to go along with power and athleticism. But handedness and age (26) aren't in his favor, and he has plenty of competition in LA.
Alex Verdugo (OF, LA): Another rushed prospect with tools and projection, enjoyed good-not-great year (.273 BA, 13 HR 44/67 BB/K in 477 AB) in Double-A as a 20-year-old. LA currently has plenty of OF talent on hand, but he'll play when he's ready.
Nick Williams (OF, PHI): 19/136 BB/K and .258 over 497 AB at Triple-A say he still swings at everything. Still owns top-shelf bat-speed, moderate power projection, good wheels and plenty of time at age 23. Terrific tools still need translation into skills; PHI has plenty of OF opportunity if/when they do.
Jesse Winker (OF, CIN): Again showed off fine plate skills in 59/59 BB/K, .303 BA over 380 AB in first Triple-A shot, and handedness helps. But no running game at all and just three HR—he hasn't hit for much power since 2014 wrist injury. Still time at age 23, first big MLB opportunity should arrive in 2017.
Mark Zagunis (OF, CHC): Broken foot prematurely ended 23-year-old's fine first high-minors effort in early August. Posted .288/.384/.469 OPS with 10 HR, 52/78 BB/K through 358 AB between AA/AAA. Not a star, but has a clue. Blocked and overlooked in CHC system, could be an asset elsewhere.
For more information about the terms used in this article, see our Glossary Primer.
Shopping Cart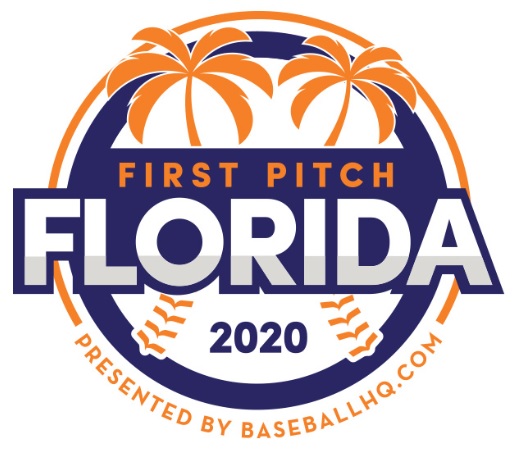 Inaugural Event!
February 28-March 1, 2020
St. Petersburg, FL
A few seats still left!