KEEPERS: 2017 Dynasty Reload—AL OF
By Jock Thompson

@JOCKatHQ
December 23rd, 2016 12:05am
This is the sixth installment of our annual off-season series aimed at helping keeper league (KL) and dynasty owners address needs over the next 3-5 years. Each week we will examine a position, and note players and prospects who 1) are likely available in your league; and 2) we think have a good shot at earning double-digit R$ sometime between 2017 and 2019.
Stable, established contributors are more difficult than ever to acquire, be it by trade or off your league's free agent list. This is even more valid for rebuilders with little excess talent to barter, and particularly relevant with respect to position players in deeper leagues.
We'll attempt to identify the best and most MLB-ready of both marginal producers and legit prospects with upside, some with little to no MLB track record. And of course context matters—in terms of opportunity, risk, health, age, price and productivity time-line. Our filter uses the following criterion:
Player must be growth-age—27 years old—or younger as of April 1, 2017
Player must have earned less than $10 in a 5x5 format during 2016
Player must have 100+ AB above A+, AFL experience, or 5 years in professional foreign ball
Links to previous positions: C | 1B | 2B | 3B | SS
We noted in last year's piece that 2016 our AL OF list "didn't offer huge immediate upside or value"—a warning that proved to be surprisingly prescient. While we hit pay-dirt on Jackie Bradley Jr. ($20) and his improved BA, our only other $10+ successes were Lonnie Chisenhall and rookie Nomar Mazara, who both just barely snuck over the barrier ($11 each). All of our remaining five names earned between $4-9 with the exception of Dalton Pompey, who struggled with nagging injuries, stagnant skills and received just two MLB at bats.
We correctly identified Tyler Naquin ($13) as a below-the-cut name to keep an eye on, but Ryan Rua's 1H and Andrew Benintendi's final two months were the only other profits to be found in this group. We did note utility MI Jose Ramirez' upside from those pages—at which point he went out and earned $25, playing mostly 3B and OF. Which reminds us for the umpteenth time: It pays to keep eyes peeled for versatility.
Things look a little brighter in the AL OF this year, with at least several of our 2017 entries offering immediate breakout potential, and even big upside. Not surprisingly, all of our top names have MLB experience. But particularly in fantasy leagues that demand three to five outfield spots, most owners will need to remain watchful all season to keep this position adequately stocked. And on that note, AL teams currently with soft outfields offering opportunity include BAL, OAK, SEA and TAM.
A sprained knee that required a three-week DL stint was the only blip in Andrew Benintendi's (OF, BOS) MLB debut; he posted an .835 OPS over 105 AB. Prior to this, Benintendi had conquered A+ and AA, showing off fine plate skills (39/39 BB/K) and few weaknesses; he combined for a .910 OPS prior to his callup. What he lacks in high-minors experience, he compensates with his college polish, an outstanding MLB home venue, and a fine Red Sox lineup. Even if he falls short of 20 HR, playing time and counting stats make Benintendi a good bet to succeed from the get-go in his first full MLB season.
Not much needs be said about Byron Buxton (OF, MIN), this year's repeat cover-boy. The tools are still present and still immense; the development to date has disappointed. An outstanding September (7 HR in 94 AB) was a bright spot that helped fuel a $6 return for the season, but a 63% ct% and 96 xPX over that stretch are less optimistic. Even with new reservations about his significant ceiling, his running game (10/2 SB/CS), defense and immediate opportunity—along with the power spurts—give Buxton an earnings floor. You'll likely have to put up with more mediocre BA, but barring injury, 2017 will be his first $10+ season.
Apart from being injury-free, the move out of Coors Field wasn't kind to Corey Dickerson (OF/DH, TAM). Dickerson struggled with a 1H .215 BA (72% ct%, 24% h%) before hitting .271 the rest of the way thanks to a h% rebound and ct% uptick. But while steady power (24 HR) helped him earn $9 for the entire season, the question is where he goes from here. On the plus side, Dickerson will still be just 27 years old on Opening Day, and the 510 AB suggest that he's healthy again. The power (144/119 PX/xPX) remains plus, even if short of his Colorado standards. But stagnant plate skills (6% bb%, 74% ct%) will cap his BA, and declining peripherals vLHP (4% bb%, 68% ct%, .587 OPS in 108 AB) could even turn Dickerson into a platoon player overnight. A slight R$ bump is possible, but Dickerson's floor may be giving way. Don't expect a return to the .300+ BAs of 2014-15.
Nick Franklin (OF, TAM) entered 2016 as an unrosterable post-hype middle-infield prospect, but finished as one of our favorite late-season pop-up speculations following a 148 AB second-half surge. During this small sample, Franklin showed off the power/speed combination (5 HR / 5 SB) he once teased as a rookie. Perhaps more importantly, he raised his problematic ct% to a playable 78% (.277 BA). Lefties still give him fits, but Franklin's new positional versatility could net 350-400 AB if he can just keep his BA around .250. His one-time ceiling appears to be gone, but there's sneaky value here.
Leg injuries and a spike back to his historical 55% GB level pulled Avisail Garcia (OF/DH), CHW) down from $11 in 2015 to $7 last year. Only age, physical tools—check out a 15% hr/f over the past four seasons—and home venue put him on this year's list. Unless he can figure out how to hit more fly balls and build on that patience uptick, his upside is limited. Mediocre BA without more HR will soon put his playing time in jeopardy.
Despite a 25% h% that torpedoed his 2H BA, Max Kepler's (OF, MIN) extended MLB debut (396 AB, $8) vindicated his above-the-cut inclusion last year. His 17 HR was a career high for the late-blooming Kepler, whose raw power and 15% hr/f overcame a 47% GB%. Just as encouraging, Kepler's 10% bb% and 77% weren't that far off the outstanding plate skills he showed at Double-A during a breakout 2015. He's a work-in-progress, but we're betting that progress continues in 2017.
As he did in his first attempt at Triple-A, Aaron Judge OF, NYY) showed off his power but struggled to make contact—as seen in his 4 HR / 42 K performance over 84 AB. Judge did much better in his second Triple-A go-around last year, posting 19 HR, .270 BA and 47/98 BB/K prior to his MLB debut. Obviously, contact and BA will be an issue, and his skill set should fuel skepticism. That said, Judge has shown good plate recognition and opposite-field power in the minors—and if he can carry these over, he'll find plenty of opportunity in a rebuilding NYY OF over the next few years. Judge's best seasons might take a while.
After becoming one of our successful 2015 rookie calls, Eddie Rosario (OF, MIN) fell from $13 to $8. Rosario has plenty of skills, including enough pop and running game to post regular double-digit HR+SB totals, no discernable platoon splits, and a solid glove. Unfortunately pitch selection and patience aren't among these, and Rosario's free-swinging ways combined with a 25% h% led to a .202 BA and Triple-A demotion in the 1H. His 2H recall was more successful—.306 BA over 2016 AB—though largely the end-result of a 39% h%; his sub-par ct% and bb% didn't change significantly. Rosario is young enough to make the adjustment, but it may never come. And if it doesn't, both his upside and MLB playing time will remain both capped and sporadic.
Like Buxton, Jorge Soler (OF, KC) drips with tools and disappointment to date. But with the trade to Kansas City, he now gets a change of scenery and an everyday playing time opportunity. His plus power is very real—Soler has now hit 27 HR with a 9% bb% in 682 MLB AB over three seasons—but it has shown up only sporadically amidst inconsistency and injury. He has the tools to be a better outfielder than he's shown thus far. But Soler is now another year older and in a home venue that will be tougher on him than Wrigley Field. Again like Buxton, if he can stay on the field Soler will meet our $10 benchmark in 2017, with an outside shot at big-time upside. Whether the latter happens now or down the road is anyone's guess.
Missed our cut, but worth watching:
Anthony Alford (OF, TOR): Here last year, when athleticism appeared to be fast-tracking him to TOR. But this was before Opening Day knee injury and later concussion set him back to square one. Still just 22, 2H momentum at High-A offers hope. Speed, contact are keys.
Greg Allen (OF, CLE): Another CLE OF possibility, this one a switch-hitter with a plus running game, patience and defense. 45/13 SB/CS, 77/78 BB/K in 491 AB between A+/AA point to skills that could work quickly at MLB level. Could see a 2017 MLB debut.
Abraham Almonte (OF, CLE): Penciled as starting CF last spring until 80-game PED suspension intervened. Hit .264 with 8 SB in 182 AB ($4) 2H return but other peripherals were mediocre. Limited ceiling, will likely have plenty of PT competition.
Jake Bauers (OF/1B, TAM): Good BA (.274), great Eye (73/89 BB/K in 493 AB)—with career-high 14 HR—as a 20-year-old at Double-A. Age suggests Rays will be patient, but skill set could vault him into needy TAM outfield at some point in 2017.
Billy Burns (OF, KC): His $23 2015 seems long ago. Fine ct% and running are neutralized by abysmal patience, power, HctX. No longer a regular, success will come in short bursts determined by injuries and h%.
Jorge Bonifacio (OF, KC): 23-year-old finally tapped into power+BA (19 HR, .277 BA) at Triple-A last year, just as KC is on the brink of a makeover. Needs opportunity, defense doesn't help what looks like a low ceiling.
Delino Deshields Jr. (OF, TEX): Fell from $17 to $2 in 2016. Besides age, only pluses are running game, and patience. They likely aren't enough, particularly given poor contact and mediocre glove.
Clint Frazier (OF, NYY): Double-A success (13/13 HR/SB, 41 BB over 341 AB) and athletic upside say we might be undervaluing his near-term impact here below the cut. But Triple-A struggles suggest that plate skills need more refinement. With this, a 2017 debut will happen, perhaps faster than anticipated.
Mitch Haniger (OF, SEA): Tapped into power with reworked mechanics, posted .999 OPS between AA-AAA. Finished with 5 HR, 10% bb%, 75% ct% and .229 BA in 109 AB MLB debut. Following off-season trade, sleeper could get legit shot at SEA LF job.
Teoscar Hernandez (OF, HOU): Made big gains in contact and patience while hitting .307 between AA/AAA, with 10 HR and 34 SB (15 CS) along the way. Wasn't overmatched in MLB debut (.230 BA, 4 HR, 11 BB in 100 AB), but now well-down on the depth chart of newly fortified HOU OF.
Aaron Hicks (OF, NYY): Here only because of pedigree, age, and 2015 $9 tease. Plate skills aren't awful, but power looks stagnant and he's never shown any proficiency vRHP. NYY kids will likely pass him by.
JaCoby Jones (OF/3B, DET): Fine athlete whose versatility now gives him a shot at the Tigers' vacated CF job. Could post double-digit HR+SB with semi-regular playing time, but poor contact and pitch selection project him as a BA liability.
Anthony Kemp (OF, HOU): Undersized / underpowered LHB—but with outstanding plate skills, .304 career minor league BA, 20 SB upside and infield/outfield defensive versatility. Following rough MLB debut (.217 BA, 27% h%, 10% bb%), may need a change of scenery for his next MLB chance.
Steven Moya (OF, DET): Still owns light-tower power, made progress in reducing contact issues—but still isn't nearly selective enough, as suggested by 15/96 BB/K over 409 AB at Triple-A. Even with opportunity, will need more patience, less swing-and-miss to avoid becoming a BA black hole.
Tyler O'Neill (OF, SEA): Futures Gamer made big progress with both Ks and patience while sacrificing none of his power. Athleticism, defense, and SEA OF issues suggest that he could debut as early as 2017—IF growth continues.
Dalton Pompey (OF, SEA): Hard to believe he just turned 24. Hit the radar with 2014 breakout (.317 BA, 52 BB, 43/7 SB/CS) across four levels, including MLB debut, hasn't been the same since. Needs opportunity and consistency.
Steven Souza (OF, TAM): Consecutive $8 and $9 seasons with no improvement in a sub-70% ct% suggest a ceiling. Declining patience, power metrics and HctX—along with 2H hip surgery—aren't positive signs.
Bradley Zimmer (OF, CLE): Athletic 2014 first-round pick has posted 132 BB, 31 HR and 84 SB over past two seasons—but also a 68% ct% that has deteriorated on his way up the organizational ladder. All kinds of upside, but will begin 2017 at Triple-A to work on this.
For more information about the terms used in this article, see our Glossary Primer.
Shopping Cart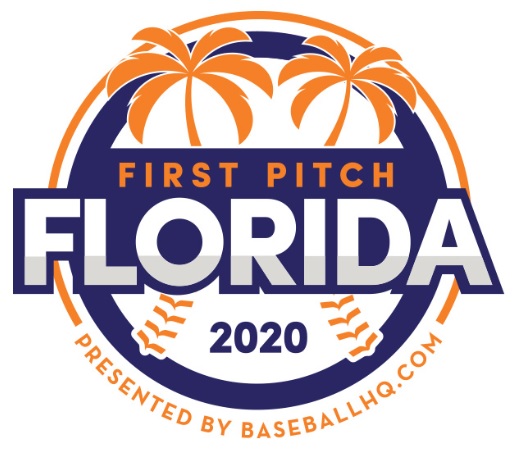 Inaugural Event!
February 28-March 1, 2020
St. Petersburg, FL
A few seats still left!