GM's OFFICE: Observations and tips at the halfway mark
By Brent Hershey

@BrentHQ
July 4th, 2019 11:05pm
I just recently returned from a week-long family vacation. It was refreshing, thank you, and I was fairly successful in meeting my self-imposed goal of unplugging for the duration. The flip side, of course, is that the season goes on, and when I got back and returned to the groove, I had a lot of catching up to do.
Given that the All-Star break marks the observed (rather than actual) halfway mark of the season, and that the few upcoming days without MLB contests provide a natural window to re-assess our teams, I figured I'll visit some of my observations from my own leagues that might be relevant, given my
"re-plugging" exercise of the past week or so. Some of these are things that I've just noticed since my time away; others are things that the time of year evokes. I'll present these in popcorn style—some of these may resonate with you, some may not. Hopefully all are food for thought.
Somehow, Miguel Cabrera (1B, DET) has just hit four five (late edit) HR all season. Yes, he's 36 years old and injuries/age have caught up with him, and his .300 BA/.366 OBA still has value. Yet he was recently dropped in a deep dynasty league of mine, and it's not a slam dunk to pick him up. He's baffling… how is it that the effects of the juiced ball not affected him? He's still hitting the ball hard (121 HctX); FB% is up from 2018 (29% from 20%), yet he's sporting a .387 slugging percentage. Single-digit hr/f says that he's (seemingly) just about the only player alive who's getting cheated out of HR. One has to wonder if his biceps is not totally healed or if there's another playable but nagging injury going on here. A confusing profile in terms of what to expect in the second half, as one doesn't see the end coming as starkly as this.
Is it time to queue up the bullpen? I've dipped my toes in a strategy in several leagues in recent years where I've given more consideration to reliever-heavy pitching staffs around this point in the season. The reasons are several fold: the rise in strikeouts across the game, the more flexible MLB bullpen roles that have led to some dominant multi-inning relievers, and the fact that some of these relievers only emerge in-season, and so are more likely to slide under the radar and be available in your free agent pool. In general, I look for ratio (ERA/WHIP) stabilizers with excellent strikeout rates, and use these as injury replacements or week-by-week options if a starter or two has a bad matchup. In most cases, these turn out to be less risky than the garden-variety rookie starter or other SP that you could get off your free agent pile.
Of course, there's other considerations and downsides: you need to balance these relievers with your starters to give sufficient opportunities for wins, and even the biggest K-rate relievers may not get you the whiffs you needs. And of course you have to consider your category stratification and other contextual factors. But in the right spots, I've that found opening myself up to this player pool when seeking a minor upgrade or just wanting to hold onto a tenuous lead or waiting for a solid starter to return from injury gives me more options. I've picked up pitchers like Tommy Kahle (RHP, NYY) and Giovanny Gallegos (RHP, STL) recently that have fit this bill (so far).
Some superstars are due. With (almost) three months to play, some "underperforming" superstars can still significantly impact your teams' bottom line. Two pitchers come to mind here—and I'm sure there are others—whose skills along with past performance say that a lights-out second half would not be surprising. Aaron Nola (RHP, PHI) had a fantastic skills June, and now has his ERA under 4.00 with a likelihood of it plunging further. His swinging-strike rate is back on the rise, he's walking less, and fewer batters are squaring him up (decreased LD% in June). Remember his second half in 2018: 2.26/0.94 ERA/WHIP; 148 BPV; it could still be possible. The other is reigning AL Cy Younger Blake Snell (LHP, TAM). Many have pointed out throughout this year how his skills compare favorably to last year's: As of this writing, his xERA is nearly identical (3.17 in 2018; 3.16 in 2017); G/L/F figures, Ctl is steady, and he's striking out a touch more with an amazing 19% SwK overall. Correction is overdue.
The point: when assessing your squads with a highly-skilled but underperforming player, remember that there's still three months to go, and a returned to elite production could significantly impact your team's bottom line.
Rostering a multipositional hitter can really pay off when injuries hit. Like just about all of the above, this depends some on your league context and eligibility rules. But especially in deep leagues, when we're into the dog days and the injured lists are bulging, having roster flexibility is golden. I gave this a bit more attention in draft season, but you can still look to address in via mid-summer trade, too. Especially in deep leagues, where the free agent pool is limited having a player on your roster like Scott Kingery (2B/3B/OF) or Asdrubal Cabrera (2B/3B/SS) can make a signifiant difference when an injury hits at another position. Especially helpful are those players who crossover the IF/OF designation such as Cody Bellinger, Rhys Hoskins and Kris Bryant—and of course, they don't need to be stars such as these three. But as MLB teams continue to carry more pitchers and look for hitters who can fill in at multiple position, these players will continue to be a part of our fantasy rosters.
So what's your favorite second-half tip or observation? Are there specific strategies you tend to employ at this part of the season? Share 'em in the comments below.
And here's to the Dog Days!
For more information about the terms used in this article, see our Glossary Primer.
Shopping Cart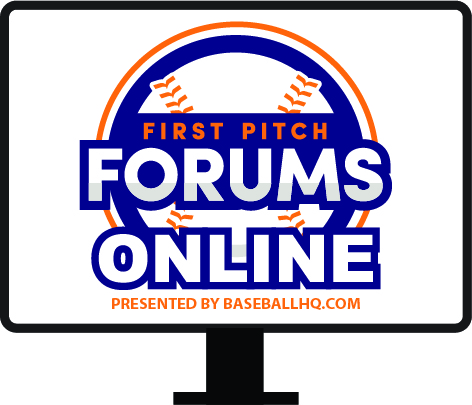 Our virtual First Pitch Forum returns!
Three online-only events: March 5, 11, 17
Join us live, or watch when you want
Just $19!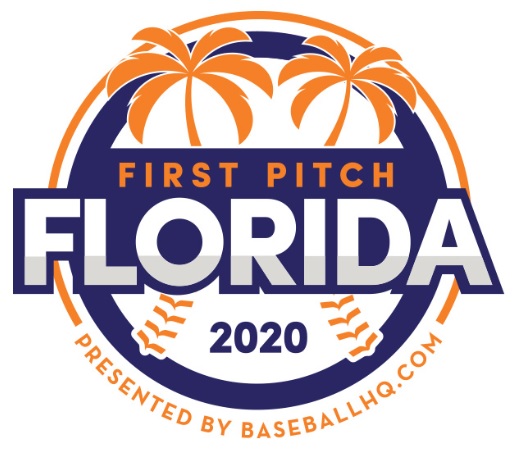 Inaugural Event!
February 28-March 1, 2020
St. Petersburg, FL
A few seats still left!