GM's OFFICE: 2023 Prognosticating Successes, Part 2
By Dave Adler

@Daveadler01
October 20th, 2023 12:01am
There's a nip in the air, and the YooHoo (is that even made any more?) showers have come and gone. But even though the fantasy baseball championship trophies are on the shelf, there's still baseball to be played as the Astros, Rangers, Diamondbacks and Phillies vie for spots in the World Series. There's no better time to see how we did in pre-season prognostication.
Here, we go into detail on our many 2023 hits - where our process foretold a spike or dip in performance. Most of these commentaries appeared either on the site in the pre-season or in the 2023 Baseball Forecaster. Each provides a concrete example of how our projection model and the analysis that stems from it continues to put you in a position to win your league.
Pitchers are covered here; hitters were covered last week.
Adbert Alzolay: Alzolay is one to watch in the Cubs bullpen, as the skills suggest he could thrive as a reliever. He made major strides in terms of shrinking his bb% in 2021 and shrunk it to a minuscule level in 2022. He altered his pitch mix overall and vL in 2022, throwing more four-seam fastballs and cutters mainly at the expense of sinkers. The stats and the skills he has displayed as a reliever have been impressive; the 28-year-old could wind up ascending to getting save chances by the end of the summer. (Pyron)
2022: 0 saves, 3.38 ERA, 0.83 WHIP in 13 IP
2023: 22 saves, 2.67 ERA, 1.02 WHIP in 64 IP
David Bednar: Two-month IL stint (back) was all that prevented him from hitting last year's "UP: 30 Sv". Held mostly all of the 2021 gains that led us to that call with plenty of whiffs and primo velocity to back elite K%, an xBB% that hints at even better control, and back-to-back elite BPX. Everything seems in place for a jump to upper-tier closer status. (Bloomfield)
2022: 19 saves, 2.61 ERA, 1.12 WHIP in 52 IP
2023: 39 saves, 2.01 ERA, 1.10 WHIP in 67 IP
Kyle Bradish: Another pre-peak pitcher showing some hidden signs of growth. Behind his mediocre 5.05 ERA and 1.45 WHIP in 102 IP has been three months of a double-digit swinging strike rate. His control sub-indicators are still wobbly (58% FpK%, 39% Ball%), but they are showing improvement in the second half. He's a risky play, but he'll have upside if you can get him cheap. (Nickrand)
2022: 4 wins, 4.90 ERA, 1.40 WHIP in 118 IP
2023: 12 wins, 2.83 ERA, 1.04 WHIP in 167 IP
Luis Castillo: Shoulder issue delayed start by a month and was traded to SEA mid-season, but cruised all year long with career-best ERA. Swapped change-ups for more four-seamers, which fueled K% and BB% gains despite fewer GBs, but xERA/xWHIP ultimately approved. No longer a WHIP underachiever, skills and volume open door to... UP: first 200 IP/200 K season. (Young)
2022: 8 wins, 2.99 ERA, 167 K in 150 IP
2023: 14 wins, 3.34 ERA, 219 K in 197 IP
Dylan Cease: His remarkable 2022 season was a big step up, but the reality is that his skills didn't support his production. In fact, they were almost identical to his 2021 season. It's likely his true skill level lies somewhere between 2021 and 2022. He's not a top-50 pick (and barely a top-100 pick). (Cederholm)
2021: 13 wins, 3.91 ERA in 166 IP
2022: 14 wins, 2.20 ERA in 184 IP
2023: 7 wins, 4.58 ERA in 177 IP
Aaron Civale: Arm, wrist, and glute injuries led to three interruptions of this roller-coaster season. Got racked around the yard in first half; then normalization of both skills and luck factors drove a strong finish. Skills gains highlighted by new pitch mix, leaning on cutter/curve combo that yielded SwK% and GB% gains. Need to see this new version again, but we're intrigued. (Murphy)
2022: 5 wins, 4.92 ERA, 1.19 WHIP in 97 IP
2023: 7 wins, 3.46 ERA, 1.16 WHIP in 122 IP
Gerrit Cole: For all of the hand-wringing last offseason (What was wrong with him? Was it the hamstring, or the sticky stuff?) he has now answered all questions: three lines worth of NYY work here are incredibly consistent: ERA/xERA bounces in a narrow range, K-BB% is equal parts flat and elite, HR/F issues are baked in and don't hurt much. Safest ace around. (Murphy)
2022: 13 Wins, 3.50 ERA in 201 IP
2023: 15 Wins. 2.63 ERA in 209 IP
Jake deGrom: GMs aren't discounting him enough given his injury risk. He dropped to No. 36 after he experienced tightness in his side around Feb. 15, and that's an improvement on his earlier ADPs. But we're still not touching him at that ADP — he's 35, throws a million MPH, and hasn't reached 100 IP since 2020 (and that's pro-rating his 68 IP over a full season, which is a risky proposition on its own). His "F" health is well earned, and as good as he is, we need more certainty at this point in the draft. (Cederholm)
2022: 7 wins, 3.08 ERA in 64 IP
2023: 3 wins, 2.67 ERA in 30 IP (Tommy John surgery)
Alexis Diaz: Amid the season-long carnage in the CIN bullpen, Edwin's kid brother eventually worked his way into the 9th inning gig and ran with it in 2nd half. Combo of walks and fly balls looks problematic, but xBB% says BB% can get better, and minors pop-up rates suggest he might be able to survive with elevated FB%. Might be rocky at times, but a worthy Saves target. (Murphy)
2022: 10 Saves, 1.84 ERA in 64 IP
2023: 37 Saves, 3.07 ERA in 67 IP
Jhoan Duran: Starter in minors worked exclusively as reliever in rookie season. Electric blend of 101 mph four-seam fastball, a curve and a splinker produced ideal mix of extreme GB%, elite SwK/K%, and good BB%. A weapon in setup role, had manager's trust in big spots (LI), but could also force his way into 9th. Where... UP: 30 Sv (Pyron)
2022: 8 saves, 1.86 ERA, 0.98 WHIP, 27% K-BB%, 61% GB% in 68 IP
2023: 27 saves, 2.45 ERA, 1.14 WHIP, 23% K-BB%, 66% GB% in 62 IP
Zach Eflin: Sidelined late-June to mid-Sept (patellofemoral pain right knee). That's same knee that required Sept 2021 surgery to repair torn patellar tendon (same surgery on both knees in 2016). Added cutter and threw curveball more, largely at expense of slider, and induced career-best exit velocity. Knee is a concern, but 2021-22 xERA/xWHIP shows ceiling. (Pyron)
2022: 3 wins, 4.04 ERA, 1.12 WHIP, 16% K-BB% in 76 IP
2023: 16 wins, 3.50 ERA, 1.02 WHIP, 23% K-BB% in 178 IP
Peter Fairbanks: Add a spring torn lat muscle to lengthy history of arm ailments, including two Tommy John surgeries, so the "F" Health grade is well-earned. However, he was truly dominant when on the mound in 2022, boasting elite BB%, K%, SwK% and velocity along with appealing GB%. Some pullback likely and risk is undeniable, but potential payoff could be big. (Pyron)
2022: 8 saves, 1.13 ERA in 24 IP
2023: 24 saves, 2.58 ERA in 45 IP
Kyle Finnegan: Found himself back in the closer role in 2nd half and fared well. Best full-year BB% of his career and it came with full xBB% support. Maintained GB% and managed to miss a few more bats while throwing his sinker more than ever (79%) and scaling back slider and splitter usage. If these gains hold, he's capable of sticking as a lower-tier closer. (Pyron)
2022: 11 saves, 3.51 ERA in 67 IP
2023: 28 saves, 3.76 ERA in 69 IP
Josh Hader: Temporarily fell from top closer perch after surprising mid-season trade. In truth, we can blame that tumble almost entirely on hit and strand rates that torpedoed his stats. While skills did regress as batters made more contact, ability to miss bats didn't really wane much, and results came back in line during nice September run. There's profit here now. (Nickrand)
2022: 36 saves, 5.22 ERA, 1.28 WHIP in 50 IP
2023: 33 saves, 1.28 ERA, 1.10 WHIP in 56 IP
Clay Holmes: Among the best over the first half, continuing 2021's 2nd-half gains. But control vanished in July, then he landed on the IL with back spasms in August—which, one imagines, could be related. True, walks used to plague him. But he appeared to have cemented his new power/xGB/low-walk profile, so we'll bet on that holding form—with health. (Truesdell)
2022: 20 saves, 2.54 ERA in 64 IP
2023: 24 saves, 2.86 ERA in 63 IP
James Kaprielian: Some will see that shiny 2nd-half ERA and think he's turned a corner. You'll see that he got very lucky in the 2nd-half HR department, that his K-BB% is among the worst in MLB, and that his xERA paints a very different picture. DN: 5.00+ ERA (Truesdell)
2022: 5 wins, 4.23 ERA in 134 IP (2nd-half ERA: 3.32)
2023: 2 wins, 6.34 ERA in 61 IP
Clayton Kershaw: Although the innings pitched will likely finish near his 2022 total, they should provide strong ratios when he is on the mound. His slider and curveball create enough whiffs to keep the strikeouts coming, and his strong control backs enough helpful WHIP effort. When looking for quality innings and strong skills near his 129 ADP, rostering Kershaw can help with four categories. (Chesser)
2022: 12 Wins, 2.28 ERA, 0.94 WHIP in 126 IP
2023: 13 Wins, 2.42 ERA, 1.05 WHIP in 126 IP
Michael Kopech: While Kopech's 2022 ERA was nearly identical to his 2021 output, his xERAs were a run-and-a-half apart, as he got some help from a low hit rate and a slightly high strand rate. A 4.70 xERA casts his season in a very different light, and suggests that he still has a long way to go before he's ready to be a dependable part of Chicago's rotation or your fantasy roster. (Kruse)
2022: 5 wins, 3.54 ERA in 119 IP
2023: 5 wins, 5.43 ERA in 129 IP
Alex Lange: One of game's biggest bullpen surprises rode overhauled change-up to big season. To put SwK into perspective, only two other relievers (Díaz, Muñoz) induced more whiffs. When bats did make contact, they pounded ball into ground. xERA in 2nd half confirms late drop-off wasn't skills induced. If bb% improves and opportunity arises... UP: 30 Sv (Nickrand)
2022: 0 saves, 3.69 ERA, 1.25 WHIP in 63 IP
2023: 24 saves, 3.92 ERA, 1.37 WHIP in 62 IP
Jordan Montgomery: Incremental improvements paid off with best fantasy season yet: GB% rose due to increased sinker usage; added a half-tick of velocity, continued to clamp down on walks; frustrated LHH. Ks returned in the 2nd half and allayed fears of a pitch-to-contact-only stage. While there are no obvious signs of a Next Big Step, reliable mid-rotation SP have their place. (Hershey)
2022: 14 W, 148 K, 3.48 ERA in 178 IP
2023: 10 W, 166 K, 3.20 ERA in 189 IP
Charlie Morton: Given jump in ERA and age, many will use those as reasons to believe the end is near. But skills remained largely intact, and stuff actually ticked up a couple of notches in 2nd half. Jump in HR/F is correctable, and return of prior groundball lean also will help keep ball in park. This is a 3.50 ERA arm that you might be able to get at a 4.00 ERA price. (Nickrand)
2022: 9 wins, 4.34 ERA, 1.23 WHIP in 172 IP
2023: 14 wins, 3.64 ERA, 1.43 WHIP in 163 IP
Martín Pérez: Had the best season of his career at age 31 in 2022 (2.89 ERA, 1.26 WHIP in 196 IP). That said, there's very little chance his ERA stays below 4.00 in 2023. His chronic command issues didn't improve (12% K-BB%), and his command building blocks were even more ominous (8.4% SwK%, 37% Ball%). (Nickrand)
2022: 12 wins, 2.89 ERA, 1.26 WHIP in 196 IP
2023: 10 wins, 4.45 ERA, 1.40 WHIP in 142 IP
Cole Ragans: A former first-round pick who has endured two Tommy John surgeries. He showed zero command in his MLB debut during 2022 (6% K-BB%), but his 48/12 K/BB in 43 IP at Triple-A gives hope for gains there, as does his sparkling 14/2 K/BB in 9 IP this spring. (Nickrand)
2022: 0 wins, 4.95 ERA, 1.48 WHIP in 40 IP
2023: 7 wins, 3.47 ERA, 1.16 WHIP in 96 IP
Eduardo Rodriguez: Another intriguing buy-low target. Prior to last season's debacle, he had posted four consecutive 100+ BPV seasons, including an excellent 139 BPV in 2021. His prior consistency and age (30) give him and his 376 ADP plenty of profit potential. (Nickrand)
2022: 5 wins, 4.05 ERA, 1.33 WHIP in 91 IP
2023: 13 wins, 3.30 ERA, 1.15 WHIP in 153 IP
Kodai Senga: Top international free agent should make stateside debut in 2023, and you should be interested. Over 1,000 career innings of a 2.59 ERA in Nippon Professional Baseball with an upper-90s fastball and split-finger to drive excellent recent K%. Has the experience, workload, and stuff to be a mid-rotation starter. Watch his landing spot closely. (Bloomfield)
2023: 12 wins, 2.98 ERA in 166 IP
Paul Sewald: Would've nailed last year's "UP: 30 Sv" if it wasn't for that stinkin' SEA committee. Whiffs and Ks both fell back from the stratosphere, and while he ran lucky with lowest H% of any pitcher (min. 50 IP), can't complain about K-BB% and BPX encore. At the whims of home run gods given FB tilt, but looks like a fine mid-tier stopper once again. (Bloomfield)
2022: 20 saves, 2.67 ERA, 0.77 WHIP in 64 IP
2023: 34 saves, 3.12 ERA, 1.15 WHIP in 65 IP
Tarik Skubal: Flexor tendon surgery ended season in Aug, and will keep him out of action for at least nine months. Prior to that, took another solid step forward, with shift in GB%, FB% enough to move needle on xERA even with other skills remaining static. Return from injury makes 2023 outlook a little cloudy, but long-term, he's growing nicely into mid-rotation upside. (Kruse)
2022: 7 wins, 3.52 ERA, 1.16 WHIP in 118 IP
2023: 7 wins, 2.80 ERA, 0.90 WHIP in 80 IP
Will Smith: Even with unlucky H% trying to sink 2nd half, he recovered nicely after deadline trade to HOU (3.27 ERA, 3.45 xERA). xBB% suggests that past two seasons of shaky control were fluky, and K% should rebound with SwK still holding strong. Leverage Index took a hit, but knowing how much managers love guys with closing experience, can't rule out more saves. (Kruse)
2022: 5 saves, 3.97 ERA, 1.41 WHIP in 59 IP
2023: 22 saves, 4.40 ERA, 1.06 WHIP in 57 IP
Justin Steele: Back issues ended season in late Aug, cutting short year of quiet growth. Since moving from RP to SP at mid-season 2021, last three half-season xERA marks have been 4.69, 3.86, 3.07. That last one hinges on K% that probably isn't sustainable for him, but if he continues to limit walks, increases IP total, could have a shot at reaching double-digit R$. (Kruse)
2022: 4 wins, 3.18 ERA, 1.35 WHIP, $4 R$ in 119 IP
2023: 16 wins, 3.06 ERA, 1.17 WHIP, $23 R$ in 173 IP
Spencer Strider: Just an incredible debut, with eye-popping skills to match, including elite xBB% that suggests 2nd half control improvement could stick. Still some question about whether change-up can become usable third pitch, but early returns were encouraging (4.8% usage, 17.4% SwK). He did this as rookie with two pitches; follow-up could lead to... UP: Cy Young (Kruse)
2022: 11 wins, 2.67 ERA in 132 IP
2023: 20 wins, 3.86 ERA in 187 IP
Ross Stripling: Rebounds in BB%, GB% helped set table, but real heroes of most valuable season of career were H%, super-low HR/F, and staying relatively healthy (and even so, still spent 15 days on IL with hip strain). History suggests HR prevention will backslide, which might be enough to push ERA back over 4.00. Add in risk of IP decline, and he's likely to be overvalued. (Kruse)
2022: 10 wins, 3.01 ERA in 134 IP
2023: 0 wins, 5.36 ERA in 89 IP
Logan Webb: Showed that formula of breakout 2021 season was repeatable, as both BB% and GB% remained elite and kept his floor extremely high, though step back in K%, SwK suggests he won't have ceiling of other elite starters. Also seems to have put past shoulder issues behind him, and is now a legitimate candidate to reach 200 IP with mid-3.00 ERA. (Marcus)
2022: 15 wins, 2.90 ERA, 1.16 WHIP in 192 IP
2023: 11 wins, 3.25 ERA, 1.07 WHIP in 216 IP
Devin Williams: If fantasy managers are looking to roster a closer near his 62 ADP, Devin Williams and his 173 career BPV can help. His saves come with elite strikeouts and strong ratios, so monitor to see if he can continue to suppress hard contact and barrels. While his HR/F and H% may increase, his whiffs and skills still support a strong ERA effort. While the walks may continue, the skills are here for a $20+ R$ season. (Chesser)
2022: 15 Saves, 1.93 ERA, 40% K%, 13% BB% in 61 IP
2023: 36 Saves, 1.53 ERA, 38% K%, 12% BB% in 59 IP
For more information about the terms used in this article, see our Glossary Primer.
Free Weekly eNewsletter
The industry's #1 analytical weekly e-mail newsletter is ABSOLUTELY FREE!
More Information
Shopping Cart
SAVE THE DATE!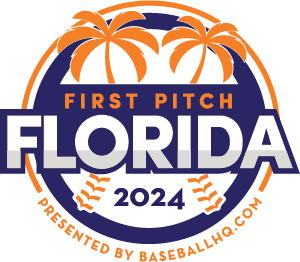 March 1-3, 2024

Clearwater, FL