FANALYTICS: Appalachian Odyssey, Part 4
By Ron Shandler
August 30th, 2012 11:04pm
I don't often write about topics that are unrelated to our primary focus here at BaseballHQ.com, but those rare columns tend to get a very positive response, and they are fun for me to write. If you're not interested, feel free to click away; there's plenty of other terrific content here and I've got some interesting fanalytic material coming in future weeks.
---
Recapping the earlier parts...
Princeton Rays at Burlington Royals
The first trip was a solo act. For last month's second leg, I took my wife. This final stop for the summer involved me, Sue and both girls during a family vacation.
Darielle and Justina were both born in New Hampshire and raised as dual Red Sox/Mets fans. They've been to their fair share of major league ballparks as we've traveled to all corners of the country. However, living in southwest Virginia, their "home team" has been the Salem Avalanche/Red Sox in the Carolina League, a highly-polished Single-A stadium experience.
I warned them that the Appalachian League was different. I tried to describe it as a cross between a Salem game and one of Justina's local rec softball games.
Having visited six of the 10 league venues at this point, I did not know exactly what to expect in Burlington, North Carolina. Would it be like Greeneville, TN—a modern stadium on a college campus? Or Elizabethton, TN—a venue with barely any physical presence?
Burlington is a small town about mid-way between Greensboro and Durham. Both larger cities have grown over the years and one can see the beginnings of urban sprawl. The home town of the Kansas City affiliate has become a de facto suburb for the two metropolitan areas along the Interstate 40 corridor in this part of northern NC.
The town itself is nondescript, like most of the others in the Appy League. Once you leave the highway, you have to navigate through several miles of old neighborhoods and chain restaurants. Burlington Athletic Stadium is in a lower class residential area on the eastern edge of town.
But the attendees at this game seemed to reflect more of an upscale mix of well-behaved urban and rural. Though it was a Wednesday night contest, a scan of the stands could find an equal number of collared business casual, polos and Ts. There was a distinct lack of the riff-raff that was evident last month in Pulaski. If not for an occasional outburst from the 40 blue-shirt-clad kids on a group outing, this crowd would have done just fine at Wimbledon.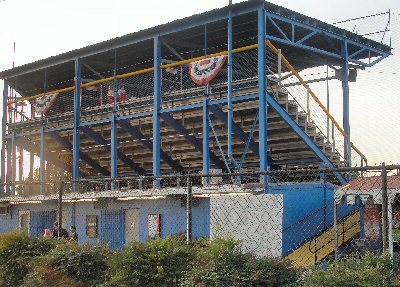 While the crowd was more upscale, the stadium was an old metal monstrosity. It was built in 1945 and originally located in Danville, VA, about an hour's ride north. After that team folded, the stadium was completely dismantled and rebuilt on its current site in 1958. The stadium appeared briefly in the film Bull Durham.
The bulk of the seating is in a large grandstand that stretches around the home plate area but barely reaches to midway down the first and third baselines. There are five rows of reserved, seat-back box seats priced at $8 apiece, behind which are a dozen rows of metal bleachers for $6. It is not a very comfortable stadium, so the extra $2 is more than worth it.
The stadium has a standard, classic old minor league feel, but there is one oddity. The ramps that lead from the concourse to the grandstand are incredibly steep. I don't know how older fans manage to climb them. As I was making my own concerted effort to scale the slope, I could not help thinking that they could really use a rope-tow.
Outside the grandstand, down the left field and right field lines are more bleachers. The concourse runs behind the grandstand and is where you'll find the two concessions and the souvenir hut. Behind the bleachers are the rest rooms.
Burlington was an Indians affiliate from 1986 to 2006. Recent stars who have played here include C.C. Sabathia, Manny Ramirez, Bartolo Colon and Jim Thome. Their jerseys adorn the individual walls above each men's room urinal, an interesting view during between-inning relief excursions. Can't remember the last time I had my nose within inches of Jim Thome's #25 while I was doing my business.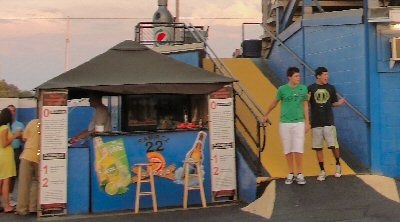 At both ends of the grandstand are beer huts. These are small, tented booths surrounded by wooden bar stools. Here you can get three different beers on draft and several more in bottles. Serving us is no ordinary concession stand lackey; this is a legitimate bartender and beer connoisseur. As we take a seat at the bar, we're no longer at a ballgame; we're at a Caribbean resort.
The bartender offers us a taste of the local selection, Buckshot Amber Ale. He tells us how this beer is brewed at Natty Greene's in Greensboro. He tells us that Nathanael Greene was a general in the Revolutionary War and for whom Greensboro was named. He was a confidant of George Washington and was largely responsible for the triumph of American forces in the South.
According to the Natty Greene website, Greene died of sunstroke at age 44 in Savannah, Georgia in 1786.
The bartender serves me, Sue and Darielle. Darielle turned 21 last May. She is not carded.
Hot Dog Report: Once again, this is the important stuff. No trip to any ballpark, at any level, is complete without a dog and a beer. Thus far during my odyssey, the dogs in Princeton, WV were the class of the Appy League, earning a score of 8 out of 10. None of the other stops came remotely close. (By comparison, the best dogs I've had at any major league stadium are at CitiField, the only place where you can get "ketchup-braised onions." If that sounds less than appetizing, you've never tried them. Citi's dogs are 9s, losing a point only because of their stale buns.)
So how did Burlington fare? Not well. The small dog was nothing special and the only toppings available were yellow mustard, ketchup and relish. But the bun was fresh. I'd give it a 3 at best.
Coming into this game on August 15, the Burlington Royals sported the best record in the league, backed by solid pitching and five of the league's top eight home run hitters. They were facing a third-place Princeton team. The Rays' Kevin Brandt hurled five perfect innings before reaching his pitch count and being lifted in a scoreless game. Reliever Alex Keudell was immediately greeted by a home run from Burlington's Mark Threlkeld. It would be all the offense the Royals would need.
As the sixth inning wrapped up, the stands started to mysteriously empty out. When that happens in Dodger Stadium, the effect is pronounced but there is still a decent enough crowd remaining. When this happens with a crowd of 712, you start hearing echoes.
Burlington's Bubba Starling, the 5th overall selection in the 2011 draft, should have been the marquee attraction. He did hit a double in three trips and scored the Royals' second run in the seventh inning. But by that time, it seemed like the stadium manager was already itching to turn off the lights.
And it's not like this was a game that dragged on forever. When Burlington closed out their 2-0 victory, the game clock showed one hour and 51 minutes.
What was the hurry?
Having lived in this part of the country now for 16 years, I will guess that everyone was rushing home to find out the winning numbers of the $320 million Powerball. And for those who missed them, they were 6, 27, 46, 51, 56 and 21.
For more information about the terms used in this article, see our Glossary Primer.
Shopping Cart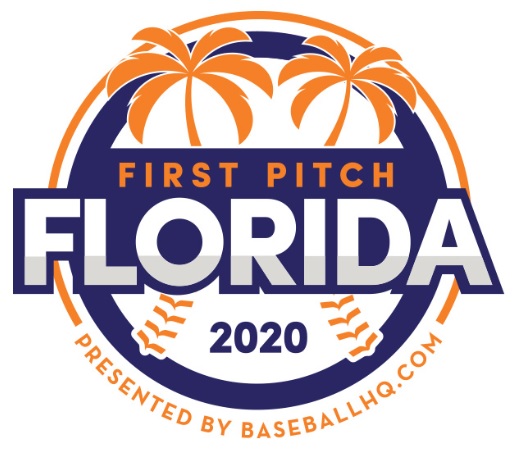 Inaugural Event!
February 28-March 1, 2020
St. Petersburg, FL
A few seats still left!