DR HQ: Anatomy 101— Flexor Mass Injuries to the Forearm
By Rick Wilton
May 9th, 2013 12:04am
In the past week, we've heard about Stephen Strasburg (RHP, WAS) battling tightness in the flexor mass (also known as flexor pronator muscle group) in his forearm. Gavin Floyd (RHP, CHW) will undergo surgery to repair damage to his flexor mass tendon AND have Tommy John surgery. (More on Floyd later). The Orioles' Dylan Bundy had a PRP treatment involving his flexor mass and was told to shut it down for up to six weeks. This injury is all over the news, so let's take a look at this little discussed ailment.
Anatomy:
The Livestrong.com website does a great job of explaining the anatomy of the flexor mass…
"The flexor mass muscles are also known as the lateral and medial epicondyle muscles. This muscle massextends from the elbow down the forearm to ligaments and tendons at the wrist joint. The medial and lateral epicondyle muscles enable you to flex your arm at the elbow, as well as rotate, flex and pronate your wrist."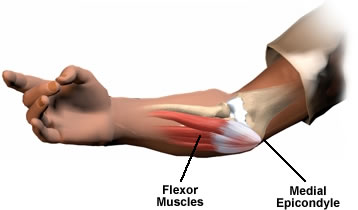 Injuries to the Flexor Mass Muscles and Tendon
The concern with an injury that involves flexor mass is the tendon that connects on the medial (inside) port of the elbow. Close by is part of the ulnar collateral ligament, which when torn is almost always repaired/replaced via Tommy John surgery. This is why flexor mass injuries need to be more specific to all of us; so we can properly identify what the pitcher is facing.
If either of the epicondyle muscles that make up the flexor mass are strained, that injury in almost every case is not as severe as tendon injuries. The muscle injury will be treated and usually the player or pitcher can return to action in a relative short time. A more severe, grade two or three muscle strain, which involves a fair amount of the muscle being torn, could mean a longer recovery time.
The biggest concern involving a flexor mass injury, specifically a tendon injury, is when the ulnar collateral ligament gets involved. The injury to Gavin Floyd involves both. Both Bundy's case (as far as we have been told) and the Strasburg scare have involved the muscle only.
By the way, an injury to the medial epicondylitis, inflammation where the tendon and bone meet is also known as Golfer's elbow. On the other side of the elbow, lateral (outside) epicondylitis is tennis elbow.
Treatment
There have not been a lot of torn tendons of the flexor muscle group. Billy Wagner and Jose Contreras are two fairly recent examples. In those cases, the tendon was repaired and a rehab somewhat similar to TJ surgery prescribed. Muscle tears almost never require surgery, but recovery can be lengthy if it is a grade two or grade three strain.
Those who undergo surgery to repair a torn flexor pronator tendon AND ulnar collateral ligament can be looking at a 14-24 month recovery period.
In milder cases; rest, ice, physical therapy and anti-inflammatory medical are prescribed.
Outlook
Stephen Strasburg (RHP, WAS)
His flexor mass problem appears to be some tightness and spasm with the muscle. Examination ruled out and tendon, ligament or elbow involvement so that is great news. They'll watch him closely but he should not have any more problems.
Dylan Bundy (RHP, BAL)
The MRI done on his prized right elbow reportedly ruled out any damage to the ulnar collateral ligament or the flexor mass (medial epicondyle or lateral epicondyle) tendons. The hope is the PRP treatment along with the extended rest will clear up all issues with his right forearm. It will be interesting to see if Bundy will modify his now infamous long toss program.
Gavin Floyd (RHP, CHA)
The news on Floyd couldn't be much worse. He has the dreaded torn ulnar collateral ligament/flexor tendon combination. He is certainly out for 2013, and could miss a good portion of 2014 as well. A study done in 2010 revealed that pitchers undergoing Tommy John surgery return to at least their prior level if not better roughly 90% of the time. Of pitchers having both injuries, only 12.5% make it back to prior levels. Even though that sample size was very small, those 30 or older seem to be more susceptible to this double whammy. Floyd is exactly 30 years old this season.
For more information about the terms used in this article, see our Glossary Primer.
Shopping Cart