DIVISIONAL OUTLOOK: NL West—SD's middle infield
By Brian Rudd

@RuddHQ
March 2nd, 2013 12:04am
Jedd Gyorko (2B, SD) is making his case to be the starter at second base for the Padres, as he connected for three home runs in the first week of the Catcus League. He hit 30 home runs a season ago, between Double-A and (mostly) Triple-A. While each of those stops was a hitter-friendly environment, most analysts feel that Gyorko is ready to be a strong offensive contributor at the big league level. With Chase Headley as the long-term answer at third base, the Padres moved Gyorko over to second last season, where he appeared in 47 games. That is obviously still a work in progress, but if he can handle things defensively and keeps hitting, it may be difficult to give the second base job to anyone else.
Logan Forsythe (2B, SD), who became the starter at second base last June, entered camp as the favorite. He possesses good speed, and despite not running often in 2012, he would be a good bet to reach double digit steals with regular at-bats. His sub-.600 OPS in 320 career at-bats against right-handers will need to improve in order to receive that kind of playing time, though. Forsythe is getting a look at shortstop this spring, though he has very limited experience there. If he can prove adequate, he could see semi-regular at-bats, even if Gyorko or Alexi Amarista (2B, SD) beat him out at second base.
Amarista, who was part of the Ernesto Frieri deal with the Angels last May, brings positional versatility, as he appeared at every position except catcher and first base in 2012. His 132 Spd shows he can be a threat to steal, though his 67% success rate with the Padres was consistent with his minor league career numbers (120 for 181, 66%). Until his success and on-base rates improve, his SB upside is limited.
If Gyorko starts at 2B and Forsythe can handle SS, the value of Everth Cabrera (SS, SD) would be greatly affected. He led the National League with 44 SB last year, and was getting thrown out just four times. Cabrera swiped 19 bases over his final 102 plate appearances—a 100-SB pace over a full season. That level of performance isn't sustainable, in part because it was driven by an inflated hit rate and on-base-percentage over the season's final month. Cabrera's speed and upside are unquestioned, but a lack of other skills and a crowded infield could put his playing time at risk.
Even after trading Justin Upton to Atlanta, the Diamondbacks appear to have four outfielders worthy of a starting role. It appears on the surface that Gerardo Parra (OF, ARI) may often sit in favor of Cody Ross (OF, ARI), Adam Eaton (OF, ARI), and Jason Kubel (OF, ARI). But Manager Kirk Gibson recently stated that he would like each of them to receive 450 to 500 at-bats. While achieving that goal may be difficult, there are a few paths to playing time for Parra, who is capable of playing anywhere in the outfield.
Despite having one of his best offensive seasons, Ross got on base at just a .308 mark against right-handers in 2012, and has done so at just a .312 clip for his career. He also hit more home runs against left-handed pitching (12 to 10), in 228 fewer plate appearances. Parra offers less power, but had an on-base-percentage against right-handers of .349 in 2012, and is at .340 for his career. He also provides a significant defensive edge, even winning a Gold Glove in 2011 for his work in left field.
Eaton put up a .978 OPS and 44 stolen bases in the minors last season, earning a September call-up. He more than held his own, and is now off to a strong start this spring as well. He possesses a great deal of upside, both short and long-term, but the fact is he remains unproven at the major league level. Should he struggle, Parra is capable of stealing time from him in center.
As for Kubel, his power bat will probably be in the lineup more often than not. But he may sit against some left-handers, and being a defensive liability will probably cost him some playing time. Kubel will probably come out late in some games, or may sit in favor of Parra if Gibson wants to strengthen the outfield defense with a fly ball pitcher (Kennedy, Skaggs) on the mound.
The Rockies went with a four-man rotation for much of the 2012 season, but under new manager Walt Weiss, they will return to a more conventional five-man rotation. Four of the spots are likely spoken for, barring an injury, with Jhoulys Chacin, Juan Nicasio, Jorge de la Rosa, and Jeff Francis. The fifth spot is up for grabs, with Drew Pomeranz, Tyler Chatwood (RHP, COL), Chris Volstad (RHP, COL), and Christian Friedrich (LHP, COL) battling it out.
Pomeranz spent most of the 2011 season in Class A, and entered last season as one of the organization's top prospects. He struggled during his early season trial, but after his recall in July, he put up a 7.7 Dom and 2.0 Cmd over 17 starts. Chatwood has youth and a high ground ball rate on his side, but has compiled an ugly 1.1 Cmd thus far in his big league career.
Volstad's ground ball rate is also attractive, but his career 4.87 ERA and 1.8 Cmd in friendlier environments should probably scare away any potential suitors. Former first round pick Friedrich sported a strong 7.9 Dom, but had major issues with the long ball, which helped lead to a 6.17 ERA.
Mark Ellis (2B, LA) is expected to see the majority of playing time at second base in 2013, but the Dodgers have a few other options at their disposal. The 35-year-old isn't much of a hitter at this point in his career, and that is especially the case against right-handers. In 638 at-bats against them over the past two seasons, Ellis has put up just a .614 OPS.
Over the winter, the Dodgers brought in Skip Schumaker (2B, LA) to presumably serve in a utility role. He appeared in 61 games at second base for the Cardinals in 2012, and has fared better than Ellis vs right-handers the past two seasons, with a still modest .706 OPS. Jerry Hairston (3B, LA) is also hanging around, and capable of manning second base, as he did 30 times a season ago. He has very little to offer other than versatility, and the ability to hold his own vs left-handers, against whom he has an impressive 1.27 Eye, but just a .723 OPS against over the past three years.
As it stands now, Gregor Blanco (OF, SF) looks to be the favorite to start in left field against most right-handed pitchers, but that is far from being set in stone. For starters, Blanco will have to improve upon the .242/.332/.335 line he put up against them last year, as he actually fared a bit better against left-handers.
Andres Torres (OF, SF), back with the Giants following a year in New York, is a logical choice to see significant action against left-handed pitching. He is going to miss the World Baseball Classic and at least a week of Spring Training due to an oblique strain, but it's not something that is expected to carry over into April.
Bret Pill (1B, SF) is off to a hot start this spring, and could factor into the mix as well. He has decent power, but rarely draws a walk, and the seven games he appeared in left field with the Giants last year were more than he ever had in the minors. If he ever found his way to regular at-bats, it may be at first base, which would push Brandon Belt (1B, SF) to left field or the bench.
Right-handed hitting Cole Gillespie (OF, SF) continues to produce at the Triple-A level, where he had an .885 OPS each of the past two seasons. The 28-year-old only has 120 major league at-bats to his name, but is in camp vying for a spot on the Giants' roster.
For definitions and benchmarks of BaseballHQ.com's most-used terms, see our Glossary Primer.
For more information about the terms used in this article, see our Glossary Primer.
Shopping Cart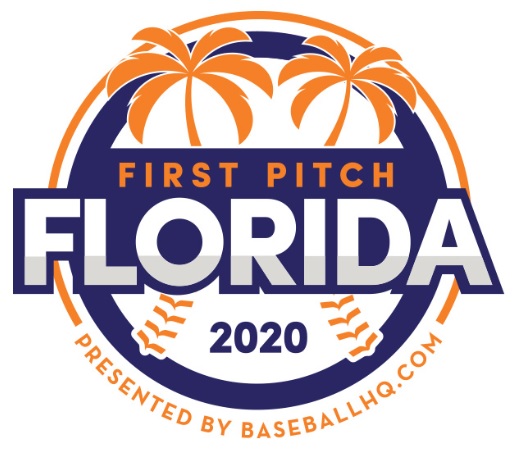 Inaugural Event!
February 28-March 1, 2020
St. Petersburg, FL
A few seats still left!