DIVISIONAL OUTLOOK: NL East—Health concerns for Mets SPs
By Greg Pyron

@GregPyron
March 7th, 2013 12:02am
With Johan Santana (LHP, NYM) and Shaun Marcum (RHP, NYM) both facing some Opening Day uncertainty due to shoulder issues, it is a good idea to become familiar with their potential replacements. At this point, the leading candidates appear to be Jeremy Hefner (RHP, NYM) and Collin McHugh (RHP, NYM).
Hefner served as a swingman as a rookie last year, making 13 starts in 26 appearances totaling 93.2 IP, and would presumably get the nod if a fill-in starter is needed. The 26-year-old's 4.35 xERA and 83 BPV show that he was not as bad as his 5.09 ERA would lead you to believe. With a fastball that lives around 90 mph and secondary pitches that do not generate a lot of swings and misses, he needs to exhibit good control to be successful.
McHugh made four starts in eight major league appearances last season and posted a 4.83 xERA and 7.2 Dom in 21 IP. In many ways, he is similar to Hefner. Both are right-handers with 90 mph fastballs who lack overpowering swing and miss stuff. Still, he managed an 8.2 Dom and 2.85 ERA in 148.1 IP combined between Double-A and Triple-A last year.
Top prospect Zack Wheeler (RHP, NYM) is not considered in the mix for this opportunity. He has missed about a week of action himself, nursing a mild right oblique strain. The team doesn't want to rush him back for what would probably only be a couple of starts. They also do not want to start his major league service clock early.
Between Santana and Marcum, it's more likely that Marcum will be ready. Marcum had similar shoulder issues last spring and was still ready by the opener. Santana has more work to do strengthening his shoulder and has yet to pitch in a spring game. While there is still time, Santana will need to start progressing at a much faster clip if he is to avoid opening the season on the disabled list. With all the money the Mets have tied up with Santana, they figure to take the cautious route.
Joey Terdoslavich (OF/1B, ATL) is someone to keep an eye on this spring. It's not likely that he'll crack the Opening Day roster, but if the switch-hitter continues to hit anywhere to close to the way he has so far this spring, he will likely be the Braves' first option if injuries strike in the outfield or first base. The 24-year-old put himself on the prospect map with a breakout 2011 season (.867 OPS, 20 HR) at Single-A Lynchburg, but was a major disappointment in 2012 (.720 OPS, in 9 HR in 548 AB) between Double-A and Triple-A.
The team had hoped that he could handle third base, but that experiment failed miserably. This spring he has played the corner outfield spots for the first time since 2010; he seems to be setting himself up to be a possible corner outfield/1B option down the line.
Update: Julio Teheran (RHP, ATL) entered spring ball as the heavy favorite to earn the fifth starter job and he has done nothing to dissuade that notion. Through two spring starts, he has allowed just one hit (a solo HR) and one run while posting a 4 Ks in 5 IP. His chief competition, Sean Gilmartin (LHP, ATL), fared well in his first appearance, but struggled a bit in his next. After two appearances, he has a 7.20 ERA despite striking out five and not yet walking a batter.
One of the more intriguing players in camp is Rule 5 Draft selection Alfredo Silverio (OF, MIA). The 25-year-old has picked up a few AB so far this spring, but is not yet ready to play the outfield. He is expected to open the season on the disabled list as he continues his recovery from a serious car accident from January 2012 that left him with injuries to his neck, back and elbow. The elbow issue required Tommy John surgery and he missed the entire 2012 season. Prior to the car crash, Silverio had put together a breakout 2011 season at Double-A Chattanooga in the Dodgers organization (.306/.340/.542). Once healthy, he could push his way into the fourth outfielder role and, given the team's rebuilding status, a fair amount of playing time between left field and center field this summer.
Update: It's early, but Domonic Brown (OF, PHI) seems to be on a mission to earn significant playing time in one of the corner outfield positions, clubbing 3 HR in his first 23 AB. John Mayberry (OF/1B, PHI) has also played well to this point, with 1 HR in his first 26 AB. Darin Ruf (OF/1B, PHI), a first baseman trying to prove that he can be an adequate left fielder, has gotten off to a rough start both with the bat and the glove and has missed some action due to a sore right arm. Delmon Young (OF, PHI) is still rehabbing from November microfracture surgery on his right ankle and is expected to begin the season on the disabled list. The team has asked him to focus on his conditioning as he prepares to patrol right field after serving primarily as a designated hitter for the Tigers last year. He has reportedly shed about ten pounds since signing with the team on January 22nd.
Tyler Moore (OF/1B, WAS) slugged 10 HR in just 156 AB during his rookie season with the Nationals. This was no surprise given that he hit 31 HR per season the previous two years in the minors. The first baseman made the conversion to left field and is expected to back up both positions in 2012. With Mike Morse (OF/1B, SEA) no longer around, an injury to the starting outfielders or to Adam LaRoche (1B, WAS) should give Moore a nice boost in playing time. With just a 71% ct%, he's not going to hit for a great average, but the 174 PX hints at what he might be capable of. The right-handed batter hit right-handed pitchers better than lefties during his stint in the majors last season and he more than held his own against right-handers in the minors as well (.832 OPS and 32 HR in 496 minor league PA vs. RHP since the start of 2011) so he shouldn't be a candidate for a platoon whenever playing time presents itself.
Update: On March 2, Wilson Ramos (C, WAS) was given the medical green light to return to game action after passing a sliding test. The 25-year-old's two at-bats in Sunday's game marked his first plate appearance since May 12 of last year. He will continue to gradually ramp up his work as spring training progresses. Barring a setback, he is expected to be on the Opening Day roster as a back up, at least in the season's first couple of months, for Kurt Suzuki (C, WAS). Chris Snyder (C, WAS) has an opt-out clause in his contract if he is not on the major league roster so rest assured the team will not take any chances at all with Ramos.
For definitions and benchmarks of BaseballHQ.com's most-used terms, see our Glossary Primer.
For more information about the terms used in this article, see our Glossary Primer.
Shopping Cart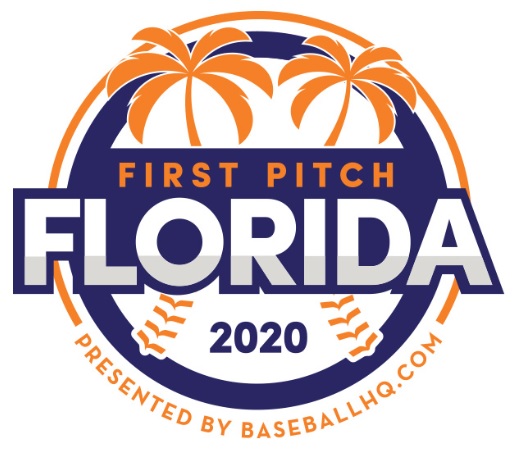 Inaugural Event!
February 28-March 1, 2020
St. Petersburg, FL
A few seats still left!