DIVISIONAL OUTLOOK: AL East—BOS OF Bradley making push
By Kristopher Olson

@KO_Reporter
March 4th, 2013 12:02am
An emerging question in Boston is whether top prospect Jackie Bradley Jr. (OF, BOS) has any chance of breaking camp with the big-league team. Bradley is off to a hot start this spring (8-for-14, 2B, 1-for-2 SB), and team officials have not ruled out Bradley being able to accelerate his expected timetable: replacing free-agent-to-be Jacoby Ellsbury (OF, BOS) after 2013.
Bradley was rated by BaseballHQ.com as the organization's number-three prospect. Bradley has potential as a high OBP/BA hitter who could offer a surprising number of SB and maybe, down the line, some power as well. His plate discipline is particularly impressive for such a young player.
If Bradley forces his way onto the roster, it would likely put a damper on manager John Farrell's plans to give Jonny Gomes (OF, BOS) significant playing time against RHP, despite his .223 BA against them over his career. It would also curtail opportunities for Gomes' other would-be platoon mates Daniel Nava (OF, BOS) and Mike Carp (1B/OF, BOS).
The minors remain Bradley's most likely destination; he's yet to log an AB in Triple-A. But after a poor 2012 and a historic collapse the year before, BOS might not be able or resist the spark Bradley could provide.
After this space emphasized the "high reward" potential of Nolan Reimold (OF, BAL) last week, Reimold apparently felt a reminder of his "high risk" nature was in order, exiting a March 1 spring training game with shoulder soreness despite homering in the game. He stressed that the injury was not serious and not related to the neck injury that derailed his 2012 season.
If it did become a bigger issue, Nate McLouth (OF, BAL) would likely pick up a few ABs, but he would still need a RHB platoon partner, given his ineptitude against LHP. Russ Canzler is one possibility, and he rated a mention in BaseballHQ.com publisher Ron Shandler's Draft Radar—Batters column for his power potential in Camden Yards. Lew Ford (OF, BAL), who is off and running this spring (.400, 2 SB) after clawing his way back to the majors after a five-year hiatus is another.
Update: Brian Roberts (2B, BAL) is off to a good start (6-for-11), but perhaps most encouraging, is the authority with which Roberts has been hitting the ball. Three of his six hits have gone for extra bases (2 2B, 1 HR). You will never be able to trust him, but at least for now he appears in the lead to begin the season as the team's starter.
Despite understandable speculation by BHQ analyst Harold Nichols and others that the injury to Curtis Granderson (OF, NYY) might prompt the team to hit the trade market, at least as of now the team seems intent on filling the void in-house.
Well, maybe not all the in-house options, apparently, as team announced that Eduardo Nunez (IF, NYY) would not be working in the OF during the spring. This is unfortunate, given the SB Nunez could provide with an early season surge in playing time. So what do the in-house options look like?
In Matt Diaz (OF, NYY) and Juan Rivera (OF, NYY), the Yankees have two aging RHB whose skills have seemingly slipped past the point of no return. Diaz is particularly inept against RHP and thus probably benefits only marginally from Granderson's absence. But Rivera has some measure of expected platoon splits as well. And given that the player whose shoes they would be trying to fill is coming off back-to-back 40-HR seasons, the utter lack of power is particularly disconcerting, though Rivera got back to a little bit better than league average in the second half last year. His overall PX and xPX trends are not encouraging, however.
The weak competition presents an opportunity for Melky Mesa (OF, NYY), whom BHQ minor-league analyst Jeremy Deloney described last fall as a "toolsy" player with deficiencies in his plate approach. He would, however, bring to the table more raw power than Rivera and Diaz at this stage of their careers. And on cue, two of Mesa's first four hits this spring have cleared the fences. Given that Mesa has the ability to produce SB (albeit with significant BA risk), he is a player fantasy owners in deep leagues with want to keep an eye on as the spring progresses.
Though the waning offensive skills of Kelly Johnson (2B, TAM) have been documented, he may be in line to recoup a bit of fantasy value in another way this season: position flexibility. Johnson played some left field in a spring training game last week (a position he played in ATL before moving to 2B) and will be working at first base as well as the Rays seek to add to manager Joe Maddon's flexibility to mix and match lineups to take advantage of matchups.
The new position or positions aren't likely to add much to Johnson's overall playing time, but it could make him a useful player to have around in deep leagues when owners have to do a little mixing and matching of their own to fill in for injuries.
From the Good News, Bad News Dept.: Due to the likely composition of the Rays' roster, namely a lack of RHB in the OF/DH mix—at least until Wil Myers (OF, TAM) arrives—Matt Joyce (OF, TAM) is in line to pick up some extra ABs against LHP. That may mean a few more HR and RBI, but those counting stats would likely come at the expense of his BA, given his career .201 BA against southpaws.
Earlier this season, manager John Gibbons made a commitment to Casey Janssen (RHP, TOR) as the team's closer. But as each day passes without Janssen getting on the mound as he recovers from shoulder surgery, Gibbons has all the more reason to question that commitment.
Meanwhile, all signs point to former closer Sergio Santos (RHP, TOR) being ready to answer the bell when the season starts, having thrown two scoreless innings thus far this spring (1 H, 1 K). If both pitchers can get healthy, Gibbons will have a good problem on his hands, though for fantasy owners, it could present quite a headache. Early drafters, in particular, may want to go the extra mile to handcuff these two.
The early returns on the fastball velocity of Josh Johnson (RHP, TOR) are good, which could be significant. As noted in this year's Baseball Forecaster, Johnson's velocity has been down each of the last two seasons and has taken Johnson's Dom with it, which caught up to Johnson's results in 2012. A livelier fastball could help offset the impact of Johnson's move to the American League and pay dividends for owners willing to take on the risk of a player with an "F" health grade.
For more information about the terms used in this article, see our Glossary Primer.
Shopping Cart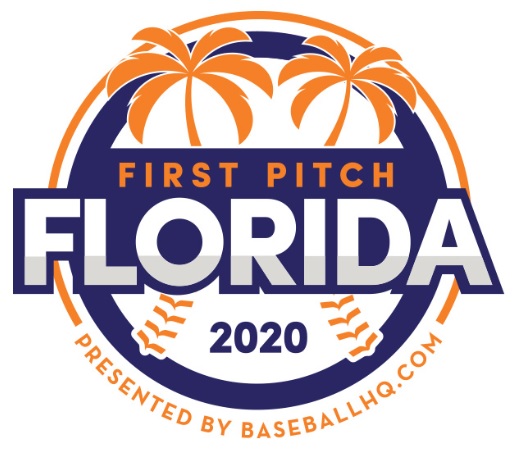 Inaugural Event!
February 28-March 1, 2020
St. Petersburg, FL
A few seats still left!