DIVISIONAL OUTLOOK: AL Central—Who closes in Detroit?
By Robert Berger
March 13th, 2013 12:02am
One of the more entertaining, but frustrating (for fantasy owners), stories this spring has been the speculation surrounding the Detroit closer situation. The Tigers committed to giving rookie Bruce Rondon (RHP, DET) and his 100 mph fastball first shot at the spot, despite having no major league experience and shaky control. Not surprisingly, his early spring outings were adventures that resulted in more walks than innings pitched and a WHIP above 2.50. After being pulled from his scheduled appearance last week to work on mechanical adjustments, he has resumed his regular turn.
At least six players, including one not even on the roster, Jose Valverde, (RHP, FA), have been mentioned as closer possibilities should the Tigers not be ready to hand Rondon the job. The Tigers have repeatedly said they will not sign Valverde, and with his poor season last year from a skills perspective (lowest Dom of his career at 6.3, 1.8 Cmd, and 30 BPV), they will most likely look in-house.
Joaquin Benoit (RHP, DET) seems to be a likely candidate with a strong skills base (3-year averages of 10.4 Dom, 4.4 Cmd, and BPVs of 174, 117, and 130 the last three years), but manager Jim Leyland has talked about how comfortable he is with Benoit in the set-up role, where he has more holds the last three years than anyone except Mike Adams (RHP, PHI).
Rick Porcello (RHP, Det) has been mentioned as a possibility, but he has never pitched in relief (majors or minors). His low Dom, never above 5.5 in his career, would make him an unconventional pick. He has also pitched extremely well in his four spring starts, which make him the favorite to win the fifth spot in the rotation.
Octavio Dotel (RHP, DET) has closing experience (most recently with Pittsburgh in 2010) and had an outstanding season in 2012 for the Tigers with a 9.6 Dom, 5.2 Cmd, and a 141 BPV. Phil Coke (LHP, Det), despite his post-season success last year, is not likely to close, other than in spot situations against left-handed hitters, because of his struggles against right-handed batters (.394 oppBA in 2012). Al Alburquerque (RHP, DET) may be the most intriguing name on the list of closer possibilities. He only pitched 13 innings in the majors last year in his return from elbow surgery, but was effective. In his 2011 rookie season, he had a Dom rate of 13.9 and a BPV of 123, and has not allowed a HR in 56 career MLB innings. Don't expect the Detroit closer situation to be resolved until early in the season.
After last week's power outburst that has put Aaron Hicks (OF, MIN) among the spring training leaders in HRs, RBIs, and OPS, what are the chances he will make the team? Hicks started the spring in competition with Darin Mastroianni (OF, MIN) and Joe Benson (OF, MIN), for the center field job. Mastroianni, with the most major league experience of the three, was the early favorite, but he has been hampered this spring with a sore left hamstring. His only realistic upside is based on speed as he has no power and a mediocre career BA of .279 in the minors. Benson, a former second round pick, took a big step backwards last year, batting .202 in four minor league stops and struggled with injuries. He had shown some power in the lower minors in earlier seasons, but he hasn't helped his cause so far this spring by batting under .100 and leading the team in strikeouts.
Hicks has the most all-around offensive potential of the three. He had a breakout season at AA-New Britian: .286/.384/.460 with 13 homers, 21 doubles, 11 triples and 32 stolen bases in 129 games. General Manager Terry Ryan has said that the best of the three at the end of spring training will be named the starting center fielder. With less than three weeks to go, Hicks has moved to the front.
Break up the Royals! The Royals MLB-best spring record has been buoyed by several outstanding offensive performances. After an outstanding rookie year in 2011, Eric Hosmer (1B, KC) experienced a sophomore slump in 2012 posting a .232/.305/.359. However his BPIs were more positive than his stats suggest. The 23 year-old maintained an 82 h% and a 9% bb% in 2012. So far in spring training, he is hitting just under .400 with power and could be headed toward a bounce-back year.
Another player having a strong spring is Lorenzo Cain (OF, KC) who is slated to be the starting center fielder. He is coming off an injury-plagued 2012, but could be a 15 HR/20 SB source if he gets 500 ABs. His plate approach and strikeouts have been a concern, but so far this spring he has not struck out through 23 plate appearances and has drawn six walks while batting over .400.
Update: Three weeks into spring training, the battle between Chris Getz (2B, KC) and Johnny Giavotella (2B, KC) remains deadlocked. Their spring stats are almost mirror images of each other. Getz: .320/.346/.480. Giovotella: .304/.333/.348. Expect this contest to go the distance.
Update: Last week we mentioned that Brent Morel (3B, CHW) and Angel Sanchez (SS, CHW) were competing for a utility infield spot. The Sox are specifically concerned about the backup SS position. Outside of Morel and Sanchez, the only other in-house options who can play short are Steve Tolleson (SS, CHW) and Carlos Sanchez (SS, CHW), ranked #3 among White Sox prospects. Sanchez is only 20 and not considered MLB-ready. The Sox want him to be the every-day SS at AAA-Charlotte. Tolleson is 29 years old, has marginal minor league numbers and has only managed 120 major league ABs in his career. Sources inside and outside the organization have confirmed that the White Sox are scouting both the Cactus League and the Grapefruit League for possible backups for SS. Paul Janish (SS, ATL), Emmannuel Burriss (2B, CIN), Alfredo Amezaga (SS, LAD), Donnie Murphy (3B, MIL) and Cody Ransom (SS/3B, SD) are all players who might be available on waivers by the end of spring training. None of these options are likely to have fantasy impact.
The Indians rotation is shaping up as Terry Francona announced that Zach McAllister (RHP, CLE) has won a spot behind Justin Masterson (RHP, CLE), Ubaldo Jimenez (RHP, CLE), and Brett Myers (RHP, CLE). McAllister has potential as evidenced by last year's 7.9 Dom and 2.9 Ctl in 22 starts. The fifth spot is still undecided among Trevor Bauer (RHP, CLE), Carlos Carrasco (RHP, CLE), Daisuke Matsuzaka (RHP,CLE) Scott Kazmir (LHP, CLE), and Corey Kluber (RHP,CLE).
Rich Hill's (LHP, CLE) contract has been selected from AAA-Columbus moving the non-roster invitee to the 40-man roster making it likely he will be on the Opening Day roster. Hill returned successfully from Tommy John surgery last year and posted a 1.14 ERA over parts of the last three seasons with the Red Sox in 40 games.
For definitions and benchmarks of BaseballHQ.com's most-used terms, see our Glossary Primer.
For more information about the terms used in this article, see our Glossary Primer.
Shopping Cart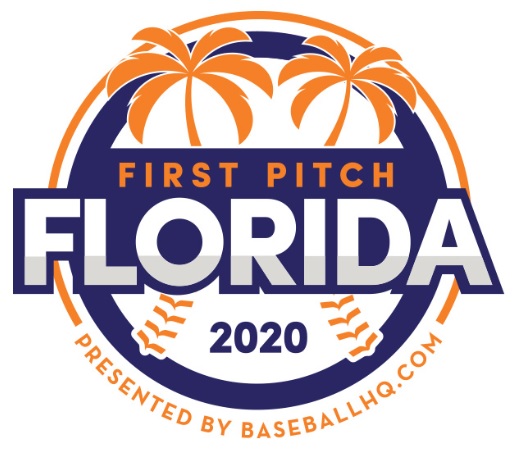 Inaugural Event!
February 28-March 1, 2020
St. Petersburg, FL
A few seats still left!