DIVISIONAL OUTLOOK—AL EAST: Aging sluggers ailing
By Kristopher Olson

@KO_Reporter
March 11th, 2013 12:02am
The big news out of Yankees camp this week was yet another veteran slugger, Mark Teixeira (1B, NYY), succumbing to an injury. While the eight-to-10-week timetable for his return would have him back sometime in May, the nature of the injury—he also battled wrist woes that cost him most of last September—should prompt hesitancy about buying low. Teixeira's OPS had already been in a four-year decline; his ground-ball rate spiked in 2012. Couple those factors with how wrist injuries linger, and a new nadir for Teixeira's power numbers would hardly be a surprise.
While some initially assumed that Kevin Youkilis (3B, NYY) might move across the diamond and Eduardo Nunez (SS, NYY) would slide in at third base (opening the door to a SB bounty), the team reportedly feels that moving Nunez around the diamond led to his 2012 struggles. Thus, Nunez will have to settle for playing shortstop against LHP for now.
At least for now, Juan Rivera (OF, NYY) and Dan Johnson (1B, NYY) will sub for Teixeira. One possibility is a straight platoon, perhaps more likely given that Rivera's splits are less severe Matt Diaz's (OF, NYY). Rivera could be a preferred LF option against RHP, depending on how the Yankees' opening day roster ultimately shakes out.
Johnson has been out of sight and mind (only 111 major league AB since hitting 18 HR in 416 AB in 2007) and has never been able to hit for average in the majors. The sub-Mendozan levels he posted with the Rays in 2010 and 2011 no doubt jeopardized his baseball future.
Nonetheless, he did exhibit very good plate skills at AAA-Charlotte last year in the CHW organization (16% bb%, 1.00 Eye, 80% ct%) while launching 28 HR in 476 AB and posting a .388/.492/.880 line. His Eye has hovered at or around 1.00 the past three seasons, and his strong walk rate raises his OBP and makes the low BA a bit easier to stomach (at least for his real-life team). Johnson's power has never been much in doubt, and Yankee Stadium (+53% LHB HR) will certainly help it along. So long as you can handle the BA hit, Johnson could definitely surprise with some early season value.
Joining Teixeira on the list of AL East sluggers with iffy prognoses for 2013 is David Ortiz (DH, BOS), whose recovery from an Achilles injury has proceeded at a glacial pace. Ortiz might have been a better bet than Teixeira to return value, until the news that he'll likely miss opening day broke. Overall, the prognosis from Dr. HQ is pretty ominous—an "extremely high" draft-day risk.
Where the Red Sox turn is difficult to discern. None of the possible platoon partners with Jonny Gomes (OF, BOS) in LF or sub in for Mike Napoli (1B, BOS) has impressed thus far in spring training.
Best guess? That the team would attempt to fill the void with some combination of Mauro Gomez (1B, BOS) from the right side, switch-hitter Daniel Nava (OF, BOS) and either Mike Carp (1B/OF, BOS) or Lyle Overbay (1B, BOS) from the left side, though there is no guarantee Gomez would even be deployed in a platoon. Not only did he hit RHP better in his 102 MLB ABs last season, his respectable .275 BA last year was fueled by a 35% h% and the others would seem to offer the possibility, at least, of more power.
Meanwhile, there already figured to be some AB available for Nava, Carp or Overbay vs. RHP in at least a partial platoon with Gomes in LF, and Ortiz's absence will only increase those opportunities. The team could move Napoli to DH to keep his hip from acting up, with one of the others playing 1B, a position at which Overbay and Carp have experience and Nava has been working this spring. None of the three has yet seized what is shaping up to be a two-fold opportunity, but it is definitely a situation worth watching, given the reticence the team has expressed to adding to the roster.
At least in theory, Ryan Lavarnway (C, BOS) could be another option to fill in at DH, as he did down the stretch in 2012. But thus far, Lavarnway has followed up a disappointing 2012 with a sub-par spring (3-for-18, 1 XBH), and he has the added disadvantage of being a RHB on a team already replete with hitters better against LHP.
The drumbeats for Russ Canzler (OF, BAL) to earn a roster spot got a little bit louder with a 2-HR game against the Spanish national team. There would seem to be some AB at DH vs. LHP available here, given the recent struggles of Wilson Betemit (DH, BAL) against LHP (.140 in 2012, .236 in 2011). But Canzler is not the only RHB having a big spring for the Orioles.
Steve Pearce (1B/OF, BAL) and Conor Jackson (1B, BAL) each have 3 HR, with Pearce setting the pace at 8-for-15 and Jackson not far behind (8-for-22). For Jackson, such power has been AWOL since 2008. For Pearce, the power is a little less surprising. For the survivor, a fairly steady stream of AB vs. LHP may await.
Update: Jair Jurrjens (RHP, BAL) is rapidly removing himself from the Orioles' fifth-starter competition. Through three outings and two starts, Jurrjens' has allowed 6 ER in 5.2 IP) with just a 2/6 K/BB ratio. Thus far, he's provided little evidence of rebounding from last year's debacle.
Given the lackluster skills of the Rays' 2B contingent, the perennial struggles of utilily man Sean Rodriguez (IF, TAM) and the injury woes of Evan Longoria (3B, TAM), Cole FIgureroa's (IF, TAM) early showing this spring (6-for-15, 3 2B) is perhaps worthy of a bit more notice than usual. There may not be a spot for him immediately, but his defensive versatility has already gotten the attention of manager Joe Maddon, and he may well be viewed as the most major league ready and thus "next man up" should a need arise. The diminutive Figueroa won't offer much in the power department, and he also hasn't run much in the past two seasons, though he did steal 26-of-35 bases in the Carolina League in 2010.
Figueroa's real strength is his plate approach, as he owns a career OBP of .384 and has walked more than he has struck out each of the last three seasons. If he can maintain that approach in the majors, chances are he would not be a BA liability, at a minimum.

Brett Lawrie (3B, TOR) has withdrawn from the World Baseball Classic with a strained rib and left intercostal muscles. He will need two to three weeks to recover, which means his availability for Opening Day has not been ruled out. After missing six weeks with a similar injury last year, however, the team may be particularly cautious this time around.
Lawrie's absence may open up a short playing-time window for Mark Derosa (3B, TOR), whose once-decent power skills aren't likely to return at age 38. He's had three years of sub-.230 xBAs and fewer than 100 ABs.
Lawrie's absence could also allow the combatants in the Jays' 2B battle, Emilio Bonifacio (2B, TOR) and Maicer Izturis (2B, TOR) to appear in the lineup together. One local scribe even floated the possibility that, were Lawrie's return delayed, the team might even consider moving Jose Bautista (OF, TOR) back to third base and having Bonifacio or Rajai Davis (OF, TOR) man RF. Manager John Gibbons said such a move had not been discussed but did not rule it out, either.
Speaking of the Jays' 2B battle, Bonifacio is second on the team this spring with 4 SB—Anthony Gose (OF, TOR) has 5—to go along with a .321 BA, but his defense may be causing him to slip behind the steadier Izturis, just another example of how defense can "count" in fantasy.
For definitions and benchmarks of BaseballHQ.com's most-used terms, see our Glossary Primer.
For more information about the terms used in this article, see our Glossary Primer.
Shopping Cart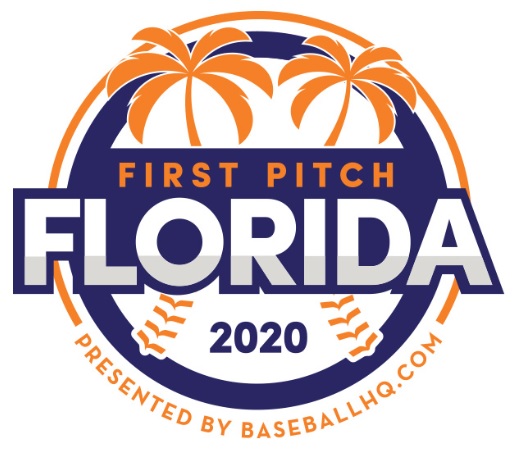 Inaugural Event!
February 28-March 1, 2020
St. Petersburg, FL
A few seats still left!