CALL-UPS: September 18-24, 2018
By BaseballHQ Minors Team
September 24th, 2018 12:01am
Photo: Edmundo Sosa (SS, STL)
Contributing writers: Chris Blessing, Rob Gordon, Nick Richards, Matthew St-Germain, and Andy Smith.
September 24, 2018
Edmundo Sosa (SS, STL)
Put simply, there's a lot to unpack with Sosa. At 5'11" and 170 pounds, he was part of St-Louis' 2012 international haul and at the time featured intriguing upside as a guy with hit, speed and glove utility projecting as an average-to-above-average SS in the majors. Effort, injury and approach have tempered those expectations and knocked some luster off the overall package, but there's still major league tools in the 22-year-old's bag. Sans power, every tool is average or better, though the results haven't always been there. The arm and glove haven't always played to their potential, and Sosa's above-average speed has yet to manifest even fringe-average SB numbers. That, combined with his below-average power, has made his overly aggressive approach at the plate all the more difficult to project the profile as a regular. Toss in frequent injuries over much of his career, and there are some who think Sosa most likely ends up in a utility role or at least moves to the keystone. Indeed, the Cardinals are now trying him around the diamond. In his favor, 2018 saw both a noticeable increase in power output as well as the ability to stay on the field for an entire season. Sosa hit nearly half his career HR this year, though this led to a return of his approach issues (.313 oppBA, 0.23 Eye over 452 Double-A and Triple-A AB). It could be an issue of makeup or effort or simply continued rawness due to time missed. Whatever the case, Sosa has bought himself a little more time to be considered in the mix for a starting gig, but without an increase in usable speed or contact, his defensive mistakes could push him down the ladder. Sosa's career line: 1,637 AB, .281/.334/.399, 78 2B, 17 3B, 27 HR, 0.38 Eye, 35 SB.
2018 STATS: Memphis (AAA) — 191 AB, .262/.321/.408, 13 2B, 5 HR, 0.31 Eye, 5 SB
Springfield (AA) — 261 AB, .276/.308/.429, 17 2B, 1 3B, 7 HR, 0.17 Eye, 1 SB
CURRENT ROLE: Backup MI
POTENTIAL: Starting SS
RATING: 7D
September 23, 2018
No call-ups.
September 22, 2018
Harold Castro (IF, DET)
The Tigers have purchased the contract of Harold Castro from Triple-A Toledo. The LHH Castro is best known for his defensive versatility. The 24-year-old has appeared at 2B, 3B, SS and all three OF positions this year, split between Double-A Erie and Triple-A Toledo. Castro is a light hitter who has failed to slug over .400 since 2012 in the GCL. This season, in his first taste of Triple-A, Castro struggled mightily working walks and hitting the ball with authority. At the plate, Castro has good hand/eye coordination, leading to plenty of batted balls. However, due to below-average reactions and a slow swing, Castro struggles finding the bat's barrel. The Tigers have a need for Castro given the state of their roster as they limp to the off-season. Unfortunately, fantasy owners are most likely not to gain anything significant from Castro's promotion to the big leagues today and into the future.
2018 STATS: Toledo (AAA) – 241 AB, .257/.270/.315, 8 2B, 2 HR, 0 .11 Eye, 3 SB
Erie (AA) – 110 AB, .282/.310/.327, 5 2B, 0 HR, 0.19 Eye, 2 SB
CURRENT ROLE: Utility Player
POTENTIAL: Utility Player
RATING: 6D
September 21, 2018
No call-ups.
September 20, 2018
Sherman Johnson (2B, LAA)
The Angels have purchased the contract of 28-year-old Sherman Johnson from Triple-A Salt Lake to fill in on the roster for David Fletcher, who hurt his hamstring and is likely done for the season. This was an unexpected call for Johnson, who was home in Tampa playing video games when he got the call earlier this week to report to the Angels. Johnson was drafted in the 14th round of the 2012 draft by the Angels and has spent parts of the last three seasons in Triple-A before earning his first call-up to the majors. His defensive versatility has primarily been his calling card. Able to play all four IF positions along with all three OF positions, Johnson offers the Angels several options as they close out their season. The LHH has been adequate with the bat, posting a career .251/.363/.389 line. Unfortunately, he lacks a true carry tool to push the profile. While he tallied up to 17 HR and up to 26 SB in a single season, he hasn't come close to reaching either total since 2015. In other words, don't expect him to emulate those numbers again, especially on the MLB level when he has mostly floundered at Triple-A. He is not an option in fantasy.
2018 STATS: Salt Lake (AAA) – 148 AB, .277/.359/.459, 7 2B, 4 HR, 0 .43 Eye, 2 SB
Mobile (AA) – 67 AB, .194/.316/.299, 5 2B, 0 HR, 0.65 Eye, 1 SB
CURRENT ROLE: Backup IF
POTENTIAL: Backup IF
RATING: 5B
September 19, 2018
No call-ups.
September 18, 2018
Justus Sheffield (LHP, NYY)
With two weeks remaining in the regular season, the Yankees have announced their intention to call-up top pitching prospect Justus Sheffield before their game on Tuesday. In manager Aaron Boone's words, they hope to get Sheffield's feet wet as he prepared to take on an active role next season. The 22-year-old former first-round pick of the Cleveland Indians spent 2018 split between the Yankees' two top affiliates, pitching well over 25 regular-season games and into the Triple-A playoffs. Sheffield is a three-pitch pitcher, working best when he's able to locate his mostly mid-90s, two-seam FB to both sides of the plate. His two-seamer has natural arm-side bore and sink and is a above-average offering on most days with plus-upside overall. Sheffield's mid-80s SL took a step forward from the AFL and projects as a plus offering. It has two-plane break, which is effective against both righties and lefties, and the overall tightness of the SL both improved as the season wore on this year. Sheffield's third pitch is a change-up, which mimics the FB movement without the consistency. It's grown leaps and bounds since his days as an Indians farmhand. However, consistency concerns push it towards more of an average offering than a plus pitch. Sheffield uses his frame well and leverage within his delivery to create deception. He doesn't always do a great job repeating in his delivery from start to start. At his best, Sheffield looks the part of a No. 2 starter. However, the inconsistencies and limited size 6'0'' scream mid-rotation, No. 3 starter.
2018 STATS: Scranton/Wilkes-Barre (AAA) – 20 g, 15 gs, 6-4, 2.56 ERA, 88.0 IP, 3.7 Ctl, 8.6 Dom, 2.3 Cmd, 3 HR, .204 oppBA
Trenton (AA) – 5 g, 5 gs, 1-2, 2.25 ERA, 28.0 IP, 4.5 Ctl, 12.5 Dom, 2.8 Cmd, 1 HR, .163 oppBA
CURRENT ROLE: Reliever/ Spot Starter
POTENTIAL: #3 starter
RATING: 8C
PLAYER POTENTIAL RATING
Scale of (1-10) representing a player's upside potential
10 - Hall of Fame-type player
9 - Elite player
8 - Solid regular
7 - Average regular
6 - Platoon player
5 - Major League reserve player
4 - Top minor league player
3 - Average minor league player
2 - Minor league reserve player
1 - Minor league roster filler

PROBABILITY RATING
Scale of (A-E) representing the player's realistic chances of achieving their potential
A - 90% probability of reaching potential
B - 70% probability of reaching potential
C - 50% probability of reaching potential
D - 30% probability of reaching potential
E - 10% probability of reaching potential
For more information about the terms used in this article, see our Glossary Primer.
Shopping Cart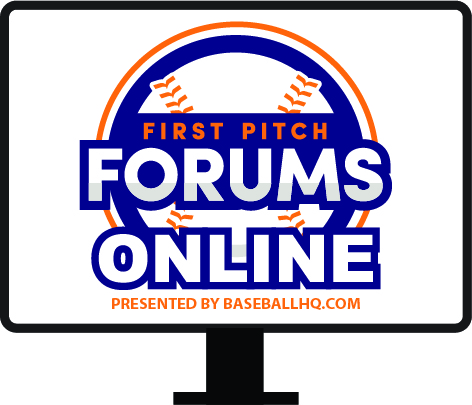 Our virtual First Pitch Forum returns!
Three online-only events: March 5, 11, 17
Join us live, or watch when you want
Just $19!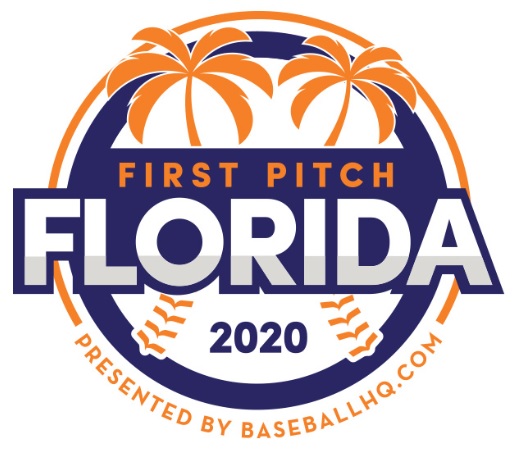 Inaugural Event!
February 28-March 1, 2020
St. Petersburg, FL
A few seats still left!