CALL-UPS: July 25-31, 2023
By BaseballHQ Minors Team
July 30th, 2023 12:01am
Edgar Navarro (RHP, CHW)
The players covered in this column are only those who still have rookie status as determined by MLB, and who have not already been written up earlier in 2023. Find previous Call-up profiles on the News tab of the player's PlayerLink page.
Contributing writers: Jeremy Deloney, Nick Richards, Matthew St-Germain, Doug Otto and Shelly Verougstraete
July 31, 2023
No call-ups today.
July 30, 2023
Edgar Navarro (RHP, CHW)
The White Sox are in the midst of a roster overhaul and they have recalled the 25-year-old from Triple-A to fill a roster spot in the bullpen. Navarro inked a contract with Chicago in 2018 out of Venezuela. He has progressed steadily throughout the system, including stints in both Double-A and Triple-A in 2023. There may not be a ton of upside in his right arm, but he has some usable tools that could eventually lead to higher leverage opportunities in the majors. Navarro has never been much of a swing-and-miss guy and his walk rate has regressed over the last two seasons. With a two-pitch mix, he throws with confidence and conviction. He has a 93-96 mph sinking fastball as well as a sweeping 80-84 mph slider. Neither are plus nor project to be plus down the line. However, both exhibit plenty of movement that make it difficult for hitters to barrel. Thus far in 2023, he has a 3.32 ERA, 6.2 BB/9 and 8.1 K/9 along with a healthy .214 oppBA. Clearly, throwing strikes has been problematic for him and he'll obviously need to clean that up in order to be trusted in tough situations. Navarro is a groundball pitcher and needs to rely on the defense behind him to make plays. Of course, it would be much easier if he didn't allow as many free passes via walks. It appears the White Sox will give him some opportunities to work through his struggles. For his career, he has a 5.15 ERA, 5.4 BB/9 and 9.6 K/9, mostly as a reliever.
STATS: Navarro Baseball-Reference page
CURRENT ROLE: Middle reliever
POTENTIAL ROLE: Middle reliever
RATING: 6D
July 29, 2023
Declan Cronin (RHP, CWS)
Cronin was selected in the 36th round of the 2019 draft by the Chicago White Sox from the College of the Holy Cross. He has strictly been a reliever since into professional baseball. He has slowly worked his way through the White Sox minor league system, and while he doesn't have wipeout stuff, he gets plenty of groundballs. His fastball sits in the low to mid-nineties with a high-spin that is in the mid-eighties slider. At Triple-A Charlotte this year, the 25-year-old posted a 4.03 ERA, 1.52 WHIP, and 36/20 K/BB ratio over 41 appearances, but he posted one of his highest swinging strike percentages at 10.2 percent. He will see plenty of time in the White Sox bullpen for the rest of the season, as it appears Chicago is selling anything that is not nailed to the floor.
STATS: Cronin Baseball-Reference page
CURRENT ROLE: Setup reliever
POTENTIAL: Setup reliever
RATING: 7D
---
In-depth details that give you an edge, every day from spring training through season's final pitch. Subscribe to BaseballHQ.com. Winning. Fantasy Baseball. Insight.
---
July 28, 2023
No call-ups.
July 27, 2023
Marco Luciano (SS, SF)
Signed for $2.6M as a 17-year old in 2018, Luciano makes his big-league debut at age 21. Long a power projection at a premium position, prospect fatigue began to set in a bit for the Dominican native from San Francisco de Macoris ever since he started to comparatively struggle upon reaching high Single-A in 2021. Previously a top 10 prospect, that "struggle at a new level" phenomenon repeated itself in Double-A this year, causing the young slugger to tumble a bit on our Midseason Top 50. Luciano's carrying tool is his lightning-fast bat speed that generates plus plus raw power. That thump is a mixed blessing, because it has led Luciano towards a very aggressive approach, and combined with relatively poor barrel ability and heavy struggles on anything away or down and in, has led to K rates hovering around 30% for some time now. Thankfully, he's offset a bit of the swing-and-miss with solid walk rates (15% BB% in Double-A this year). Defensively, there's been a lot of questions as to whether Luciano can stay not just at SS but on the dirt at all, with some evaluators pegging him as a future RF due to fringe-average speed and fielding tools. How much a lingering back injury played into his fielding difficulties is a valid question as he's looking somewhat improved at SS this year. San Francisco has not seen fit to give him even a single rep anywhere else on the field throughout his entire professional career, due to his cannon arm and high baseball IQ. That said, limited speed and fielding skills at 21 don't project super well, so don't be surprised to see him at 3B or RF if he struggles defensively, as the bat power will play--upwards of 30 HR a year even with potentially a cavernous BA downside. With Thairo Estrada (SS, SF) out with a broken hand and Brandon Crawford (SS, SF) due back but looking deep into his decline phase, there's opportunity for Luciano to get significant playing time. Just keep in mind that even during his current surge, he's still striking out at a near 30% clip, numbers that aren't likely to improve in the majors. Bottom line: lots of upside here as a future above-average maybe-SS, but probably more runway required.
STATS: Luciano Baseball-Reference page
OTHER COVERAGE: No. 33 on Midseason Top 50, No. 29 on HQ100, No. 1 on SF Org Report, Eyes Have It Podcast (November 2021), Eyes Have It (June 2021)
CURRENT ROLE: Starting SS
POTENTIAL: Starting SS
RATING: 9C
July 26, 2023
Alika Williams (SS, PIT)
Williams was taken as an underslot first-round sign by the Rays in 2020 on the back of premium defensive skills, on the hope was that he'd develop offensive impact in time, an end point still yet to materialize. 6'1" and 180 pounds, the carrying tool is the defense, where Williams flashes plus fielding and arm tools at SS, alongside above-average speed lending him great range. He should carve out a long career simply based on this fact alone. However, the worry is that despite the starter tools, he's more second-division or even a utility guy, as the bat still struggles with anything beyond rote contact. However, Pittsburgh believed there was enough there to mold that they acquired him in June for Robert Stephenson (RHP, TAM). Across Triple-A, Williams has a 6.2% SwK though most of the contact is of the more normal variety with an 85.7 average EV. That said, he's been hot since arriving in the Pirates organization and now with 12 HR has eclipsed his previous season high while maintaining solid plate discipline for Triple-A Indianapolis (15/22 BB/K across 175 PA). There are no splits here, though the majority of his power is to his pull side. Whether or not he can transition these new gains to the big leagues remains to be seen, but at 24-years-old with major-league-ready defense, he's definitely going to get burn to figure it out.
STATS: Williams Baseball-Reference page
CURRENT ROLE: Utility Player
POTENTIAL: Starting SS
RATING: 7D
July 25, 2023
No call-ups.
PLAYER POTENTIAL RATING
Scale of (1-10) representing a player's upside potential
10 - Hall of Fame-type player
9 - Elite player
8 - Solid regular
7 - Average regular
6 - Platoon player
5 - Major League reserve player
4 - Top minor league player
3 - Average minor league player
2 - Minor league reserve player
1 - Minor league roster filler

PROBABILITY RATING
Scale of (A-E) representing the player's realistic chances of achieving their potential
A - 90% probability of reaching potential
B - 70% probability of reaching potential
C - 50% probability of reaching potential
D - 30% probability of reaching potential
E - 10% probability of reaching potential
For more information about the terms used in this article, see our Glossary Primer.
Free Weekly eNewsletter
The industry's #1 analytical weekly e-mail newsletter is ABSOLUTELY FREE!
More Information
Shopping Cart
SAVE THE DATE!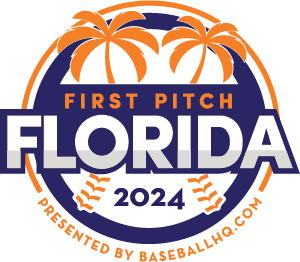 March 1-3, 2024

Clearwater, FL