CALL-UPS: April 9-April 15, 2019
By BaseballHQ Minors Team
April 15th, 2019 1:01am
Pictured: Josh Sborz (RHP, LA)
The players covered in this column are only those who have not exceeded 50 IP / 130 AB in their MLB career, or exceeded 45 non-September days on the MLB roster, and who have not already been written up earlier in 2019. Find previous Call-up profiles on News tab of the player's PlayerLink page.
Contributing writers: Chris Blessing, Rob Gordon, Nick Richards, Matthew St-Germain, and Andy Smith.
April 15, 2018
Josh Sborz (RHP, LA)
Sborz comes with accolades, as the 2015 College World Series MVP and 2016 California League Pitcher of the Year, as well as draft pedigree, going to the Dodgers in 2015 in the Competitive Balance Round B. So highly did Los Angeles think of him they tried him out as a starter, a project that worked out until the 25-year-old reached Double-A in 2017, posting a 4.3 Ctl and 6.2 Dom over 116.2 nondescript innings. The Dodgers would move him back to the bullpen to open 2018 and the 6'3, 215-pounder took off, posting a 3.4 Ctl and 12.0 Dom over 90.1 IP advancing through two levels. While most of his arsenal graded out as average as a starter, in the pen he's pushed two of his pitches close to or at plus. Sborz features a 95-mph fastball with excellent movement as well as a 10-4 slider that's his primary out pitch. There's also a curve and change-up in here from starting, but they're both different look pitches rather than features. Sborz hides the ball well and shows a good amount of deception, though his delivery is slightly unconventional and at times leads to control issues. His pedigree and previous performances say he's got high leverage upside, but more of the seventh-inning variety than as closer. Sborz also could pitch in a multi-inning role due to his previous starting experience, but he'd likely have to bump one of his secondaries to remain effective.
2018 STATS: Oklahoma City (AAA) — 33 g, 1-1, 4.38 ERA, 37.0 IP, 3.6 Ctl, 11.4 Dom, 3.1 Cmd, 0 HR, .266 oppBA, 1.43 WHIP
Tulsa (AA) — 13 g, 3-1, 2.76 ERA, 16.1 IP, 6 Sv, 2.8 Ctl, 13.2 Dom, 4.8 Cmd, 1 HR, .193 oppBA, 0.98 WHIP
CURRENT ROLE: Middle reliever
POTENTIAL: Setup reliever
RATING: 6C
Jacob Webb (RHP, ATL)
At 6'1" and 200 pounds, Webb becomes the first player drafted out of Tabor College in Hillsboro, KS, to make the major leagues. Drafted in 2014, he'd appear in 11 games, six as a starter, before succumbing to an elbow injury and requiring Tommy John surgery. Only returning to the mound in 2016, the 25-year-old has moved fast on the basis of his high-octane stuff. He sat mainly in the low 90s after his return, but reached 98 mph with his fastball last year, pushing the pitch's grade to plus. It sits 95 now but there's still some command issues and he too frequently leaves it up in the zone, resulting in more fly ball outcomes than you'd like. He backs this up with an above average slider and average change-up, utilizing a starter's repertoire that keeps hitters off balance. Despite an elevated hard hit rate, he gets a lot of swings and misses (14.3% SwK% for Triple-A Gwinnett last year) and has kept his oppBA below .202 since reaching Double-A. Webb's a late bloomer and while his elevated control rates and fly ball tendencies say he's more of a low leverage guy, his high strikeout rates say that if he can tamp down his negatives, there's high leverage upside in the tank.
2018 STATS: Gwinnett (AAA) — 30 g, 2-2, 3.13 ERA, 31.2 IP, 11 Sv, 3.1 Ctl, 9.7 Dom, 3.1 Cmd, 3 HR, .175 oppBA, 0.98 WHIP
Mississippi (AA) — 21 g, 1-2 3.18 ERA, 22.2 IP, 7 Sv, 4.8 Ctl, 13.9 Dom, 2.9 Cmd, 4 HR, .175 oppBA, 1.24 WHIP
CURRENT ROLE: Middle reliever
POTENTIAL: Setup reliever
RATING: 6C
April 14, 2019
Touki Toussaint (RHP, ATL)
Last season as a 21-year-old (who then turned 22 in June) Toussaint absolutely dominated Double and Triple-A en route to an August call-up to the majors. He was not overmatched in 29 IP with the big league club, either, as his 9.9 Dom and .182 opponent's batting average show. His bread-and-butter strikeout pitches are an 11-to-5 CB and a splitter. He keeps hitters guessing on those two offerings by mixing in both a two-seam and four-seam FB. At 6-3 and 185 pounds his frame screams projectibility. The final obstacle to overcome is cleaning up his mechanics so that his delivery is smooth and repeatable for long stretches. If he's unable to do that then Toussaint may ultimately end up in the bullpen. The Braves (and roto owners) are definitely hoping he remains in the rotation, though, as his ceiling as a starter will be much higher. For now he'll work in relief and look to grab a stray 5th-spot start, but if he shows enough then he certainly has the natural ability to get into the SP rotation and not leave for a very long time. Check the link below for even more details by way of his minor league scouting report from last season.
2018 STATS: Atlanta (NL) - 7 g, 5 gs, 4.03 ERA, 29 IP, 6.5 Ctl, 9.9 Dom, 1.5 Cmd, 1 HR, .182 oppBA
Gwinnett (AAA) - 8 g, 8 gs, 5-0, 1.43 ERA, 50.1 IP, 3.0 Ctl, 10.0 Dom, 3.3 Cmd, 0 HR, .193 oppBA
Mississippi (AA) – 16 g, 16 gs, 4-6, 2.93 ERA, 86.0 IP, 3.8 Ctl, 11.2 Dom, 3.0 Cmd, 7 HR, .208 oppBA
OTHER COVERAGE: No. 45 on HQ100; No. 4 on Atlanta's Organization Report; previous scouting report
CURRENT ROLE: Long reliever with possible spot starts
POTENTIAL: #2 Starter
RATING: 9D
Austen Williams (RHP, WAS)
Williams made the full-time move to the bullpen at the start of 2018 and posted strong numbers at the two highest level of the minors. That earned him a late-season call to Washington, but once there he inexplicably struggled with the longball. Exactly half of the 10 hits he allowed left the yard, and that was after not allowing a single home run during his previous 68 IP in the minors. In fact, prior to that major league audition one of the recurring themes in Williams's scouting reports was that his 95 mph FB generated a lot of groundballs. In any case, assuming that small sample size won't become the norm then Williams may be able to stick in middle relief -- but a few more trips between MLB and Triple-A are likely on the horizon, simply due to the nature of the last-man-in-the-pen shuffling dance that all clubs seemingly employ. A former sixth round pick out of Texas State, saves don't look to be a part of his future -- and unless a club decides to try him again as a starter then his fantasy impact will be minimal.
2018 STATS: Washington (NL) - 10 g, 0 gs, 5.59 ERA, 9.2 IP, 5.6 Ctl, 7.4 Dom, 1.3 Cmd, 5 HR, .270 oppBA
Syracuse (AAA) - 8 g, 0-0, 1 sv, 0.55 ERA, 16.1 IP, 2.2 Ctl, 11.0 Dom, 5.0 Cmd, 0 HR, .111 oppBA
Harrisburg (AA) - 24 g, 2 gs, 3-3, 1 sv, 1.39 ERA, 51.2 IP, 2.3 Ctl, 12.0 Dom, 5.3 Cmd, 0 HR, .182 oppBA
CURRENT ROLE: Middle reliever
POTENTIAL: Middle reliever
RATING: 6C
April 13, 2019
Austin Dean (OF, MIA)
The 25-year-old former fourth-round pick had a breakout season spanning two levels in the minors in 2018, and that earned him an August promotion to the big league club last year. His best asset is his contact rate, which stands at 82% for his career. Despite being athletic, speed isn't a big part of his game. His power profiles more as the doubles, gap-to-gap variety; 16 has been his single-season high in dingers (which happened in 2018), with 12 of those coming in the minors. Roughly 75% of his starts have come in LF, but he won't hurt you in RF -- and can cover CF in a pinch. Still relatively young, if he can maintain his plate control in the majors then Dean has an outside shot of reaching his ceiling as a starter -- though platoon work might be his likeliest future destination. Seasons of hitting in the .270 range with low-double-digit HRs are attainable.
2018 STATS: Miami (NL): 113 AB, .221/.279/.363, 4 2B, 0 3B, 4 HR, 0.32 Eye, 1 SB
New Orleans (AAA) – 316 AB, .326/.397/.475, 12 2B, 9 HR, 0 .67 Eye, 2 SB
Jacksonville (AA) – 81 AB, .420/.466/.654, 8 2B, 3 HR, 0.86 Eye, 0 SB
CURRENT ROLE: Reserve OF
POTENTIAL: Starting OF
RATING: 7D
Jake Jewell (RHP, LAA)
Jewell made the full-time move to the bullpen in 2018 and thrived in Double-A. He had some control issues while in Triple-A, but still showed enough to warrant a mid-season call-up to the big league club. His FB can reach 97 mph and he pairs it with an above-average slider. His career ratios include a 7.3 Dom, 3.4 Ctl, and 2.2 Cmd -- none of which are elite. Cutting down on the walks will be paramount for his chances of ascending past a middle-relief role in the majors. Until/unless that happens, the 2014 fifth-round pick will be a roto non-factor unless you play in a Holds league.
2018 STATS: Los Angeles (AL) – 3 g, 0 gs, 0-1, 9.00 ERA, 2 IP, 4.5 Ctl, 4.5 Dom, 1.0 Cmd, 0 HR, .250 oppBA
Salt Lake (AAA) - 19 g, 0 gs, 2-4, 3 sv, 3.60 ERA, 25 IP, 6.1 Ctl, 8.6 Dom, 1.4 Cmd, 2 HR, .240 oppBA
Mobile (AA) - 7 g, 0 gs, 1-0, 2 sv, 2.08 ERA, 13.0 IP, 1.4 Ctl, 7.6 Dom, 5.5 Cmd, 1 HR, .313 oppBA
CURRENT ROLE: Middle reliever
POTENTIAL: Setup reliever
RATING: 7C
Taylor Davis (C, CHC)
When the most notable aspect of your life is being known for internet memes and videos that showcase the way you stare sexily at the camera... yet you're not a model, but rather a Triple-A baseball player... then a full-time future in the big leagues may not be in the cards. The 29-year-old Davis began his professional tenure in 2011. He reached Triple-A for the first time in 2015, and he started receiving brief cups of coffee in the majors in 2017. Over his minor league career (spanning 1,855 ABs) he holds a respectable .281 AVG, but that has come with only 31 career HRs. His Eye has been decent (0.78), as has his contact rate (86%). What that means is that if he can hold his own defensively then he'll have a chance at an eventual backup role. A quick scan of his Triple-A defensive stats from 2018 reveal that in 67 games he committed five errors, allowed nine passed balls, and only caught 23% of would-be base stealers. If only he hit left-handed... but alas.
2018 STATS: Chicago (NL): 5 AB, .400/.333/.400, 0 2B, 0 3B, 0 HR, -.-- Eye, 0 SB
Iowa (AAA): 356 AB, .275/.348/.360, 18 2B, 0 3B, 4 HR, 0.70 Eye, 0 SB
CURRENT ROLE: Backup C
POTENTIAL: Backup C
RATING: 6E
R.J. Alaniz (RHP, SEA)
Alaniz began his professional career straight out of high school back in 2010. The Texan is built like the prototypical power pitchers from the Lonestar state: he stands 6-4 and 220 pounds. Despite reaching Double-A in 2013 as a 21-year-old, he would then proceed to bounce between the two highest levels of the minors for the next six seasons. He signed with the Mariners as a minor league free agent in November of 2018. While he made some starts early in his career, the past several campaigns have seen him primarily working out of the bullpen. His 2018 numbers in particular look pretty good -- and he actually put up better numbers in Triple-A Durham than at a lower-level in Montgomery. An interesting note is that Alaniz gives up a rather high number of fly balls -- but still manages to keep most of them in the park. That could definitely work to his advantage given his (major league) home park, as it is slightly better than middle-of-the-road in terms of venues that suppress home runs. His primary pitches include a mid-90s FB that tops out at 97 and then two pitches that sit in the mid-to-high 80s: a slider with late bite and a firm CU. Take a gander at his command/control numbers from Triple-A in 2018. It's a small sample size, yes, but if he's able to keep those gains moving forward then he could find himself -- finally, as age 30 fast approaches -- getting some steady work in the majors.
2018 STATS: Durham (AAA) - 20 g, 0 gs, 1-3, 3 sv, 4.00 ERA, 27 IP, 2.7 Ctl, 11.7 Dom, 4.4 Cmd, 1 HR, .257 oppBA
Montgomery (AA) - 9 g, 0 gs, 2-1, 1 sv, 2.84 ERA, 12.2 IP, 5.0 Ctl, 9.2 Dom, 1.9 Cmd, 0 HR, .159 oppBA
CURRENT ROLE: Middle reliever
POTENTIAL: Middle reliever
RATING: 6C
Gerardo Reyes (RHP, SD)
Reyes is a 25-year-old native of Mexico who attended school in the U.S. at Galveston College. At 5-11 and 160 pounds he is slight of frame, but he still manages to get maximum output from his body and has a career Dom of 9.9. His FB regularly sits in the mid-90s and can reach 97 mph, but much of his ability to get strikeouts might be owed to a delivery that has been described as "funky," "unique," and "deceptive". He has a winding, sidearm release point that keeps batters guessing until the moment the ball emerges. The beginning of the 2019 season is his first time eclipsing Double-A (he began the campaign in Triple-A El Paso), and now he finds himself with a chance to earn some PT in San Diego. The Padres have been shuffling spot starters with middle relievers quite a bit in the early going of 2019, so odds are good that Reyes will be sent back down to the farm before long. Once there he will continue to work on refining his control; that is the primary area that will need some cleaning up before he can be counted on full-time in the majors. For his career (205.2 IP) his Ctl stands at 4.2. That's too many walks per nine innings for high-leverage work.
2018 STATS: San Antonio (AA) - 31 g, 0 gs, 1-2, 1 sv, 3.00 ERA, 39 IP, 3.9 Ctl, 11.3 Dom, 2.9 Cmd, 1 HR, .222 oppBA
Lake Elsinore (A) - 14 g, 0 gs, 0-1, 1 sv, 2.20 ERA, 16.1 IP, 6.6 Ctl, 11.0 Dom, 1.7 Cmd, 0 HR, .200 oppBA
CURRENT ROLE: Middle reliever
POTENTIAL: Middle reliever
RATING: 7C
April 12, 2019
Kevin Kramer (2B, PIT)
The left-handed-hitting Kramer was a second-round pick in 2015 out of UCLA. He can play both SS and 3B if needed, but his best bet for future relevance is at 2B. He's never boasted a particularly strong Eye (0.47 for his minor league career) but still manages to put the bat on the ball more times than not; he's hit .292 in the minors with a 79% contact rate. At 25 years old he's not a young prospect by any means, and his 37-AB showcase with the Pirates last September was a disappointment—so he will need to put things together quickly in order to reach his ceiling. His handedness and position flexibility work in his favor, and the 2019 Minor League Baseball Analyst book gave a decent best-case scenario: "A poor man's Daniel Murphy." At his peak he could play all around the infield (again, if needed) and hit .290 with 15+ HRs and a handful of steals.
2018 STATS: Pittsburgh (NL): 37 AB, .135/.175/.135, 0 2B, 0 3B, 0 HR, 0.20 Eye, 0 SB
Indianapolis (AAA) — 476 AB, .311/.365/.492, 35 2B, 3 3B, 15 HR, 0.30 Eye, 13 SB
OTHER COVERAGE: No. 6 on Pittsburgh's Organization Report.
CURRENT ROLE: Backup MI and 3B
POTENTIAL: Starting 2B
RATING: 8C
Pedro Avila (RHP, SD)
The 22-year-old Venezuelan has been pitching professionally since 2015 (when he stayed primarily at the Rookie level). The next three seasons—which includes 2018—consisted of stops at three different Single-A-levels of the minors. Despite his lack of advanced experience, Avila is being called up to make a spot start for the Padres—with the assumption being that he will return to Double-A Amarillo afterwards. He led the CAL league in Dom in 2018 on the back of two impressive offspeed pitches: a CU with fade and drop and a CB that continues to improve. He offsets them with a low-90s FB. Though his stay in the majors will almost certainly be brief, he is yet another young arm in the Padres system worth keeping an eye on long-term.
2018 STATS: Lake Elsinore (A): 24 g, 20 gs, 7-9, 4.27 ERA, 130.2 IP, 3.7 Ctl, 2.6 Cmd, 9.8 Dom, 8 HR, .270 oppBA
CURRENT ROLE: Spot starter
POTENTIAL: #4 starter
RATING: 8C
Reymin Guduan (LHP, HOU)
Guduan can touch 96 mph with his FB and has a mid-80s SL that helps him rack up strikeouts with seeming ease. As is often the case with many young power pitchers, the challenge is limiting the number of free passes they hand out. For his minor league career—a span covering 357.2 IP—Guduan has an attractive 11.2 Dom. However, his Ctl is an atrocious 6.2. That certainly won't cut things long-term in the bigs, so before he can be taken seriously in roto (or likely trusted in key situations by his manager) he'll need to clean that up. Why is he getting a shot to pitch at Minute Maid Park for the third straight season despite all those walks, you ask? Because lefties who throw 95+ mph will always get second (and third, and fourth) chances. At this stage it's hard to profile him as more than a situational arm, but if he can ever harness his stuff and keep it over the plate then he could carve out a decent career. It's hard to see enough Ctl gains that would ever place him at the very back of the bullpen, though.
2018 STATS: Houston (AL): 3 g, 0 gs, 0-0, 2.70 ERA, 3.1 IP, 0.0 Ctl, -.- Cmd, 10.9 Dom, 1 HR, .091 oppBA
Fresno (AAA): 43 g, 0 gs, 3-3, 3.74 ERA, 2 Sv, 55.1 IP, 5.2 Ctl, 2.6 Cmd, 13.5 Dom, 5 HR, .217 oppBA
CURRENT ROLE: Middle reliever
POTENTIAL: Setup reliever
RATING: 7D
Jamie Schultz (RHP, LAD)
Schultz was part of the Tampa Bay organization in 2018 and earned himself some time with the club late in the season due to his ability to get strikeouts; he was traded to the Dodgers in January of 2019. Schultz's FB sits in the mid-90s and can touch 98. His primary offspeed pitch is a low-to-mid 80s CB. While his strikeout numbers were strong at both stops last season (a 10.4 Dom at Triple-A and then 14.5 in Tampa), his control needs refining. On the bright side, Schultz was able to remain healthy for a full season after missing nearly the entire 2017 campaign to various ailments (none arm-related, thankfully). As with many pitchers with big arms, it will eventually all boil down to being able to get the ball over the plate with consistency. The physical tools are there for him to be an effective middle-of-the pen asset.
2018 STATS: Tampa Bay (AL): 22 g, 1 gs, 2-2, 5.64 ERA, 30.1 IP, 5.1 Ctl, 2.1 Cmd, 10.4 Dom, 6 HR, .175 oppBA
Durham (AAA): 32 g, 1 gs, 2-1, 5.75 ERA, 36 IP, 5.8 Ctl, 2.5 Cmd, 14.5 Dom, 5 HR, .299 oppBA
CURRENT ROLE: Middle reliever
POTENTIAL: Setup reliever
RATING: 7B
Josh Lucas (RHP, BAL)
Now 28-years-old, the spindly (6-6, 185) Lucas was drafted by the Cardinals in 2010, saw some brief time in the majors with that organization in 2017, repeated that cycle with Oakland in late 2018, and then two months later in November signed a minor league deal with Baltimore. His most effective strikeout-generating pitch is a mid-80s SL, and he pairs it with a low-90s FB. While the potential is there for him to contribute to a major league bullpen, at this time the data points to him having the ceiling of a middle (or possibly even situational) reliever.
2018 STATS: Oakland (AL): 8 g, 1 gs, 0-0, 6.28 ERA, 14.1 IP, 5.7 Ctl, 1.6 Cmd, 8.8 Dom, 1 HR, .286 oppBA
Nashville (AAA): 31 g, 0 gs, 0-2, 2.56 ERA, 38.2 IP, 3.5 Ctl, 2.1 Cmd, 7.4 Dom, 2 HR, .207 oppBA
CURRENT ROLE: Middle reliever
POTENTIAL: Middle reliever
RATING: 6D
Jake Newberry (RHP, KC)
Newberry was a late draft pick (Round 37) out of high school in 2012. His development was stagnant for quite some time, and he didn't reach Double-A until 2017. The light seemed to go on at that time, though, as since then he has been working at the back-end of the bullpen and putting up respectable numbers. His FB only sits in the low-90s, but he does a good job of hiding the ball until the moment of release. He couples that pitch with a mid-80s SL. His control was lacking during his 14-game call-up with the Royals in 2018. However, his Ctl and Cmd showed more promise during his two minor league stops last season, so there is hope that it will eventually translate to better success in the bigs. Working the ninth inning—even if it's in the minors—often leads to a certain bulldog mentality. If Newberry can keep the ball over the plate (and the batted-balls on the ground), then such a mentality will certainly add to his appeal down the road.
2018 STATS: Kansas City (AL): 14 g, 0 gs, 2-0, 4.73 ERA, 13.1 IP, 6.1 Ctl, 1.2 Cmd, 7.4 Dom, 3 HR, .255 oppBA
Omaha (AAA): 16 g, 0 gs, 3-0, 0.90 ERA, 3 Sv, 20 IP, 2.7 Ctl, 2.7 Cmd, 7.2 Dom, 1 HR, .191 oppBA
Northwest Arkansas (AA): 25 g, 0 gs, 2-0, 2.12 ERA, 12 Sv, 29.2 IP, 2.4 Ctl., 4.6 Cmd, 11.2 Dom, 2 HR, .254 oppBA
CURRENT ROLE: Middle reliever
POTENTIAL: Middle reliever
RATING: 7D
April 11, 2019
Andrew Vasquez (LHP, MIN)
After the Twins pen was overworked on Tuesday night, Minnesota summoned Andrew Vasquez from Triple-A to fill Chase De Jong's spot on the roster and in the pen. Vasquez has been a revelation as a professional. Drafted late as a senior sign out of Westmont College (CA) in 2015, Vasquez has chewed up minor league hitters from the Gulf Coast League to the International League. It wasn't until he dominated Double-A last season that he elevated himself to future MLB consideration. Vasquez isn't overpowering despite his 6'6'' size but he relies on creating angles with his delivery making picking up the spin on his pitches difficult. He relies heavily on his CB, which is an average offering. His two-seam FB is a true sinker and is his best pitch. Vasquez carries a low spin rate with the pitch, which bodes well for any sinker. It is hard to get under and drive. He'll also flash a CU too. Vasquez struggles with losing his control, especially when the feel of his CB is missing. Must rely on a sub-90 sinker and has little margin for error. However, as the Dom suggests, it's very difficult for hitters to feel comfortable against him ad has some sneaky Dom potential in the Big Leagues.
2018 STATS: Minnesota (MLB) – 9 g, 0 gs, 1-0, 5.40 ERA, 5.0 IP, 3.6 Ctl, 12.6 Dom, 3.5 Cmd, 0 HR, .238 oppBA
Rochester (AAA) – 4 g, 0 gs, 0-0, 1.59 ERA, 5.2 IP, 6.4 Ctl, 19.1 Dom, 3.0 Cmd, 0 HR, .217 oppBA
Chattanooga (AA) – 17 g, 1 gs, 1-0, 1.16 ERA, 31.0 IP, 1.2 Ctl, 17.1 Dom, 14.75 Cmd, 1 HR, .196 oppBA
Ft Myers (A+) – 19 g, 0 gs, 0-2, 1.38 ERA, 32.2 IP, 3.6 Ctl, 10.2 Dom, 2.9 Cmd, 1 HR, .202 oppBA
CURRENT ROLE: RP
POTENTIAL: Middle RP
RATING: 6C
Rocky Gale (C, LAD)
With Russell Martin going on the injured list, the Dodgers have called up journeyman 31-year-old catcher Rocky Gale to take his roster spot. While Martin was in a job share with Austin Barnes, Gale is strictly up to backup Barnes. Drafted by the Padres in the 24th round of the 2010 draft, this is Gale's fourth MLB stint. He made his MLB debut in 2015 with the Padres. The RHH Gale has had only 22 career ABs and isn't expected to get many ABs in this appearance on the Dodgers roster this season. What's newsworthy, with the Dodgers developing two catchers not ready for prime time yet, Triple-A primary catcher Will Smith and Double-A primary catcher Keibert Ruiz, Gale is the lone depth piece backing up the MLB tandem, which could mean ABs if Barnes is banged up. Even so, Gale is not a fantasy play.
2018 STATS: Los Angeles (NL) (MLB) – 2 AB, .000/.000/.000, 0 2B, 0 HR, 0.00 Eye, 0 SB
Salt Lake (AAA) – 295 AB, .281/.305/.383, 14 2B, 4 HR, 0.24 Eye, 1 SB
CURRENT ROLE: Reserve C
POTENTIAL: Reserve C
RATING: 5A
Josh Rogers (LHP, BAL)
For much of the weekend, it looked like Josh Rogers was going to make a spot start last night. However, with the activation of Dan Straily, Rogers looked to be on the outside looking in on an MLB promotion. Then, Alex Cobb needed to be placed on the injured list and the Orioles called for Rogers to fill Cobb's roster spot, likely working in long relief through the weekend. Rogers was drafted by the Yankees in 2015 and traded to the Orioles with others before the trade deadline in the Zach Britton trade. The trade opened the door for him to make his MLB debut last season. It was a disaster. Rogers is a three-pitch pitcher with fringe stuff across the board. He most rely on command to keep hitters off of his high-80s FB. His best pitch is a low-80s CU. He also throws a solid SL. Lacking an out-pitch, Rogers has struggled with low Dom in the upper minors. Those issues don't look like they are going away. In his current role, Rogers is not a play. However, in a spot start against the right team, might be worth a shot.
2018 STATS: Baltimore (MLB) – 3 g, 3 gs, 1-2, 8.49 ERA, 11.2 IP, 3.9 Ctl, 4.6 Dom, 1.2 Cmd, 2 HR, .340 oppBA
Norfolk (AAA) – 5 g, 5 gs, 3-3, 2.08 ERA, 30.1 IP, 2.1 Ctl, 5.3 Dom, 2.6 Cmd, 3 HR, .226 oppBA
Scranton/Wilkes-Barre (AAA) – 19 g, 19 gs, 3-3, 3.95 ERA, 109.1 IP, 2.4 Ctl, 6.8 Dom, 2.9 Cmd, 13 HR, .273 oppBA
CURRENT ROLE: Long RP
POTENTIAL: Swingman
RATING: 6D
Joe Harvey (RHP, NYY)
The Yankees called up Joe Harvey for the first time in his career. Drafted in the 19th round in 2014 out of Pitt, Harvey has exceeded expectations. He has excellent career minor league numbers, outside of a high Ctl rate, working almost exclusively as a RP. He's a three-pitch pitcher who thrives when he is commanding and controlling his mid-90s 4-seam FB. The FB has a lot of late movement, undoubtedly created by its high spin rate. The secondaries need some work. Harvey's CB has an above-average profile. It suffers from inconsistency. He'll also show a changeup, which is firm and only used as a change-of-pace pitch against LHH. The FB has been enough against minor league hitters. However, Harvey's command of his FB plus the consistency of his secondaries much improve for him to be a viable middle RP.
2018 STATS: Scranton/Wilkes-Barre (AAA) – 38 g, 0 gs, 3-2, 1.66 ERA, 54.1 IP, 3.5 Ctl, 10.1 Dom, 2.9 Cmd, 1 HR, .195 oppBA
Trenton (AA) – 5 g, 0 gs, 0-0, 1.80 ERA, 5.0 IP, 7.2 Ctl, 12.6 Dom, 1.8 Cmd, 1 HR, .206 oppBA
CURRENT ROLE: RP
POTENTIAL: Middle RP
RATING: 6C
April 10, 2018
Erik Swanson (RHP, SEA)
At just 25 years old and with no major league experience, the 6'3", 235-pound Swanson still projects as the most valuable player to ever come out of Iowa Western Community College and should easily best Jeremy Horst's 0.6 career WAR in short order. Coming over from the Yankees in the James Paxton (LHP, NYY) deal, he's struggled to stay healthy at times, but offers a solid frame with which to eat innings. Swanson's fastball is squarely plus and plays beyond it due to a high spin rate, ideal backspin, tough arm angle and deception in his delivery. He backs it up with a slider that flashes above-average but more often sits average right now. The big hitch for Swanson is his fringe-average changeup. There's some variance among evaluators on whether it will ever reach average, and alongside his injury history, some to project him for the bullpen long term, wherein his stuff would tick up into a setup role. However, Swanson did move the needle on his change last year and there's still some projection in the package, as the pitch flashes average more often now. He struggled this spring locating both his offspeed pitches, but was dominant in his first start for Triple-A Tacoma, striking out eight and walking none in five shutout innings. He's up as bullpen depth until Chasen Bradford (RHP, SEA) is back, wherein Swanson likely returns to Tacoma's rotation, but he could figure into Seattle's plans down the stretch this season.
2018 STATS: Scranton/Wilkes-Barre (AAA) — 14 g, 3-2, 3.86 ERA, 72.1 IP, 1.7 Ctl, 9.7 Dom, 5.6 Cmd, 10 HR, .230 oppBA, 1.07 WHIP
Trenton (AA) — 8 g, 5-0, 0.42 ERA, 42.2 IP, 3.2 Ctl, 11.6 Dom, 3.7 Cmd, 0 HR, .155 oppBA, 0.87 WHIP
Staten Island (A-) — 2 g, 0-0, 4.05 ERA, 6.2 IP, 0.0 Ctl, 8.1 Dom, NULL Cmd, 0 HR, .308 oppBA, 1.20 WHIP
OTHER REPORTS: No. 12 on Seattle Organization Report
CURRENT ROLE: Middle reliever
POTENTIAL: #4 starter/Setup reliever
RATING: 7C
Yonathan Daza (CF, COL)
Defense can get you in the game, and in 25-year-old Daza's case, it's likely that he outplays his projection because of it. Gifted with above-average speed and a plus-plus arm, the 6'2", 210-pound native Venezuelan is the best defensive outfielder in the entire organization, certainly better than David Dahl (LF, COL), whom he's replacing on the active roster while Dahl is out with an oblique strain. Just on his defense alone, Daza is a major leaguer. But his progression with the bat makes him even more intriguing. His career slash line is .310/.351/.419 over 2,255 AB, so the hit tool looks to be at least average and could possibly be more. That said, his power is well below average and despite his wheels, his SB outcomes look more like a guy with fringe-average speed. Daza was the Cal League batting champion in '17 and swiped 31 bags that year, but his Double-A numbers in '18 showed a more pedestrian output in terms of the counting stats even if he got his K rate down to 10.5% alongside an excellent slash rate. Sub-5% walk rates up the ladder put a bit of damper on this being a table-setting profile, so in order to bat near the top of the order, he'll need to work on seeing more pitches. Daza's consistently outperformed his profile and the Rockies have a penchant for turning guys like this into something valuable, but as of right now there's no clear path to playing time and Daza has all of 18 AB at the Triple-A level, so expect him to head back to Albuquerque as soon as Dahl's back. Long term, this is at least a fourth OF.
2018 STATS: Hartford (AA) — 219 AB, .306/.330/.461, 18 2B, 2 3B, 4 HR, 0.29 Eye, 4 SB
CURRENT ROLE: Backup OF
POTENTIAL: Starting OF
RATING: 7D
Richard Lovelady (LHP, KC)
A 10th-rounder out of Kennesaw State in 2016, Lovelady has moved fast and despite his southpaw ways, projects towards the back of a major league bullpen due to ability to neutralize both right- and left-handed hitters. Armed with a mid-90s plus fastball with excellent sink and a plus slider that's his primary out pitch, alongside a deceptive delivery and excellent extension off the mound despite a more slight 6'0", 175-pound frame, the 23-year-old Lovelady is a difficult at bat for righties and lefties alike. He's maintained excellent control rates up the ladder (2.5 career), but it's still more control than command and he struggled a bit this spring with three walks in 8.2 IP. Still, he's got premium stuff and should find average control in the bigs. Generally, relievers on their first taste are kept out of high-leverage situations, and while that is likely the case for Lovelady, it is worth noting that the Royals team ERA sits at 6.15 and if he transitions well, could find himself up the bullpen ladder quicker than one would expect. With both Tim Hill (LHP, KC) and Kevin McCarthy (RHP, KC) optioned back to Triple-A Omaha, Lovelady will have every opportunity to prove he belongs.
2018 STATS: 46 g, 3-3, 2.47 ERA, 73.0 IP, 9 Sv, 2.6 Ctl, 8.8 Dom, 3.4 Cmd, 3 HR, .204 oppBA, 1.01 WHIP
CURRENT ROLE: Middle reliever
POTENTIAL: Setup reliever
RATING: 7C
Evan Phillips (RHP, BAL)
Phillips' profile is pretty identical to what it was during his call-up last year, just with a change of scenery. The 2015 17th-rounder moved on from Atlanta to Baltimore in the Kevin Gausman (RHP, ATL) deal last August and was promptly lit up like a Christmas tree to the tune of an 18.56 ERA, 2 HR and 1.01 Ctl over 5.1 IP. Admittedly a small sample size, yes, but he didn't fare much better in his brief action with the Yankees parent club prior to the trade (8.53 ERA, 3 HR, and 5.7 Ctl over 6.1 IP.) Clearly control and keeping the ball down are Phillips' biggest issues to tackle before he reaches his upside as a potential middle reliever. There's a fastball that sits 90 to 94 and above-average breaking ball that says he could reach those heights. He held opponents scoreless this spring training with 10 Ks and 3 BB over 9.2 IP, and he hadn't given up a run or walk in his 1.2 IP for Triple-A Gwinnett this year, and admittedly miniscule sample size, but major league prime time is a different story. Time will tell if he can successfully transition.
2018 STATS: Baltimore (AL) — 5 g, 0-1, 18.56 ERA, 5.1 IP, 10.1 Ctl, 8.4 Dom, 0.8 Cmd, 2 HR, .304 oppBA, 2.44 WHIP
Atlanta (NL) — 4 g, 0-0, 8.53 ERA, 6.1 IP, 5.7 Ctl, 4.3 Dom, 0.8 Cmd, 3 HR, .240 oppBA, 1.58 WHIP
Norfolk (AAA) — 8 g, 0-2, 3.38 ERA, 10.2 IP, 2.5 Ctl, 11.0 Dom, 4.3 Cmd, 1 HR, .158 oppBA, 0.84 WHIP
Gwinnett (AAA) — 31 g, 4-4, 1.99 ERA, 40.2 IP, 8 Sv, 3.1 Ctl, 13.1 Dom, 4.2 Cmd, 1 HR, .199 oppBA, 1.03 WHIP
CURRENT ROLE: Middle reliever
POTENTIAL: Middle reliever
RATING: 6C
April 9, 2019
Luis Urias (2B, SD)
The lesser of San Diego's two heralded infield prospects (behind Fernando Tatis Jr.), Urias still profiles to have a bright future given his lofty ranking on the HQ100 (No. 26). Short and compact at 5-9 and 160, Urias has good bat-to-ball skills and is able to spray line drives with relative ease. Neither his power nor his speed game has really developed yet, but given his age (21 years old) and small stature that's not a surprise. He is able to adequately man either MI position, and at his peak could be a 15/15 contributor with a solid batting average. His current role (two weeks into the 2019 season) is a bit up in the air; the Padres have the aforementioned Tatis Jr. at shortstop and Ian Kinsler at second. Should Kinsler continue his early season struggles, then Urias could steal playing time from him. The Padres have shown that they're willing to go with young players, so don't discount the possibility that Urias could usurp the veteran at the keystone. As Urias's big league numbers indicated in his 48 AB late-2018 initial look with the club, however, expect a few bumps along the way.
2018 STATS: San Diego (NL): 48 AB, .208/.264/.354, 1 2B, 0 3B, 2 HR, 0.30 Eye, 1 SB
El Paso (AAA): 450 AB, .296/.398/.447, 30 2B, 7 3B, 8 HR, 0.61 Eye, 2 SB
OTHER COVERAGE: No. 26 on HQ100; No. 5 on San Diego's Organization Report.
CURRENT ROLE: MI depth and occasional 2B starts
POTENTIAL: Starting 2B
RATING: 8B
Brad Wieck (LHP, SD)
When the left-handed Wieck takes the mound he seemingly towers over all else, standing 6-5 and 255 pounds. To make matters more intimidating to hitters, he comes at them with a crossfire delivery with his low-to-mid 90s FB. He pairs that offering with a big curve, and such a combo has served him well thus far in his career. Since being drafted in the seventh round in 2014 Wieck has a career Dom of 12.3 to go along with a 3.00 ERA. His control still needs some work (3.7 Ctl in the minors). If he can drop that closer to the 3.0 mark, though, then he will have definite back-of-the-bullpen upside. He got a brief cup of coffee in San Diego in late 2018 and the club liked what they saw: he struck out 10 in seven innings while only giving up three hits and zero walks. Considering his handedness, if he's able to replicate anything close to that type of production then he'll have a future in the bigs.
2018 STATS: San Diego (AL): 5 g, 0 gs, 0-0, 1.29 ERA, 7 IP, 0.0 Ctl, -.- Cmd, 12.9 Dom, 1 HR, .125 oppBA
El Paso (AAA): 17 g, 3-0, 3.44 ERA, 18.1 IP, 2 Sv, 4.4 Ctl, 16.7 Dom, 3.8 Cmd, 2 HR, .229 oppBA, 1.36 WHIP
Lowell (A): 27 g, 1-2, 1.93 ERA, 28.0 IP, 10 Sv, 2.6 Ctl, 11.6 Dom, 4.5 Cmd, 1 HR, .190 oppBA, 1.00 WHIP
CURRENT ROLE: Middle reliever
POTENTIAL: Setup reliever
RATING: 7B
PLAYER POTENTIAL RATING
Scale of (1-10) representing a player's upside potential
10 - Hall of Fame-type player
9 - Elite player
8 - Solid regular
7 - Average regular
6 - Platoon player
5 - Major League reserve player
4 - Top minor league player
3 - Average minor league player
2 - Minor league reserve player
1 - Minor league roster filler

PROBABILITY RATING
Scale of (A-E) representing the player's realistic chances of achieving their potential
A - 90% probability of reaching potential
B - 70% probability of reaching potential
C - 50% probability of reaching potential
D - 30% probability of reaching potential
E - 10% probability of reaching potential
For more information about the terms used in this article, see our Glossary Primer.
Shopping Cart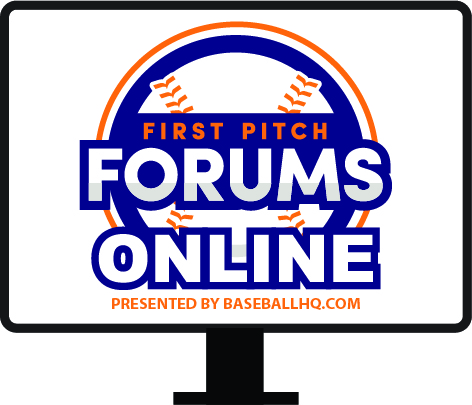 Our virtual First Pitch Forum returns!
Three online-only events: March 5, 11, 17
Join us live, or watch when you want
Just $19!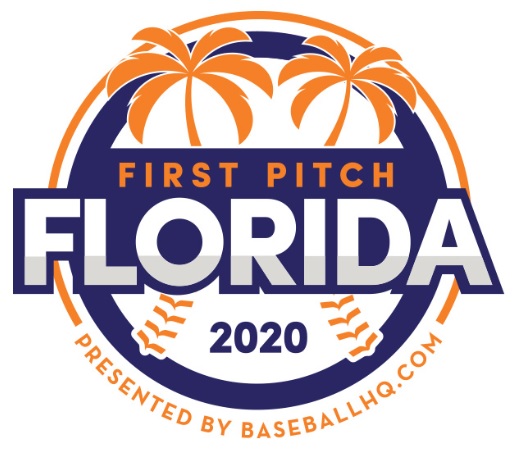 Inaugural Event!
February 28-March 1, 2020
St. Petersburg, FL
A few seats still left!