BHQ staff insights from 2023 LABR & Tout Wars
By Brent Hershey

@BrentHQ
October 6th, 2023 12:05am
Well, our crew had a pretty good year.
As the fantasy baseball community has grown, so has the number of "industry" competitions. The two longest-running of them, LABR and Tout Wars, have expanded their offerings as you'll see below but still serve as a kind of a benchmark for success. While our article linked above widened the scope of industry competitions and limited its recognitions to 1st to 3d place finishes, this post tries to dig a bit deeper. Below, 17 BaseballHQ.com writers give a quick overview of their LABR and Tout Wars teams in terms of finish, highlights/lowlights, and takeaways for seasons to come. We think there's some usable nuggets here to stash away until you begin your 2024 prepration ... whenever that may be.
Enjoy!
League of Alternative Baseball Reality (LABR)
LABR Mixed Draft
Ryan Bloomfield
1st place / 15 teams
SSUOS (Season summed up (in) one sentence): CHAMPS!!!
Team highlight: Two things that took this team to the promised land: 1) Dominating the middle rounds with Christian Yelich (8th Round), Cody Bellinger (13th), Justin Turner (14th), CJ Abrams (20th), and Justin Steele (21st), among others; and 2) drafting two set-and-forget closers in Emmanuel Clase (3rd round; 44 saves) and Carlos Estévez (16th round; 31 saves), allowing me to finish 2nd in saves with zero work/FAAB spend on closers all year.
Team lowlight: Early misses/injuries with three of my first four starting pitchers (Aaron Nola, 2nd round; Triston McKenzie, 6th; Luis Garcia, 12th).
Takeaways: Know the middle-round player pool like the back of my hand. Hitting on the names above more than made up for a couple early misses in the draft.
LABR Mixed Auction
Ray Murphy
1st place / 12 teams
SSUOS: Ran away early and never looked back.
Team highlight: Dominated every category except SB, but it was a pitching-driven win. Cole/Eovaldi/Kershaw/P. López/Ed. Rodriguez as rotation mainstays, leading to winning both the ratio categories and Wins. On offense, Betts as the big buy with exceeded-expectations performances from Bellinger, Abrams and Stott to drive the offense.
Team lowlight: Really, barely anything to speak of in this category.
Takeaways: No league title is ever "easy", but this was pretty much as close as it comes. Despite the 12-team mixed format with a deep FA pool, this one was won at the auction table as opposed to with in-season moves. That's not how I usually win, so I won't take this as license to change my usual MO. Just taking it as a happy one-off.
LABR Mixed Auction
Shelly Verougstraete
2nd place / 12 teams
SSUOS: The offense was off the charts great, but you also need pitching.
Team highlight: Getting Juan Soto and Freddie Freeman was a great foundation for my team, and adding Corbin Carroll, Issac Paredes, Ha-Seong Kim, and J.D. Martinez sealed the deal. I was head and shoulders above the league in all the hitting categories, with 53 points. The closest team was Ray's championship squad, with 48 points.
Team lowlight: While in the draft room, I kept getting beat on a true starter and begrudgingly took Triston McKenzie at $16. I followed that up with Kevin Gausman at $23, but the damage was already done. I also took Alex Lange and Pete Fairbanks as my closers, and with all the time Fairbanks missed, I just could never catch up.
Takeaways: Use a bit of your draft day money on better pitching. In the end, you will thank yourself later.
LABR NL
Matt Cederholm (team drafted by Ron Shandler)
2nd place / 12 teams
SSUOS: We felt the need; the need for speed.
Team highlight: Killer starting pitching, led by Blake Snell and Justin Steele.
Team lowlight: Saves were an issue. Unwilling to pay closer prices in the auction, backup closers José Alvarado and Daniel Hudson spent too much time on the IL to help. Despite Elly De La Cruz's 35 SB, we lagged in the category. Just didn't get enough from hoped speed sources (Betts, Morel, etc.).
Takeaways: Be more aggressive chasing saves and steals in-season rather than overpaying in the draft.
LABR NL
Doug Dennis
3rd place / 12 teams
SSUOS: Two poor choices on offense during the auction cost me the win.
Team highlight: A smoke-and-mirrors pitching staff exceeded expectations, with Marcus Stroman, Merrill Kelly, A.J. Puk, Michael Wacha, all providing good value.
Team lowlight: I drafted Vaughn Grissom and Jake McCarthy for what I thought were good prices and got near zero from them (except some empty surplus steals from McCarthy).
Takeaways: Don't draft offensive players who have a downside of playing all year in AAA–especially in LABR.
LABR AL
Dave Adler
9th place / 12 teams
SSUOS: Cornering the market on underachievers is NOT advised!
Team highlight: I generally try to avoid the top-tier closers, and go with guys who aren't as skilled or are second options. Sewald, Estévez, and Will Smith combined to get me first in the saves category, and allowed some trades to shore up my offense.
Team lowlight: Injuries, sure, but it was mostly due to guys like Tim Anderson, José Abreu, Seth Brown, Amed Rosario and Max Kepler who lagged. By trading and free agent acquisitions, I was able to bring the power categories up, but I was so far behind after a couple of months, it didn't make a major difference.
Takeaways: Rather than spreading around my money on mid-level talent, it's probably necessary to overpay for a couple of more reliable superstars, and just live with the injury risk
Tout Wars
Tout Wars AL
Doug Dennis
1st place /12 teams (back-to-back titles)
SSUOS: No innings requirements, so went all relievers for $60 and offense for $200. Punts two entire categories (wins and strikeouts) and yet seems to be a winning formula with two straight titles.
Team highlight: Easily rostered great ERA/WHIP closers who carried me in those three categories, offense was strong once again with 59 of 60 points.
Team lowlight: Hated losing Vinnie Pasquantino, but turns out I didn't need him with the offense surplus. Hated Scott Barlow's season, but his trade ended up a blessing for my ERA/WHIP totals.
Takeaways: If Tout does not change the rule to require 950 innings, there is no reason to change the strategy.
Tout Wars AL
Andy Andres
2nd place / 12 teams
SSUOS: First-timer learning the ropes in this league climbs from 11th place in the standings near the All Star break to 2nd through FAAB.
Team highlight: Not a huge success using Stars and Scrubs strategy in the draft – planned to overspend on power (Judge, Vladdy, Devers), and take risks (deGrom, Glasnow, Buxton, Skubal, R Lewis, Kirilloff) while nailing down the C position (Adley and Varsho). The strategy going into the draft was my thought that none of the others in the draft would try Stars and Scrubs, and hope for many $1 roster fill-ins at the end. But the highlight in the climb to 2nd was hitting on various FAAB picks (Ragans, and many unheralded picks - McKinstry, M. King, Wallner, Pivetta, K. Crawford, Kremer) with a churn-and-burn strategy.
Team lowlight: Disappointing seasons in expected production from Varsho, Judge. Risky picks yielded mixed results, with Glasnow, Buxton, Wallner, and Kirilloff contributing some at various times during the season, but deGrom being a bust. Made many rookie mistakes, trying to better understand the OnRoto roster management protocols (all my fault for not doing my research), and just simply dropping Laureano with taking the FAAB money back in return!
Takeaways: I think I will try Stars and Scrubs again, mainly because I do not think the AL Tout draft room will join me. I will continue the FAAB churn and burn, and streaming, even though I will likely be releasing many talents I wish I kept, just like I did in 2023. All in all, pleased that I was not the worst newbie, I learned more about the subtitles of AL Tout, and finished on the podium.
Tout Wars AL
Patrick Davitt
5th place / 12 teams
SSUOS: Pretty good year that came unglued in the last five weeks.
Team highlight: Semien/Adolis combo provided offense foundation; Gausman/Ryu bounceback/Sale hot start/Lorenzen surprise/Bibee pickup all helped pitching to solid decimals.
Team lowlight: Cristian Javier was my worst impulse purchase since the rust-coloured leisure suit and platform saddle shoes I picked up while under the influence at an outlet mall. Sale injury was a blow. Sub-expectation performances from pickups Bryce Miller and Gavin Williams. Clay Holmes wasn't great. Entire relief corps soiled the bedsheets in the last six weeks.
Takeaways: All about the PAs. I was top-3 across the board on offense through the first two months and leading the league. But those offensive numbers slipped inexorably down-down-down from 60 points to 33.5. Other takeaway has to do with rules: since the league dropped the IP minimum, BHQ's Doug Dennis has won two straight with a no-starters strategy, and already there are rumblings about changing that rule back. I see why, but it would be interesting to see if the no-SP approach would work as well (or at all) if multiple managers adopted it.
Tout Wars AL
Chris Blessing
10th place / 12 teams
SSUOS: Damaging pitching injuries, poor FAAB estimation and not enough offense overall equals 2nd half collapse.
Team Highlight: Across many leagues, it was Zach Eflin. He became the pitcher we thought he'd be in Philadelphia working in the Rays rotation. Yanier Dïaz is an honorable mention here. Took a chance on Dïaz. I knew he'd hit enough for a weak position but didn't know about reps and was pleasantly surprised at how much playing time he got.
Team Lowlight: All of my middle infielders. Jeremy Peña's sophomore slump seems predictable now. We won't even talk about Wander Franco's issues that will keep him off the field for a long time.
Takeaways: I felt really good through the first two months. I disappeared for the next 2 months, both in the standings and also in real life. By the time I reemerged, nothing I tried worked. I'm hopeful life won't throw me the same curveballs this coming season than this one.
Tout Wars Head-to-Head Points League
Greg Jewett
1st place regular season (18-4) and playoff champion (12 teams)
SSUOS: After losing in the championship in 2022, I focused on pitching and a balanced offense, prevailing this season, securing my first Tout title.
Team Highlight: Despite losing Max Fried for part of the season, and the last week of our two-week championship match-up, my pitching depth, and last FAAB pick-ups paid off for a 100 point win. Targeting upside arms like Bobby Miller and Tanner Bibee paid off in this format which rewards seven points for wins and three points for quality starts. Good starters on winning teams fuel points, and a reserve round pick like Eduardo Rodríguez also helped down the stretch. Pitching depth, monitoring match-ups really helps in this format.
Team Lowlight: Losing the highest scoring reliever, Félix Bautista, hurt before the play-offs, but used hot relievers off the wire in his stead. Also lost Jake Cronenworth and Taylor Ward, but their redemption money paved the way for key additions in the playoffs, especially Tylor Megill in the last week of the season.
Takeaways: This format plays pretty straight forward, though I prefer the championship match not include the last week of the season. Starting pitcher match-ups changed, which cost me a Sonny Gray start and my opponent only had Corbin Burnes work four innings in his last outing. Finish up any head-to-head leagues the Sunday before the last week of the season, otherwise it's more luck based than strategy.
Tout Daily (DFS Tournament-style contest)
Brian Entrekin
1st
SSUOS: Won a ticket to the playoffs early in the season and then won it all on the final day.
Team highlight: Started the season strong, putting forth strong performances to get to the playoffs. In the playoffs survived and advanced till the final day. On the final day my stack made it a relaxing slate with a runaway winner. The daily matchups tool helped a ton.
Tout Wars Mixed Draft
Ryan Bloomfield
2nd place / 15 teams
SSUOS: Right team, wrong season, as the 127.5 points I racked up would've won this league in 9 of the previous 10 seasons.
Team highlight: Taking two early aces (Gerrit Cole and pitcher Shohei Ohtani) allowed me to build a huge lead in Ks and ERA, giving me flexibility to focus on other categories mid-season.
Team lowlight: Did someone kidnap me mid-draft and pick Giancarlo Stanton and Kris Bryant in the 9th and 10th rounds? Because I NEVER would have done such a thing…
Takeaways: Honestly, I wouldn't change much much given I set a personal all-time high for points scored in a league. Seth Tracthman was a buzzsaw with 136 points… sometimes it just doesn't go your way.
Tout Wars Mixed Draft
Shelly Verougstraete
6th place / 15 teams
SSUOS: It is okay to draft closers, in fact, it might be wise, Shelly!
Team highlight: Corbin Carroll is on his way to an NL Rookie of the Year title, and getting him in the fourth round seems like a steal now. J.D. Martinez, Ha-Seong Kim, and Isaac Paredes were key to sticking in the league's top half. Even with drafting Jacob deGrom and Aaron Nola as my first two SPs, I finished second and third in ERA and WHIP, respectively. Not because of them, of course, but Kyle Bradish, George Kirby, and Joe Musgrove came up huge. Well, now that I think about it, I used my FAAB rebate on an injured deGrom to land Eury Pérez, so…thanks Jake!
Team lowlight: I was really into Pete Fairbanks during draft season, and of course, I selected him and Andres Muñoz as my two closers on draft night. As the season wore on and Paul Sewald looked secure in his role, I dropped Muñoz in my season-long hunt for saves and could not pick him back up later. D'oh! I also didn't prioritize OBP enough on draft night and left the room with Tommy Edman and Amed Rosario on my roster. They had a .297 and .299 OBP for the season. It is really hard to bounce back from that.
Takeaways: Make a point to get one more closer instead of hoping someone's backup will replace him. Just because someone is multi-position eligible, it doesn't necessarily make him a good fit on your team.
Tout Wars Mixed Draft
Ray Murphy
7th place / 15 teams
SSUOS: Flirted with contention, faded late.
Team highlight: Offense as a whole was a highlight and held this team in contention for a while before fading late. Losing Wander Franco didn't help, but it was more of a team-wide fade… led the league in OBP around mid-season, faded to mid-pack. When we were contending, it was a big offense and saves foundation that was carrying shaky starting pitching. The pitching ratios took early damage and never recovered, and the other strengths that were covering up those category weaknesses eventually gave out.
Team lowlight: Starting pitching.
Takeaways: Weirdly, this was an incredibly stratified league. Three teams over 120 pts (out of 150), five teams under 50 pts. Not totally sure what caused that, but I've never seen anything like it in my years in this particular league, so I think it's going to make it hard to extrapolate lessons.
Tout Wars NL
Phil Hertz (with an assist to drafter Dave Adler)
3rd place / 15 teams
SSUOS: When your three most expensive starting pitchers coming out of the draft all were injured, you can appreciate a third place finish.
Team highlight: Claiming Bobby Miller and Cristopher Sánchez early helped cover the injuries. Combined with draft depth pieces (Lugo and Keller) that worked out well, Sánchez and Miller kept the pitching afloat. Also CJ Abrams and Ha-Seong Kim led the team to second in SBs.
Team lowlight: Aside from the pitching injuries noted, an approximately .600 OPS in September sure helped cost me second.
Takeaways: Can't complain too much about a fifth straight top 3 finish (leaving aside the 2020 pandemic season) in a league this competitive; however, two takeaways were 1) you never have too much starting pitching; the depth coming out of the draft kept the team from falling totally out of contention before Miller and Sánchez bailed the team out; 2) don't be afraid to use your FAAB budget early. There's no assurance a difference maker will come in July/August, and even small contributions in April will likely make a difference.
Tout Wars Draft and Hold
Brad Johnson
5th place / 15 teams
SSUOS: Ronald Acuña can only do so much, especially when only seven of 22 drafted SP contribute positively.
Team highlight: Acuña aside, a late selection of Tarik Skubal was inspired (lucky). Eduoard Julien and Nolan Jones returned beaucoup value.
Team lowlight: Jacob deGrom, Cade Cavalli, Lance McCullers, Roansy Contreras, Sixto Sánchez, and Spencer Turnbull never showed up. Rumors of a Noah Syndergaard velo-rebound were greatly exaggerated.
Takeaways: I think the pitching was good process/bad result. Same approach carried me in the past. I led HR but came 10th in RBI which bears further investigation. Was in the mix for 3rd place; missed 4th by half a point.
Tout Wars Draft and Hold
Jock Thompson
7th place / 15 teams
SSUOS: Injured pitching, not enough replacements were killers; Wander Franco and Anthony Rendon issues didn't help.
Team highlight: ID-ing successful breakouts by Yainer Dïaz, Outman, Kerry Carpenter, Esteury Ruiz, CES, Ragans; 1st in SB.
Team lowlight: Injuries to Edwin Díaz, AMuñoz, José Alvarado effectively killing saves (14th place); Fried / Ohtani injuries, not enough SP in reserve killing my pitcher counting stats (13th place in both wins and K's).
Takeaways: Draft more / better reserve pitchers.
Tout Wars 12-Team Mixed
Alternate Categories (OBP instead of Avg, IP instead of W, Holds + Saves instead of Saves)
Brian Entrekin
2nd place / 12 teams
SSUOS: One of the most competitive leagues I've participated in, that went down to the final day.
Team highlight: Offense was consistent all season led by the likes of Corbin Carroll.
Team lowlight: Having to battle a lot of injuries to my pitching staff which made collecting quality innings tricky.
Takeaways: We entered the final week with a 3-way tie for first and I was tied with 20 minutes left on Sunday, to end up losing by .5 point. Collecting IP is very tricky with unlimited IL spots and limited quality options on the waiver wire. I may need to be even more aggressive when it comes to pitching in next year's draft.
Tout Wars 12-Team Mixed
Alternate Categories (OBP instead of Avg, IP instead of W, Holds + Saves instead of Saves)
Sara Sanchez
5th place / 12 teams
SSUOS: There are only so many injuries you can overcome on the waiver wire
Team highlight: I wound up leading this league in Runs and Holds+Saves. I had excellent seasons from Nico Hoerner, Marcus Semien, Josh Jung, and William Contreras. I took Kyle Schwarber as my OF #1, and while that may have hurt in an average league, it seems like a steal in an OBP league where I got 47 home runs and a .343 OBP from the Phillies leadoff man. I got everything I possibly could have out of my reliever core of Alexis Díaz, Ryan Pressley, Will Smith and Adbert Alzolay. And I honestly loved my starting pitching with Zach Wheeler, Nathan Eovaldi and Spencer Strider having excellent seasons.
Team lowlight: I definitely should have paid more attention to home runs, stolen bases and innings. I'm particularly kicking myself on the innings front, because this is the second year I've led this league in Holds+Saves while falling short in innings. While I was top 5 in WHIP, Ks & OBP, I wound up behind the 8-ball in raw power, speed, RBIs and innings. For a shining moment I thought I'd be able to overcome that. I picked up Whit Merrifield and Matt McLain on the waiver wire. I was jousting for 1st/2nd through most of the summer, but Merrifield cooled off and stopped running as much, the death knell for my chances to win this league was losing Matt McLain to an oblique issue. It really exposed my weaknesses on the power/speed/RBI front and I couldn't find anyone on the wire to replace him.
Takeaways: I was wrong about how I thought steals would go – last year I got 10 from Schwarber in a handful of leagues, including this one. My assumption was he'd get 12-15 with the new rules. The Schwarbino got zero. Guys like Hoerner ran SO much more while some guys just did not run at all. I'm going to spend some time before FPAZ looking at steals specifically, what my target number needs to be, and where they were concentrated. Twenty more bags would have gotten me at least 4 more points in the standings. Same thing with home runs, where I clawed my way to the top of the second tier, but that put me 20-25 HR out of where I wanted to be at the end of the season. That miss is particularly galling because it would have also got me more RBI points that would have had me back in contention.
Tout Wars Mixed Auction
Brent Hershey
8th place / 15 teams
SSUOS: Solid hitting and putrid pitching (8.5 total points in ERA, WHIP, and Wins) lands one in the middle of the pack every time.
Team highlight: Freeman, Arraez, Lindor, Franco, Rutschman and Yelich got my bats off to a good start with plenty of counting stats and OBP. Bednar, Puk and an early FAABer Will Smith piled on the saves early on. Kept afloat in mid-table late in the season by only rostering starting pitchers, which helped my Ks a bit.
Team lowlight: From the jump, the Max Fried injury was a killer, and backups Sale, Detmers, Schmidt and Wright proved way too risky both from performance and health standpoints. Quickly got buried in ratios and somehow still sported a 5.00+ ERA at the All-Star break. A June swap of Yelich for a belief that Mitch Keller had turned a corner was a disaster (5.09 ERA/1.34 WHIP for my squad).
Takeaways: The Fried Opening Day injury was a fluke, but I should have spent more of my budget on starting pitchers with bankable track records. Also noticed that Bret Sayre from Baseball Prospectus has won back-to-back titles in this league with a heavy Stars-and-Scrubs draft, rostering five hitters at $30+ (Acuña, Jose Ramirez, Trout, Ohtani, Tatis) and two $23+ starting pitchers (Scherzer and Wheeler). Hmmm.
For more information about the terms used in this article, see our Glossary Primer.
Free Weekly eNewsletter
The industry's #1 analytical weekly e-mail newsletter is ABSOLUTELY FREE!
More Information
Shopping Cart
SAVE THE DATE!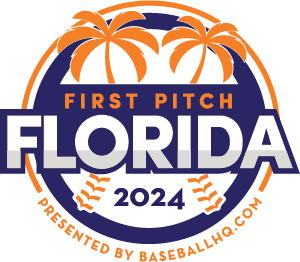 March 1-3, 2024

Clearwater, FL