Baseball HQ's 2023 Track Record
Click Here to View our Titles and Awards
Need player projections? Pick up any one of a dozen spring magazines or browse over to any fantasy baseball web site. But what you're really getting are three-year averages, subjective opinions or canned, inert numbers. Real performance forecasting is a living, breathing process that looks beyond faulty statistics and focuses on the analysis of component skills and leading indicators. That's what we do at Baseball HQ; it's a process that has been the foundation of our publications since 1993.
In 2023, this process produced a set of projections that could have made the difference in your fantasy season. Here is a look at how the analysis works, and some of the results...
2023 Batters
Ronald Acuña Jr.: Struggled somewhat after late April return from 2021 ACL tear, and he admitted the knee hurt all season—a lot. That almost certainly explains startling decline in previously elite launch angle, which doused both power and BA. Still pre-peak, yet already has a solid track record to rely on. Together, that points to a big rebound with full health. (Truesdell)
2022: 15-50-29-.266 in 533 PA
2023: 41-106-73-.337 in 735 PA
Ozzie Albies: Prior to lost season, surging launch angle helped inch Brl% to impact level, which puts return to 30 HR in play. Pair that with track record of Spd + acumen on basepaths, and you've got a premium profit play heading into his age-26 season. UP: 35 HR, 30 SB (Nickrand)
2022: 8-35-3-.247 in 269 PA
2023: 33-109-13-.280 in 658 AB
Tim Anderson: Note how the gap between BA and xBA is steadily declining. That's a trend worth watching, as a player who's relied on speed to consistently post inflated hit rates and is now on the wrong side of 30. (Truesdell)
2021: 17-61-18-.309, .278 xBA in 551 PA
2022: 6-25-13-.301, .275 xBA in 351 PA
2023: 1-25-13-.245, .243 xBA in 524 PA
Jon Berti: Spd gives him tools to repeat, but confluence of manager letting him run wild and high success rate can't be guaranteed, especially at his age and with that xSB. The regression there will be steep. (Nickrand)
2022: 4-28-41-.240, $22 R$ in 404 PA
2023: 7-33-16-.296, $12 R$ in 425 PA
Jake Burger: PRO: Power stroke coming around, with gaudy barrels, solid exit velocity; contact improving; raked lefties at two levels. CON: Shaky plate skills mean BA/OBP issues; low launch angle; hand injury wrecked 2nd half. He's been slow to develop, but he's opportunity, plus a swing tweak, from... UP: 25 HR (Truesdell)
2022: 8-26-.250 in 183 PA
2023: 34-80-.250 in 540 PA
Nick Castellanos: Had 5 HR by early May, then wife had a baby and he took an HBP off the wrist. Could either of those events explain the ensuing half-season funk (3 more HR through July)? He got right again in August (5 HR, .833 OPS) before turf toe/oblique shelved him for most of Sept. 2021 will stand as career year, but there's still room to rebound to prior baselines. (Murphy)
2022: 13-62-.263 in 558 PA
2023: 29-106-.272 in 671 PA
Yandy Díaz: Might seem like a known commodity at this point in his career, since he's now in his 30s. Still, tuck away the fact that he paired a career-best 87% ct% with a career-lowest 50% GB% in 2022. If he can heighten his swing plane again in 2023, he could finally deliver on his $20 upside. (Nickrand)
2022: 9-57-.296, $18 in 558 PA
2023: 22-78-.330, $30 in 600 PA
Yanier Díaz: Díaz's burgeoning power and sustained offensive production over the last two seasons has increased his fantasy outlook considerably. Plate approaches as aggressive as Díaz's invite healthy skepticism, but his contact skills give him a path to make it work. If it all clicks, he could be a highly valuable source of power and BA at the catcher position. (Otto)
2022: 0-1-.125 in 9 PA
2023: 23-60-.282 in 377 PA
Hunter Dozier: Another disappointing season, as 2019 feels like a long time ago (for all of us, right?). First-half ct% recovery was short-lived, power skills barely a tick above average, and though he's multi-position eligible, these are not metrics of a successful fantasy cornerman. A playing-time squeeze could well be the next chapter. (Pyron)
2022: 12-41-4-.236 in 500 PA
2023: 2-9-2-.183 in 91 PA
Adam Duvall: A season in three acts: shook off horrid first two months (.191 BA, 2 HR in 168 AB) with June/July hot streak (.244 BA, 10 HR in 119 AB) before season-ending surgery to repair a torn tendon sheath in left wrist. Power skills remain intact, though streakiness and durability risk are baked into the package. Expected to be healthy for spring. (Pyron)
2022: 12-36-.213 in 315 PA
2023: 21-58-.247 in 353 PA
Tommy Edman: There's a good reason to take the "under" on 30 steals this year, and that's his OBA. At .308 in 2021 and .324 in 2022, his lack of on-base skills could cost him the leadoff spot. In fact, he hit at the bottom of the order (7th or lower) in 24 of his last 48 games, and only attempted three steals in those 24 games. If that trend worsens in 2023, he'll lose both playing time and stolen-base chances. It all adds up to significant downside risk. We'll pass at his current ADP. (Cederholm)
2022: 13-57-32-.265 in 630 PA
2023: 13-47-27-.248 in 528 PA (74 ADP; 192 end of year ranking)
Wilmer Flores: Career high PA by over 150, and exposure hurts. Formerly steady performer posted career-low BA, xBA, and ct%. But ct% remains above average, and xBA says BA plunge wasn't all deserved; power metrics fine but not outstanding. Defensive versatility provides many avenues to playing time, but if he'll be out there for every inning, lower the ceiling. (Pyron)
2021: 18-53-.262 in 436 PA
2022: 19-71-.229 in 602 PA
2023: 23-60-.284 in 454 PA
Jake Fraley: Missed three months (right knee, toe), returned in late July and made the most of his chances. Maintained above-average bb% and increased ct% by taking a more aggressive approach and improving vs. fastballs. Trouble vL and Health grade cap PT ceiling, but there's part-time power/speed value to be mined here. (Pyron)
2022: 11-28-4-.259 in 247 PA
2023: 15-65-21-.256 in 380 PA
T.J. Friedl: Minor-league speedster surprised with big-league power spike. Extreme FB% is good for HR, but it hurts his BA, which caps upside of his most consistent asset, Spd/SB. Still, power/speed blend worth an end-game bid. (Pyron)
2022: 8-25-7-.240 (50% FB%) in 258 PA
2023: 18-66-24-.279 (42% FB%) in 556 PA
Mitch Garver: Injury bug bit again with elbow issue in May, season-ending forearm surgery in July. Small-sample caveats aside, he rediscovered pre-2020 ct%, though h% (and thus BA) dip wasn't all bad luck given extreme FB%. Now has IL stints in four years straight, but power baseline makes him a decent rebound target if healthy in the spring. (Bloomfield)
2022: 10-24-.207 in 215 PA
2023:19-50-.270 in 343 PA
Lourdes Gurriel, Jr: October news that he underwent wrist surgery was an "Aha!" moment for those of us who had spent all year wondering where his power had gone. Didn't muster a single HR after July 1. Another reminder that we never know the whole truth, and when in doubt, blame a hidden injury. Should be healed by spring and bounce back. (Bloomfield)
2022: 5-52-.292 in 492 PA
2023: 24-81-.260 in 588 PA
Ke'Bryan Hayes: Might come at a discount in some 2023 drafts given a 2022 season where his value was driven entirely by his legs (20 SB). His ability to avoid whiffs (8.2% SwK%) gives him the tools to push his contact rate into the 80s. That, combined with a 91.0 mph EV, suggests his next area of growth could come in his batting average output. (Nickrand)
2022: 7-41-20-.244 in 560 PA
2023: 15-63-10-.273 in 525 PA
Jonathan India: Hamstring was never right (IL stints in April, May; recurrence in Sept); also missed time after various HBP (leg, hand). Injuries likely drove HR/SB to the ground, as every non-ct% skill was down across the board. Short track record cautions against full rebound, but given age, pedigree, and healthy offseason, he can come close. (Bloomfield)
2021: 21-69-12-.269 in 631 PA
2022: 10-41-3-.249 in 431 PA
2023: 17-61-14-.244 in 529 PA
Ryan Jeffers: Missed most of 2nd half with fractured thumb in another "bleh" season on the surface. Skills hint at some upside, though, as he cut down on Ks, produced barrels with ease, and hit with more loft. Major breakout unlikely, but there's enough here to take a flyer when filling that second catcher slot. (Bloomfield)
2022: 7-27-.208 in 236 PA
2023: 14-43-.276 in 335 PA
Ha-Seong Kim: Kim could be undervalued in 2023.The 2022 BA gains were backed by xBA, and the ct% gains were sparked by an improved SwK%. Kim's current combination of xPX, xHR/F, and 4% Brl% (2022 and lifetime) cap his HR capacity to around 15. He has good speed and has been highly efficient on the basepaths, so there's untapped SB upside here. The 27-year-old was already a nice value play near his 255 ADP, and there's a chance the adjustments allow him to unlock another level. (Pyron)
2022: 11-59-12-.251 in 582 PA
2023: 17-60-38-.260 in 626 PA
Nate Lowe: Hits the ball hard - but doesn't yet have the loft in his swing to take full advantage of his latent home run power. He's not a good bet to repeat his .302 batting average, which was inflated by a favorable hit rate and HR/F. His warts portend significant pullback from the nearly $30 level he produced in 2022. (Boyd)
2022: 27-76-.302, $29 R$ in 645 PA
2023: 17-82-.262, $17 R$ in 724 PA
JD Martinez: Back spasms plagued the 35-year-old at times during the 2022 season, so that probably factored into his disappointing performance. The Dodgers inked him to a one-year, $10 million deal in December and he is expected to serve as their primary DH. Given his age, there is certainly some risk, but the skills point to a possible return to 25 HR along with a .265-.270 BA. (Pyron)
2022: 16-62-.274 in 595 PA
2023: 33-103-.271 in 477 PA
Chas McCormick: Traded power for patience as Eye surge softened the blow of xPX crash. Heavy platoon split due more to h% (40% vL, 27% vR) than skill dip. Must improve SB% to maximize that Spd. Solid approach and enough pop have yielded 23 HR/7 SB per 600 PA, so finding a full season role has $20 compiler upside. (Sporer)
2022: 14-44-4-.246 in 407 PA
2023: 22-70-19-.273 in 457 PA
Christopher Morel: Hit the ground running in mid-May 2022, aided by a 38% h%, but reality struck in the 2nd half. Still, impressive power metrics carried him throughout (xHR/F, for one) even as swing-and-miss persisted. Shoddy SB% likely to keep Spd under wraps for now; this is a HR-only play until he adjusts. (Hershey)
2022: 16-47-10-.235 in 425 PA
2023: 26-70-6-.247 in 429 PA
Max Muncy: Had a .196 BA in 2022, due in large part to a 23% h%. His 9.6% SwK% by itself was linked to a 77% ct% and .250 BA, which gives his 70% ct% good potential for improvement. Muncy's excellent batted ball metrics also support a higher level of batting average and production (90.3 mph EV, 13.4% Brl%). He'll be an excellent profit target in 2023 drafts. (Nickrand)
2022: 21-69-.196, $7 in 565 PA
2023: 36-105-.212, $14 in 579 PA
Josh Naylor: Breakout began fast with improved launch angle, FB% bump and power spike in the 1st half. But problematic GLF returned in July and fueled late dropoff, though HctX soared through Aug/Sept h% woes. Improved health a huge factor; age, contact skills vR keep him relevant even as lofty GB% torments. But with a lasting fix ? UP: .280 BA, 25 HR. (Thompson)
2022: 20-79-.256 in 498 PA
2023: 17-97-.308 in 495 PA
Brandon Nimmo: IL avoidance the primary reason behind career PA and counting stats that sparked breakout. GB%, launch angle woes cap HR; running game now almost non-existent despite Spd. But contact skills were solid throughout vs. pitchers from both sides. And plate patience atop the lineup keeps him profitable in OBP leagues. More health will bring a repeat. (Thompson)
2022: 16-64-.274 in 673 PA
2023: 24-68-.274 in 682 PA
Shohei Ohtani: Lost some launch angle, gave back some HR as wondrously inflated HR/F fell back towards earth. And running game doesn?t look as healthy as in prior years. But these are quibbles. Hard contact was as peak as ever, and together with improved ct% fueled BA bump that kept him near 2021 R$. Still the only DH worthy of a 1st round pick. (Thompson)
2022: 34-95-11-.273 in 666 PA
2023: 44-95-20-.304 in 594 PA
Matt Olson: Gave back a bunch of BA, as last year's ct% looks like an outlier. But everything else seems rock-solid, notably exit velocity, launch angle and PX. HctX, xBA hints that BA could even retrace some; he hits pretty much everything hard. Buy him for the 30+ HR power; anything else is a bonus. And... players often step up in year #2 on new team. (Thompson)
2022: 34-103-.240 in 699 PA
2023: 54-139-.283 in 720 PA
James Outman: Made some adjustments to his swing in 2022 that allowed him to produce a .290+ BA and 30+ HR across two levels in the high minors. He has 2 HR and a .924 OPS across 32 AB this spring. He's an above-average defender at all three outfield spots. At age 26, Outman's a late-blooming prospect worth keeping on your radar. (Nickrand)
2023: 23-70-16-.248, $17 in 567 PA
Marcell Ozuna: The skills are a bit of a mixed bag, but the bright spot here is that he has managed to make lots of hard contact, as evidenced by a 90th percentile Brl% and an above-average xPX. His xHR suggests he still possesses 30 HR upside. The 32-year-old is slated to begin 2023 as the team's primary designated hitter following a solid spring. There's some risk for sure, but there's also profit potential near his 349 ADP. (Pyron)
2022: 23-56-.226 in 507 PA
2023: 40-100-.274 in 592 PA
Isaac Paredes: Will carry value in 2023 drafts, due to his multi-position infield eligibility. He was a premium power source among middle infielders in the first half of 2022. His bat faded late as his HR/F corrected, but he added two mph to his average exit velocity, and his production against RHers is on a two-year uptick (.504, .573, .701 OPS vR). Watch him closely this spring to see if he can continue those gains. At age 24, Paredes is a bat on the upswing. (Nickrand)
2022: 20-45-.205, $6 in 381 PA
2023: 31-98-.250, $18 in 571 PA
Cal Raleigh: Briefly demoted in April, just one HR thru mid-May. Subsequent HR show had legs even through Sept injuries (broken thumb, torn ligaments), turning Big Dumper into SEA folk hero. BA, ct% issues look enduring, though xBA, h% regression suggest a tad better. Power metrics look unassailable. UP: .250 BA, 30+ HR. (Thompson)
2022: 27-63-.211 in 415 PA
2023: 30-75-.232 in 569 PA
Luis Robert: Selected as a top-tier bat in 2022 drafts, but he ended up spending over a month on the injured list. When healthy, he took more of a step forward than you might realize. His contact rate jumped for a second consecutive season (80% ct%), and while his batted ball metrics took a step backward, he's just one season removed from a 91.1 mph EV and 12.5% Brl%. Jump on him if he falls outside of the upper-echelon bats in your league. (Nickrand)
2022: 12-56-11-.284, $18 in 401 PA
2023: 38-80-20-.264, $28 in 690 PA
Julio Rodríguez: In April, looked like another high-profile SEA rookie OF bust, then: WOW. By Aug, team threw $200M at him, for good reason?he's already showcasing elite exit velocity, sprint speed... at 21. If he can smooth out SB%, build on 2nd half ct% and power gains, and avoid short IL stints (HBP on elbow, back), now where's the ceiling? It'll be fun to find out. (Olson)
2022: 28-75-25-.284 in 560 PA
2023: 32-103-37-.275 in 714 PA
Eddie Rosario: The vision problems seem like a reasonable explanation for the 31-year-old Rosario's off year in 2022, and so a 2023 rebound seems pretty likely. Just don't expect the .275+ BAs and 30-HR outputs of his peak years—a BA in the .260 range and 15-20 HR looks like his best-case scenario. (Kruse)
2022: 5-24-.212 in 270 PA
2023: 21-74-.255 in 516 PA
Esteury Ruiz: An estuary is an area where a river meets the ocean; this Esteury is where game-changing speed meets developing raw power. MLB cup of coffee was unremarkable, but as you sip yours, be careful not to do a spit take when looking at 1st half R$. Even in part-time role, has potential to deliver outsized value. (Kruse)
2022: 0-2-1-.171 in 36 PA
2023: 5-47-67-.254 in 490 PA
Anthony Santander: Plus power was on full display as FB% went up and 2nd half Brl%, xPX, and xHR/F all reached new heights. Uptick in ct% even led to usable BA prior to some tough luck late (.150 BA, 13% h% over final 111 PA). As long as health cooperates, no reason he can't follow up with a similar encore plus a potential BA bump. (Rudd)
2022: 33-89-.240 in 647 PA
2023: 28-95-.257 in 656 PA
Corey Seager: Celebrated first season in TEX with good health while blowing past career-high in HR. While BA took a hit, xBA shows that should not have been the case, and shift restrictions could help push back towards .300. Tough to poke many holes in these skills, so if he can keep injuries at bay, don't be surprised if he combines 2020-21 BA with 2022 power display. (Rudd)
2021: 16-57-.306 in 409 PA
2022: 33-83-.245 in 663 PA
2023: 33-96-.327 in 536 PA
Spencer Steer: Gets overlooked due to the deep selection of CIN prospects on the left side of their infield. Still, Steer's ability to play at multiple positions gives him value as a utility player, and his bat is good enough to stick at 2B if his glove follows suit. (Nickrand)
2022: 2-8-0-.211 in 108 PA
2023: 23-86-15-.271 in 665 PA
Spencer Torkelson: Latest example that even the best prospects (former #1 pick, consensus Top 10 for 2022) can struggle in the majors. Steady plate discipline shows he wasn't completely overmatched; 1st half issues were mainly too many grounders, too little power. But 2nd half FB%, QBaB, xPX say it's coming, and maybe soon... UP: 25 HR (Kruse)
2022: 8-28-.203 in 404 PA
2023: 31-94-.233 in 684 PA
Ezequiel Tovar: As a prospect, has grown into defensive wizard with plus speed and burgeoning power, and while he didn't do much during brief call-up, it was all on display in AA in 1st half. Even MLB stint wasn't all bad, as indicated by Brl%, xPX, Spd. Likely to be Opening Day starter at SS, and could deliver double-digit HR, SB right out of gate. (Kruse)
2022: 1-2-0-.212 in 35 PA
2023: 15-73-11-.253 in 615 PA
Justin Turner: His PX in 2021 and 2022 are almost identical, as are his barrel rates in both seasons. Yet his HR/F dropped from 14% to 8%. At 38, we can't automatically assume that his skills will hold up, but his remarkably consistent plate discipline will help, and the move from LA to Boston is a plus. We don't expect a power resurgence, especially at his age, but a strong BA with some decent counting stats based on volume looks like a good bet. The market typically doesn't like BA/volume plays like this, but given the ADP/projection gap, we'd be almost silly to not grab him just outside the top 200. (Cederholm)
2022: 13-81-3-.278 in 532 PA
2023: 23-96-4-.276 in 626 PA (255 ADP, 44 end of season ranking)
Bobby Witt, Jr: Top prospect broke camp with big-league club and found footing after .558 OPS, .199 xBA in April. Spd, SBA%, and SB% all back elite SB output, and while power didn't reach that same threshold, QBaB, HctX, and FB% all hint that more HR are on the way. Eye, xBA offer areas to nitpick, but ... welcome to the first round, Bobby. (Marcus)
2022: 20-80-30-.254 in 632 PA
2023: 30-96-49-.276 in 694 PA
2023 Pitchers
Adbert Alzolay: Alzolay is one to watch in the Cubs bullpen, as the skills suggest he could thrive as a reliever. He made major strides in terms of shrinking his bb% in 2021 and shrunk it to a minuscule level in 2022. He altered his pitch mix overall and vL in 2022, throwing more four-seam fastballs and cutters mainly at the expense of sinkers. The stats and the skills he has displayed as a reliever have been impressive; the 28-year-old could wind up ascending to getting save chances by the end of the summer. (Pyron)
2022: 0 saves, 3.38 ERA, 0.83 WHIP in 13 IP
2023: 22 saves, 2.67 ERA, 1.02 WHIP in 64 IP
David Bednar: Two-month IL stint (back) was all that prevented him from hitting last year's "UP: 30 Sv". Held mostly all of the 2021 gains that led us to that call with plenty of whiffs and primo velocity to back elite K%, an xBB% that hints at even better control, and back-to-back elite BPX. Everything seems in place for a jump to upper-tier closer status. (Bloomfield)
2022: 19 saves, 2.61 ERA, 1.12 WHIP in 52 IP
2023: 39 saves, 2.01 ERA, 1.10 WHIP in 67 IP
Kyle Bradish: Another pre-peak pitcher showing some hidden signs of growth. Behind his mediocre 5.05 ERA and 1.45 WHIP in 102 IP has been three months of a double-digit swinging strike rate. His control sub-indicators are still wobbly (58% FpK%, 39% Ball%), but they are showing improvement in the second half. He's a risky play, but he'll have upside if you can get him cheap. (Nickrand)
2022: 4 wins, 4.90 ERA, 1.40 WHIP in 118 IP
2023: 12 wins, 2.83 ERA, 1.04 WHIP in 167 IP
Luis Castillo: Shoulder issue delayed start by a month and was traded to SEA mid-season, but cruised all year long with career-best ERA. Swapped change-ups for more four-seamers, which fueled K% and BB% gains despite fewer GBs, but xERA/xWHIP ultimately approved. No longer a WHIP underachiever, skills and volume open door to... UP: first 200 IP/200 K season. (Young)
2022: 8 wins, 2.99 ERA, 167 K in 150 IP
2023: 14 wins, 3.34 ERA, 219 K in 197 IP
Dylan Cease: His remarkable 2022 season was a big step up, but the reality is that his skills didn't support his production. In fact, they were almost identical to his 2021 season. It's likely his true skill level lies somewhere between 2021 and 2022. He's not a top-50 pick (and barely a top-100 pick). (Cederholm)
2021: 13 wins, 3.91 ERA in 166 IP
2022: 14 wins, 2.20 ERA in 184 IP
2023: 7 wins, 4.58 ERA in 177 IP
Aaron Civale: Arm, wrist, and glute injuries led to three interruptions of this roller-coaster season. Got racked around the yard in first half; then normalization of both skills and luck factors drove a strong finish. Skills gains highlighted by new pitch mix, leaning on cutter/curve combo that yielded SwK% and GB% gains. Need to see this new version again, but we're intrigued. (Murphy)
2022: 5 wins, 4.92 ERA, 1.19 WHIP in 97 IP
2023: 7 wins, 3.46 ERA, 1.16 WHIP in 122 IP
Gerrit Cole: For all of the hand-wringing last offseason (What was wrong with him? Was it the hamstring, or the sticky stuff?) he has now answered all questions: three lines worth of NYY work here are incredibly consistent: ERA/xERA bounces in a narrow range, K-BB% is equal parts flat and elite, HR/F issues are baked in and don't hurt much. Safest ace around. (Murphy)
2022: 13 Wins, 3.50 ERA in 201 IP
2023: 15 Wins. 2.63 ERA in 209 IP
Jake deGrom: GMs aren't discounting him enough given his injury risk. He dropped to No. 36 after he experienced tightness in his side around Feb. 15, and that's an improvement on his earlier ADPs. But we're still not touching him at that ADP — he's 35, throws a million MPH, and hasn't reached 100 IP since 2020 (and that's pro-rating his 68 IP over a full season, which is a risky proposition on its own). His "F" health is well earned, and as good as he is, we need more certainty at this point in the draft. (Cederholm)
2022: 7 wins, 3.08 ERA in 64 IP
2023: 3 wins, 2.67 ERA in 30 IP (Tommy John surgery)
Alexis Diaz: Amid the season-long carnage in the CIN bullpen, Edwin's kid brother eventually worked his way into the 9th inning gig and ran with it in 2nd half. Combo of walks and fly balls looks problematic, but xBB% says BB% can get better, and minors pop-up rates suggest he might be able to survive with elevated FB%. Might be rocky at times, but a worthy Saves target. (Murphy)
2022: 10 Saves, 1.84 ERA in 64 IP
2023: 37 Saves, 3.07 ERA in 67 IP
Jhoan Duran: Starter in minors worked exclusively as reliever in rookie season. Electric blend of 101 mph four-seam fastball, a curve and a splinker produced ideal mix of extreme GB%, elite SwK/K%, and good BB%. A weapon in setup role, had manager's trust in big spots (LI), but could also force his way into 9th. Where... UP: 30 Sv (Pyron)
2022: 8 saves, 1.86 ERA, 0.98 WHIP, 27% K-BB%, 61% GB% in 68 IP
2023: 27 saves, 2.45 ERA, 1.14 WHIP, 23% K-BB%, 66% GB% in 62 IP
Zach Eflin: Sidelined late-June to mid-Sept (patellofemoral pain right knee). That's same knee that required Sept 2021 surgery to repair torn patellar tendon (same surgery on both knees in 2016). Added cutter and threw curveball more, largely at expense of slider, and induced career-best exit velocity. Knee is a concern, but 2021-22 xERA/xWHIP shows ceiling. (Pyron)
2022: 3 wins, 4.04 ERA, 1.12 WHIP, 16% K-BB% in 76 IP
2023: 16 wins, 3.50 ERA, 1.02 WHIP, 23% K-BB% in 178 IP
Peter Fairbanks: Add a spring torn lat muscle to lengthy history of arm ailments, including two Tommy John surgeries, so the "F" Health grade is well-earned. However, he was truly dominant when on the mound in 2022, boasting elite BB%, K%, SwK% and velocity along with appealing GB%. Some pullback likely and risk is undeniable, but potential payoff could be big. (Pyron)
2022: 8 saves, 1.13 ERA in 24 IP
2023: 24 saves, 2.58 ERA in 45 IP
Kyle Finnegan: Found himself back in the closer role in 2nd half and fared well. Best full-year BB% of his career and it came with full xBB% support. Maintained GB% and managed to miss a few more bats while throwing his sinker more than ever (79%) and scaling back slider and splitter usage. If these gains hold, he's capable of sticking as a lower-tier closer. (Pyron)
2022: 11 saves, 3.51 ERA in 67 IP
2023: 28 saves, 3.76 ERA in 69 IP
Josh Hader: Temporarily fell from top closer perch after surprising mid-season trade. In truth, we can blame that tumble almost entirely on hit and strand rates that torpedoed his stats. While skills did regress as batters made more contact, ability to miss bats didn't really wane much, and results came back in line during nice September run. There's profit here now. (Nickrand)
2022: 36 saves, 5.22 ERA, 1.28 WHIP in 50 IP
2023: 33 saves, 1.28 ERA, 1.10 WHIP in 56 IP
Clay Holmes: Among the best over the first half, continuing 2021's 2nd-half gains. But control vanished in July, then he landed on the IL with back spasms in August—which, one imagines, could be related. True, walks used to plague him. But he appeared to have cemented his new power/xGB/low-walk profile, so we'll bet on that holding form—with health. (Truesdell)
2022: 20 saves, 2.54 ERA in 64 IP
2023: 24 saves, 2.86 ERA in 63 IP
James Kaprielian: Some will see that shiny 2nd-half ERA and think he's turned a corner. You'll see that he got very lucky in the 2nd-half HR department, that his K-BB% is among the worst in MLB, and that his xERA paints a very different picture. DN: 5.00+ ERA (Truesdell)
2022: 5 wins, 4.23 ERA in 134 IP (2nd-half ERA: 3.32)
2023: 2 wins, 6.34 ERA in 61 IP
Clayton Kershaw: Although the innings pitched will likely finish near his 2022 total, they should provide strong ratios when he is on the mound. His slider and curveball create enough whiffs to keep the strikeouts coming, and his strong control backs enough helpful WHIP effort. When looking for quality innings and strong skills near his 129 ADP, rostering Kershaw can help with four categories. (Chesser)
2022: 12 Wins, 2.28 ERA, 0.94 WHIP in 126 IP
2023: 13 Wins, 2.42 ERA, 1.05 WHIP in 126 IP
Michael Kopech: While Kopech's 2022 ERA was nearly identical to his 2021 output, his xERAs were a run-and-a-half apart, as he got some help from a low hit rate and a slightly high strand rate. A 4.70 xERA casts his season in a very different light, and suggests that he still has a long way to go before he's ready to be a dependable part of Chicago's rotation or your fantasy roster. (Kruse)
2022: 5 wins, 3.54 ERA in 119 IP
2023: 5 wins, 5.43 ERA in 129 IP
Alex Lange: One of game's biggest bullpen surprises rode overhauled change-up to big season. To put SwK into perspective, only two other relievers (Díaz, Muñoz) induced more whiffs. When bats did make contact, they pounded ball into ground. xERA in 2nd half confirms late drop-off wasn't skills induced. If bb% improves and opportunity arises... UP: 30 Sv (Nickrand)
2022: 0 saves, 3.69 ERA, 1.25 WHIP in 63 IP
2023: 24 saves, 3.92 ERA, 1.37 WHIP in 62 IP
Jordan Montgomery: Incremental improvements paid off with best fantasy season yet: GB% rose due to increased sinker usage; added a half-tick of velocity, continued to clamp down on walks; frustrated LHH. Ks returned in the 2nd half and allayed fears of a pitch-to-contact-only stage. While there are no obvious signs of a Next Big Step, reliable mid-rotation SP have their place. (Hershey)
2022: 14 W, 148 K, 3.48 ERA in 178 IP
2023: 10 W, 166 K, 3.20 ERA in 189 IP
Charlie Morton: Given jump in ERA and age, many will use those as reasons to believe the end is near. But skills remained largely intact, and stuff actually ticked up a couple of notches in 2nd half. Jump in HR/F is correctable, and return of prior groundball lean also will help keep ball in park. This is a 3.50 ERA arm that you might be able to get at a 4.00 ERA price. (Nickrand)
2022: 9 wins, 4.34 ERA, 1.23 WHIP in 172 IP
2023: 14 wins, 3.64 ERA, 1.43 WHIP in 163 IP
Martín Pérez: Had the best season of his career at age 31 in 2022 (2.89 ERA, 1.26 WHIP in 196 IP). That said, there's very little chance his ERA stays below 4.00 in 2023. His chronic command issues didn't improve (12% K-BB%), and his command building blocks were even more ominous (8.4% SwK%, 37% Ball%). (Nickrand)
2022: 12 wins, 2.89 ERA, 1.26 WHIP in 196 IP
2023: 10 wins, 4.45 ERA, 1.40 WHIP in 142 IP
Cole Ragans: A former first-round pick who has endured two Tommy John surgeries. He showed zero command in his MLB debut during 2022 (6% K-BB%), but his 48/12 K/BB in 43 IP at Triple-A gives hope for gains there, as does his sparkling 14/2 K/BB in 9 IP this spring. (Nickrand)
2022: 0 wins, 4.95 ERA, 1.48 WHIP in 40 IP
2023: 7 wins, 3.47 ERA, 1.16 WHIP in 96 IP
Eduardo Rodriguez: Another intriguing buy-low target. Prior to last season's debacle, he had posted four consecutive 100+ BPV seasons, including an excellent 139 BPV in 2021. His prior consistency and age (30) give him and his 376 ADP plenty of profit potential. (Nickrand)
2022: 5 wins, 4.05 ERA, 1.33 WHIP in 91 IP
2023: 13 wins, 3.30 ERA, 1.15 WHIP in 153 IP
Kodai Senga: Top international free agent should make stateside debut in 2023, and you should be interested. Over 1,000 career innings of a 2.59 ERA in Nippon Professional Baseball with an upper-90s fastball and split-finger to drive excellent recent K%. Has the experience, workload, and stuff to be a mid-rotation starter. Watch his landing spot closely. (Bloomfield)
2023: 12 wins, 2.98 ERA in 166 IP
Paul Sewald: Would've nailed last year's "UP: 30 Sv" if it wasn't for that stinkin' SEA committee. Whiffs and Ks both fell back from the stratosphere, and while he ran lucky with lowest H% of any pitcher (min. 50 IP), can't complain about K-BB% and BPX encore. At the whims of home run gods given FB tilt, but looks like a fine mid-tier stopper once again. (Bloomfield)
2022: 20 saves, 2.67 ERA, 0.77 WHIP in 64 IP
2023: 34 saves, 3.12 ERA, 1.15 WHIP in 65 IP
Tarik Skubal: Flexor tendon surgery ended season in Aug, and will keep him out of action for at least nine months. Prior to that, took another solid step forward, with shift in GB%, FB% enough to move needle on xERA even with other skills remaining static. Return from injury makes 2023 outlook a little cloudy, but long-term, he's growing nicely into mid-rotation upside. (Kruse)
2022: 7 wins, 3.52 ERA, 1.16 WHIP in 118 IP
2023: 7 wins, 2.80 ERA, 0.90 WHIP in 80 IP
Will Smith: Even with unlucky H% trying to sink 2nd half, he recovered nicely after deadline trade to HOU (3.27 ERA, 3.45 xERA). xBB% suggests that past two seasons of shaky control were fluky, and K% should rebound with SwK still holding strong. Leverage Index took a hit, but knowing how much managers love guys with closing experience, can't rule out more saves. (Kruse)
2022: 5 saves, 3.97 ERA, 1.41 WHIP in 59 IP
2023: 22 saves, 4.40 ERA, 1.06 WHIP in 57 IP
Justin Steele: Back issues ended season in late Aug, cutting short year of quiet growth. Since moving from RP to SP at mid-season 2021, last three half-season xERA marks have been 4.69, 3.86, 3.07. That last one hinges on K% that probably isn't sustainable for him, but if he continues to limit walks, increases IP total, could have a shot at reaching double-digit R$. (Kruse)
2022: 4 wins, 3.18 ERA, 1.35 WHIP, $4 R$ in 119 IP
2023: 16 wins, 3.06 ERA, 1.17 WHIP, $23 R$ in 173 IP
Spencer Strider: Just an incredible debut, with eye-popping skills to match, including elite xBB% that suggests 2nd half control improvement could stick. Still some question about whether change-up can become usable third pitch, but early returns were encouraging (4.8% usage, 17.4% SwK). He did this as rookie with two pitches; follow-up could lead to... UP: Cy Young (Kruse)
2022: 11 wins, 2.67 ERA in 132 IP
2023: 20 wins, 3.86 ERA in 187 IP
Ross Stripling: Rebounds in BB%, GB% helped set table, but real heroes of most valuable season of career were H%, super-low HR/F, and staying relatively healthy (and even so, still spent 15 days on IL with hip strain). History suggests HR prevention will backslide, which might be enough to push ERA back over 4.00. Add in risk of IP decline, and he's likely to be overvalued. (Kruse)
2022: 10 wins, 3.01 ERA in 134 IP
2023: 0 wins, 5.36 ERA in 89 IP
Logan Webb: Showed that formula of breakout 2021 season was repeatable, as both BB% and GB% remained elite and kept his floor extremely high, though step back in K%, SwK suggests he won't have ceiling of other elite starters. Also seems to have put past shoulder issues behind him, and is now a legitimate candidate to reach 200 IP with mid-3.00 ERA. (Marcus)
2022: 15 wins, 2.90 ERA, 1.16 WHIP in 192 IP
2023: 11 wins, 3.25 ERA, 1.07 WHIP in 216 IP
Devin Williams: If fantasy managers are looking to roster a closer near his 62 ADP, Devin Williams and his 173 career BPV can help. His saves come with elite strikeouts and strong ratios, so monitor to see if he can continue to suppress hard contact and barrels. While his HR/F and H% may increase, his whiffs and skills still support a strong ERA effort. While the walks may continue, the skills are here for a $20+ R$ season. (Chesser)
2022: 15 Saves, 1.93 ERA, 40% K%, 13% BB% in 61 IP
2023: 36 Saves, 1.53 ERA, 38% K%, 12% BB% in 59 IP
Free Weekly eNewsletter
The industry's #1 analytical weekly e-mail newsletter is ABSOLUTELY FREE!
More Information
Shopping Cart
SAVE THE DATE!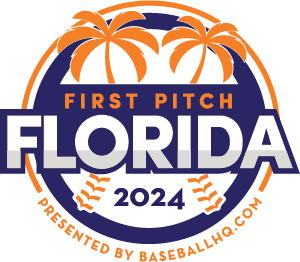 March 1-3, 2024

Clearwater, FL