Baseball HQ's 2016 Track Record
Click Here to View our Titles and Awards
Need player projections? Pick up any one of a dozen spring magazines or browse over to any fantasy baseball web site. But what you're really getting are three-year averages, subjective opinions or canned, inert numbers. Real performance forecasting is a living, breathing process that looks beyond faulty statistics and focuses on the analysis of component skills and leading indicators. That's what we do at Baseball HQ; it's a process that has been the foundation of our publications since 1993.
In 2016, this process produced a set of projections that could have made the difference in your fantasy season. Here is a look at how the analysis works, and some of the results...
2016 Batters
Adrian Beltre: Superstars roll by their own rules; they just do. How else does one explain his lethargic Apr/May 2015 (.702 OPS), followed up by a blistering 2H, in which he played with a torn thumb ligament? Sure SEEMS like .300/30/100 has come and gone, but with full health, to doubt might be dangerous. (Hershey)
2015: 18-83-.287 in 567 AB
2016: 32-104-.300 in 583 AB
Mookie Betts: Very good plate skills, consistently hits the ball hard, and sufficient swing loft/strength for 20 HR. Plus short-term upside in his running game: Elite Spd, willingness to run, solid success rate, history of better bb%. He's just getting started. (Hershey)
2015: 18-77-21-.291 with 92 runs in 597 AB
2016: 31-113-26-.318 with 122 runs in 672 AB
Starlin Castro: Pulled it out of the ditch late, notably with a 5-20-.426 Sept (.339 xBA). Career-high GB% despite reversing trend (39%) in Sept/Oct—he MUST keep it off the ground to tap into power. 2H surge gives hope, and he's still at pre-peak age. UP: 20 HR. (Truesdell)
2015: 11-69-.265 in 547 AB
2016: 21-70-.270 GB in 577 AB
Carlos Correa: Monstrous debut from game's youngest hitter. Plate skills, xBA say BA is real; outlook is cloudier for SB, as 2H speed skills fell flat. GB stroke, 2H xPX hint that HR repeat is unlikely as well. Career path looks scary good, though short track record presents first-round risk for 2016. (Bloomfield)
2015: 22-68-14-.279 in 387 AB
2016: 20-96-13-.274 in 577 AB
Khris Davis: Was slow to find power stroke, then May knee injury sidelined him for 5 weeks. Came back and tore through final 183 AB with 20 HR, and a .612 SLG. Power explosion came with some 2H ct% erosion, but xBA eases concerns. Gains in bb% and vR encouraging, and full-time role should no longer be in question, so... UP: 40 HR. (Rudd)
2015:27-66-6-.247 in 392 AB
2016: 42-102-1-.247 in 555 AB
Brian Dozier: (mid-May) After getting off to a slow start in April 2015 (2 HR, 48 xPX), Dozier heated up in May & June and ended up hitting 28 HR on the season. At 29 years of age there's no reason he couldn't do the same this year. There also seems to be a better chance that he posts a palatable BA due to an improved contact rate. Dozier is a fine buy-low candidate. (Boyd)
2015: 28-77-12-.236 in 628 AB
mid-May 2016: 4-14-2-.222 in 117 AB
final 2016: 42-99-18-.268 in 615 AB
Adam Duvall: His power is enough to get to a .250 BA, and if he's playing regularly, that should come with 25 HR. Plus, his the contact still has a chance to improve. Worth some speculation. (Cederholm)
2015: 5-9-.219 with a 59% ct% in 64 AB
2016: 33-103-.241 with a 70% ct% in 552 AB
Jacoby Ellsbury: Wasn't the same following May knee injury. Power was already mediocre but plate skills plunged and running game never recovered following July return. Young enough to rebound, and both his BA and SBs should, if he's healthy. But lower body injuries make this skill set riskier than ever. DN: 2015 repeat. (Thompson)
2015: 7-33-21-.257 in 452 AB
2016: 9-56-20-.263 in 551 AB
Danny Espinosa: Injuries afforded him an everyday job for most of 1H, and he took full advantage. Contact rate rebounded to tolerable levels and brought back memories of 2011-12. Regular PT dried up in 2H, and ct% deteriorated in part-time work. But 1H is enough to rekindle our interest (we're suckers like that). With 450 AB ... UP: 20 HR/10 SB. (Murphy)
2015: 13-37-5 in 367 AB
2016: 24-72-9 in 516 AB
Prince Fielder: An impressive, fully skills-supported comeback from 2014 neck surgery… for a half. Subsequent 2H collapse lowlighted by troubling plunges of HctX and xPX. We may not know if neck started bothering him again, but recovery gets less likely as he gets deeper into 30s. xBA says even a repeat may be too much to ask. (Murphy)
2015: 23-98-.305 in 613 AB
2016: 8-44-.212 in 326 AB; retired due to injury
Logan Forsythe: Forsythe took full advantage of regular playing time, and while gravity is a powerful force, the BPIs suggest he'll hold many of 2015's gains. He's projected to lead off for TAM entering 2016, which could lead to an even higher AB total, making him a good bet to post double-digit value again in 2016. (Bloomfield)
2015: 17-68-.281, $19 in 540 AB
2016: 20-52-.264, $14 in 511 AB
Freddie Freeman: He did have a breakout of sorts, but it was limited to the first half; he injured his wrist in late June and wasn't the same after that. His first half projects to 25+ HR, 90+ RBI, and a near-.300 BA. Elite HctX, strong power, and consistency make him a safe pick with quite a bit of upside. Don't let him slip past you in the 4th round. (Cederholm)
2015: 18-66-.276 in 416 AB
2016: 34-91-.304 in 589 AB
Evan Gattis: Move to AL/primary DH role suited him well as he posted career bests in AB, HR and RBI. Corresponding BA sink prevented any gain in R$, but xBA points to recovery. Newfound struggles vLHP are likely a sample size quirk. With rebound vL, and a blend of 2015 ct% gains with prior FB%/xPX, then... UP: 35 HR. (Pyron)
2015: 27-88-.246 in 566 AB
2016: 32-72-.251 in 447 AB
Yasmani Grandal: A tale of two halves. Promising ct% rebound in 1st half delivered BA results. Left shoulder woes in 2nd half sapped h%, HctX, PX; October surgery the result. Plate approach remained strong throughout, which bodes well for 2016 comeback. With post-surgery health... UP: 25 HR. (Dodge)
2015: 16-47-.234 in 355 AB
2016: 27-72-.228 in 390 AB
Randal Grichuk: Grichuk has 25-HR potential, but the worry is that his dreadful plate control (0.20 Eye) could hinder his offensive output and ultimately cost him playing time. An inflated h% artificially inflated his BA, masking the poor ct% and BA downside. While there is upside here, there could be some growing pains in the short-term, so be careful not to overpay on draft day. (Pyron)
2015: 17-47-.276, 0.20 Eye in 323 AB
2016: 24-68-.240, 0.20 Eye in 446 AB
Jedd Gyorko: Demoted to minors in June after slow start. Returned in July and demonstrated significant improvement, particularly vs RHP. xPX says 2013 power level (23 HR) still within reach. Dual eligibility in MI is a nice addition, but substandard bb% and Eye ensure a BA drag. (Dodge)
2015: 16-57-.247 in 421 AB
2016: 30-59-.243 in 400 AB
Bryce Harper: Finally! Consolidated skills with remarkable consistency. Doubled bb%, improved ct% and HctX, pushed pitches/PA into elite territory (4.09) to deliver his first four-figure OPS. This may well be the dawn of an epic career, but regression is a powerful force (see h%, hr/f, health), so don't canonize him just yet. (Dodge)
2015: 42-99-6-.330, 37% h%, 27% hr/f in 521 AB
2016: 24-86-21-.243, 27% h%, 14% hr/f in 506 AB
Eric Hosmer: Sizzling '14 postseason translated to '15 rebound, tabbing career-best OBP thanks to Eye/bb% recovery and improvement vs. LHP. xPX and steady GB% don't point to a power surge yet, but at 26, could add some loft to his swing entering his prime. With durability and 2H upticks in HctX/ct%... UP: 25 HR. (Dopp)
2015: 18-93-.297 in 599 AB
2016: 25-104-.266 in 605 AB
Matt Kemp: Identical 2H surge to last year (17-58-3-.298), which many thought would be the springboard to a better start in 2015. But, no. 1H displayed inflated GB% and depressed power similar to 2014 as well. For 2016? Ongoing HctX and running game uptick are encouraging. Health remains a risk, but with it... UP: 30 HR (Thompson)
2015: 23-100-.265 in 596 AB
2016: 35-108-.268 in 623 AB
Evan Longoria: The more moderate power and batting average levels displayed the past two seasons are still worthy of a top ten 3B, and three straight years without a trip to the DL means that health is no longer a major concern. Paying for 2014-2015 levels will probably earn a profit with nothing more than a repeat season from Longoria, but there's still upside from there given the skills he owns from just a few years ago. (Boyd)
2014: 22-91-.253, in 624 AB
2015: 21-73-.270, in 604 AB
2016: 36-98-.273, in 633 AB
Jonathan Lucroy: Lucroy's long track record of excellent skills and 2H rebound suggest he's more than capable of being a premium option behind the dish. The risk with Lucroy is whether or not his concussion will have lingering effects in 2016. Lucroy was medically cleared in late September, and MIL was cautious with him upon return, so an offseason of rest means a buying opportunity is looming. (Bloomfield)
2015: 7-43-.264 in 371 AB
2016: 24-81-.292 in 490 AB
Brad Miller: Carries legitimate breakout potential heading into the 2016 season, as both his skills and production experienced nice growth from 2014 to 2015. He has been excellent this spring (1.031 OPS, 0.75 Eye in 22 AB). If he could become even merely acceptable against lefties, Miller could deliver on his 20/20 upside. (Nickrand)
2015: 11-46-.258 in 438 AB
2016: 30-81-.243 in 548 AB
Daniel Murphy: Scariest part about secondary speed contributors is that an injury can wipe it out immediately: Had just 1 attempt after returning from June's quad injury. Has enough ct% to sell out for more pop to cover speed loss. Or just bottle up that 2H power surge that carried through post-season. Either way, UP: 20 HR. (Sporer)
2015: 14-73-.281 in 499 AB
2016: 25-104-.347 in 531 AB
Mike Napoli: Has experienced declines in multiple areas over recent years. That said, at age 34 it's too early to dismiss the elite power skills he used to own. And he has been one of the best hitters in any AL camp so far this spring. (Nickrand)
2015: 18-50-.224 in 407 AB
2016: 34-101-.239 in 557 AB
Roughned Odor: At age 22, Odor is still several years away from what we would normally project as his peak. But there isn't any guarantee that he will take that long. There's a scenario in play here where he gets off to a good start, moves up near the top of the Texas lineup, cleans up his SB efficiency, and hangs up a .280 BA with 20/20 or even 25/25 for HR/SB counts. Sure, even Odor's biggest fans would say that even if he has that in his future, it's probably a few years out. But any measurement of an average growth curve has outliers on either side, and Odor's tools at least hint at the possibility that he can come on quickly. (Murphy)
2015: 16-61-.261-6 SB in 426 AB
2016: 33-88-.271-14 SB in 605 AB
David Ortiz: Expect lots of nostalgic remembrances as Ortiz says goodbye in 2016. Last year, it looked like the age-related decline had begun when his numbers suffered in the first half. But after a strong second half, the usual solid stat line came through—consistent plate patience, good contact, hard-hit balls, light-tower power. While there could be some age-related slippage, nothing currently hints at it. If you're willing to lock in at UT with a DH-only hitter, ride Ortiz as he rides off into the sunset. (Adler)
2015: 37-108-.273 in 528 AB
2016: 38-127-.315 in 537 AB
Stephen Piscotty: Is another young multi-position bat with an interesting assortment of skills (127 PX, 146 Spd). His high level of hard contact (125 HctX) confirms he has good raw power ability, and his average flyball distance of 305 feet was among the top-15 highest of any bat in 2015. He'll need to improve his pitch recognition (76% ct%, 0.36 Eye) to take a big leap forward, but power speculations don't get much better than Piscotty. (Nickrand)
2015: 7-39-.305 in 233 AB
2016: 22-85-.273 in 582 AB
Jose Ramirez: Has been overshadowed by top prospects like Correa, Lindor, and Odor among AL MI. However, few bats have been more skilled since the ASB than Ramirez: 10% BB%, 90% ct%, 1.18 Eye, 135 Spd, 89 BPV. Ramirez's combination of plate control and speed will give him significant SB potential heading into 2016. (Nickrand)
2015: 6-27-10-.219 in 315 AB
2016: 11-76-22-.312 in 565 AB
Wilson Ramos: Whether looking at his track record, or the fact he should have improved vision, it's reasonable to expect his BA to rebound, and despite all the ground balls, he should put up solid power numbers again as well. The F Health Grade is well-deserved, so Ramos is certainly not without risk, especially in deep leagues where the replacement level is low. However, his production should improve, meaning, there's plenty of profit potential if he can avoid injury again. (Rudd)
2015: 15-68-.229 in 475 AB
2016: 22-80-.307 in 482 AB
Corey Seager: Elite prospect has hit at all levels and didn't blink vs. MLB pitching (.308 xBA, 97 BPV). Made impressive ct% gains, and HctX, xPX show he squared it up with ease. While our typical track record caveat applies with so few MLB AB, he's got skills to thrive right away. Invest. (Bloomfield)
2015: 4-17-.337 in 98 AB
2016: 26-72-.308 in 627 AB
Kyle Seager: This is the kind of boring we like, as he's the only 3B with .260 BA, 20+ HR each of last three seasons. Subtle skill growth hints there's room for more, too: ct% inched up to career-high levels, taking xBA with it; suddenly hit LHP; 2H FB% hints at more HR upside. We said it last year, and we'll say it again... UP: .285 BA, 30 HR. (Bloomfield)
2015: 26-74-.266 in 623 AB
2016: 30-99-.278 in 597 AB
Marcus Semien: In 2015, Semien acquitted himself well at the plate. Unfortunately for the A's, he also committed 35 errors, which led the majors by a considerable margin. Semien's xBA remains relatively consistent; expect a BA in the .240 range. xPX shows some power upside, and he flashes good speed. If he can cut down on the errors and stay on the field, he could provide 15+ HR and SBs. Semien makes an intriguing late-game play in most formats. (Adler)
2015: 15-45-11-.257 in 556 AB
2016: 27-75-10-.238 in 568 AB
George Springer: Three reasons to believe in an age-26 breakout… 1) Huge spike in ct%, especially in 2H; 2) Top-tier power skills in 1H; 3) Impact wheels returned down the stretch. Warts are low flyball rate—which will continue to cap HR upside—and checkered injury history. Still, he's not far from this... UP: 30 HR. (Nickrand)
2015: 16-41-.276 in 388 AB
2016: 29-82-.261 in 644 AB
Trea Turner: Top MI prospect wasn't overwhelmed in MLB call-up, barely a year after his pro debut. He hit at each stop in the minors (.322 BA), flashing some plus wheels (52 SB in 185 minor league games). If given a shot at a starting job, he's a rookie-of-the-year candidate, with 30-steal upside. (Truesdell)
2015: 1-1-2-.225 in 40 AB
2016: 13-42-33-.342 in 307 AB
Melvin Upton: Baseball's version of a bad soap opera romance plot: "It's over… but wait! No, it's really over. But wait!" Latest "but wait" came in 2H… and okay, we'll tune in next season, because he looked pretty good. UP: second half times two, wins "Best Fantasy Investment in a Supporting Role." (Truesdell)
2015: 5-17-9-.259 in 205 AB
2016: 20-61-27-.238 in 492 AB
Jonathan Villar: Though it was a tiny number of MLB AB in 2015, he did make some strides in ct% (75%) while maintaining an average bb%. Spd remains his best asset. With more consistent contact to go with Spd, GB%, bb%, and a fresh opportunity... UP: 40 SB. (Pyron)
2015: 2-11-7-.284 in 116 AB
2016: 19-63-62-.285 in 589 AB
2016 Pitchers
Zach Britton: As good as he was in 2014, 2015 was even better. GB rate is just silly; those 3 HR allowed must have been quite a shock. Has added whiffs to arsenal; SwK says they're here to stay. FpK says same about improved Ctl. LHB in particular have no shot. Maybe he's got one last year of being slightly underappreciated. Ha! (Olson)
2015: 36 saves, 1.92 ERA in 64 IP
2016: 47 saves, 0.54 ERA in 67 IP
Alexander Colome: A mid-year switch to the bullpen in 2015 allowed Colome to boost the velocity on his fastball and slider, with impressive results. Colome's second-half BPV was a more-than-closer-worthy 150. If anyone is going to take the Rays closer job and run with it in Boxberger's absence, the home-grown Colome is probably the best bet. (Olson)
2015: 0 saves, 3.94 ERA in 110 IP
2016: 31 saves, 2.05 ERA in 48 IP
​​​​Anthony​ DeSclafani: Used curveball more as season progressed, became primary third pitch by Aug. Above average FpK, 2013 MLE support elite Ctl, and he added more GB% to mix as well. Could fly under radar thanks to elevated 2H H%, hr/f masking late growth. Final 11 GS: 9.0 Dom, 7.2 Cmd, 3.23 xERA. Huge sleeper potential. (​Kruse​)
2015: ​9​ wins, 4.05 ERA in 185 IP
2016: ​​​9 wins, 3.28 ERA in 123 IP
Sam Dyson: Dyson's already impressive improvement after converting to the pen was hastened by his arrival in Texas and the tweaks to his arsenal. The manner in which his skills exploded after focusing on his sinker, with prodigious GB% and elite Cmd sub-indicators, evokes the growth of Zach Britton. The Rangers lack a bonafide closer, and Dyson won't cost much more than $1 or a reserve pick in most leagues. Speculate. (Boyd)
2015: 2 saves, 2.63 ERA, $8, in 75 IP
2016: 34 saves, 2.66 ERA, $20, in 64 IP
Jerad Eickhoff: Only has eight MLB starts under his belt and doesn't have a top-prospect pedigree, but posted excellent skills during those eight games in 2015 (110 BPV). He has two legit swing-and-miss pitches: 25% SwK% on slider, 16% SwK% on curveball. His ability to break out in 2016 will be dependent upon refinement of his changeup, a pitch that could help him improve his mediocre skills against LH bats. There's some nice profit potential here. (Nickrand)
2015: 3 wins, 2.65 ERA, $5 in 51 IP
2016: 11 wins, 3.65 ERA, $12 in 197 IP
Yovani Gallardo: While career-best ERA suggests he rekindled glory days, career-worst xERA quickly refutes it. Lost another mph on fastball (now -2.3 mph since 2011), while meager SwK further supports Dom's downward spiral. Repeat odds are slim to none, and if 2H BPV collapse is any indication, we could be in for... DN: 4.50+ ERA. (Bloomfield)
2015: 13 wins, 3.42 ERA in 184 IP
2016: 6 wins, 5.42 ERA in 118 IP
Zack Greinke: Greinke enjoyed a phenomenal 2015 campaign, as his BPIs remained strong. However, he also had a lot of luck on his side, including a 24% H%, 84% S% and 7% hr/f; he'll have a difficult time replicating his 2015 performance. Savvy owners will use xERA as a guide and allow their leaguemates to chase that shiny sub-2.00 ERA. (Pyron)
2015: 19 wins, 1.66 ERA, 3.14 xERA in 223 IP
2016: 13 wins, 4.37 ERA, 4.09 xERA in 159 IP
Cole Hamels: Some will see 2H ERA spike and worry about league change, but xERA, BPV splits show there was no real difference in rock-solid skills. Only some nagging injuries the last couple of years give any pause, and even those haven't hurt IP totals much. Play up that 2H ERA, and you might score an ace for the price of a jack. (Truesdell)
2015: 13 wins, 3.65 ERA in 212 IP
2016: 14 wins, 3.24 ERA in 181 IP
Jason Hammel: Slowed a bit by 2nd half hammy, but another solid year. The key: he's thrown his best pitch, the slider, more than ever (over 1/3 of the time in '15), and results speak for themselves. This seems tied to elbow health, as his down '13 further suggests. So there's the rub. Nice upside pick—after you grab your core guys. (Truesdell)
2015: 10 wins, 3.74 ERA in 171 IP
2016: 14 wins, 3.50 ERA in 152 IP
Jeremy Hellickson: Was very inconsistent in 2015, but we shouldn't forget about the elite skills he posted in June (132 BPV) and July (127 BPV). His overall 11% SwK% and 64% FpK% are the highest they have been since his rookie season in 2010. He'll have some solid profit potential next March. (Nickrand)
2015: 9 wins, 4.62 ERA, 1.33 WHIP, -$4 in 146 IP
2016: 12 wins, 3.71 ERA, 1.15 WHIP, $12 in 189 IP
Kyle Hendricks: Hendricks had a solid first full season in the majors, and judging by the ERA/xERA gap and the low win total, he could have easily provided significantly more value. His prior track record and low velocity suggest Hendricks shouldn't be counted on for a strikeout per inning, but he can still provide positive contributions in that category. Combined with stellar control and a heavy ground ball tilt, he looks like a very attractive target on draft day. (Rudd)
2015: 8 wins, 3.95 ER in 180 IP
2016: 16 wins, 2.13 ERA in 190 IP
Kelvin Herrera: Though Herrera's 2014-2015 skills are somewhat lacking, his command sub-indicators are on-par with some of the elite relievers in the game. At 26 years of age, with a history of elite skills (2013: 2.95 xERA & 144 BPV), and a potent FB/CU combo, Herrera may be undervalued in skill-savvy leagues. (Boyd)
2015: 0 saves, 2.71 ERA, 81 BPV, $6 in 70 IP
2016: 12 saves, 2.75 ERA, 175 BPV, $14 in 72 IP
J.J. Hoover: Hoover posted a 2.94 ERA in 2015, thanks largely to H%/S% luck, as his underlying metrics were horrid. His modest Dom and putrid Ctl resulted in dreadful 1.7 Cmd. His 2H FB% (49%) is troubling, particularly given his home park (+31% LHB HR; +17% RHB HR). This is not a skill set that typically succeeds, especially in the closer role. (Pyron)
2015: 1 Save, 18 Holds, 2.94 ERA, 4.46 xERA, 32 BPV in 64 IP
2016: 1 Save, 1 Hold, 13.50 ERA, 6.62 xERA, -15 BPV in 19 IP
Kenley Jansen: The curious case of an über-elite closer with a brittle body. Has combined filthy cutter/slider with pinpoint control, and soaring FpK supports it. Even halted increasing struggles vL. Besides near-flunking health, only bugaboo is all those FBs, but with his command, that risk is tiny. With full season of health... UP: 50 Sv. (Nickrand)
2015: 36 saves, 2.41 ERA in 52 IP
2016: 47 saves, 1.84 ERA in 69 IP
Jeremy Jeffress: High-octane RP with history of drug issues found home in team of pen that drafted him. 3 reasons he's legit closer material now… 1) 4 yrs of Cmd gains; 2) unique combo of Ks and GBs; 3) handled 2H high-leverage use with ease. Subpar FpK reminds us of prior bad Ctl, but that's his only risk now. UP: 30 SV. (Nickrand)
2015: 0 saves, 2.65 ERA in 68 IP
2016: 27 saves, 2.33 ERA in 58 IP
John Lackey: Barring another serious wave of good fortune, Lackey isn't going to repeat 2015's career year, but the skills are in place for another productive season. He's stingy with the free pass and misses enough bats to put Cmd in favorable territory. It's hard to recommend a pitcher coming off a luck-fueled year, but Lackey still has the goods to post a 3.50 ERA in 2016. (Bloomfield)
2015: 13 wins, 2.77 ERA in 218 IP
2016: 11 wins, 3.35 ERA in 188 IP
Mike Leake: Put up a solid 3.70 ERA and 1.16 WHIP in 2015, marks that helped him return $10 value. Problem is, those stats did not come with underlying skill support: 5.6 Dom, 2.3 Ctl, 52% GB%, 68 BPV. His inability to miss bats (7% SwK%) doesn't foretell a surge in strikeouts. And we can't bank on another 26% H% to help him again. Don't be surprised if Leake posts a 4+ ERA in 2016. (Nickrand)
2015: 3.70 ERA, 1.16 WHIP in 192 IP
2016: 4.69 ERA, 1.32 WHIP in 177 IP
Jon Lester: Got off to a slow start by his standards, but rebounded with superb 2H. GB% reversed a three-year decline and paired well with continued Dom rebirth (which SwK% backs), all of which peaked after July 1. If he can hang on to 2H Cmd/GB%, then... UP: his first skill supported sub-3.00 ERA. (Pyron)
2015: 11 wins, 3.34 ERA in 205 IP
2016: 19 wins, 2.44 ERA in 203 IP
Shelby Miller: Season-long storyline was the old witticism, "he should sue for non-support," per record/ERA juxtaposition. Skills say he has little to gripe about. PRO: Recovered some lost Cmd, GB growth always helpful. CON: Subpar Dom and Cmd; xERA puts to rest any argument that he was unlucky. ERA downside outweighs W/L upside. (Murphy)
2015: 6 Wins, 3.75 ERA in 205 IP
2016: 3 Wins, 6.15 ERA in 101 IP
Jonathan Papelbon: Consistency on surface, but this was a tale of two halves. Dominant 1st half propelled by Dom, SwK, FpK "revival," but once those flattened, 2nd half BPV followed suit. Which to believe? Premium fastball velocity a distant memory; only 14% SwK on slider/splitter after Aug (20% before). Proceed with caution. (Dopp)
2015: 24 saves, 2.13 ERA in 63 IP
2016: 19 saves, 4.37 ERA in 35 IP
James Paxton: Has struggled a lot so far this spring (9.00 ERA, 6/5 K/BB in 11 IP). It has helped Nate Karns move ahead of him in the battle for the fifth spot in the SEA rotation. When healthy, Paxton has shown the ability to generate both strikeouts and groundballs, and he owns a mid-90s fastball. Don't write him off. (Nickrand)
2015: 3 wins, 3.90 ERA, 7.5 Dom, -$4 in 67 IP
2016: 6 wins, 3.79 ERA, 8.7 Dom, $3 in 121 IP
Drew Pomeranz: Will enter camp in a battle for a spot somewhere on the SD staff, likely near the back-end of their bullpen. That kind of role ambiguity makes him a great LIMA target, as his IP projection is low. Pomeranz has the upside to stick either as a SP or RP. In fact, he posted a 114 BPV as a SP in April 2015 before he was sent to the bullpen due to a shoulder concern. Few relievers were better than Pomeranz over the last two months of 2015 (28/2 K/BB in 21 IP). He has the upside to close or to develop into an upper-rotation SP. (Nickrand)
2015: 5 wins, 3.66 ERA, $4 in 86 IP
2016: 11 wins, 3.32 ERA, $14 in 171 IP
Rick Porcello: Porcello's 2015 campaign wasn't nearly as bad as the surface stats show, as nearly all of his skill indicators point to improvement in 2016. His post-DL skill spike is certainly an encouraging sign, and while we're skeptical Porcello can hold 2015's Dom gains, an excellent Ctl/GB% baseline could push his ERA below 4.00. With an ADP north of 300, Porcello's a decent bet to return some profit as you fill out the back end of your fanalytic rotation. (Bloomfield)
2015: 9 wins, 4.92 ERA in 172 IP
2016: 22 wins, 3.11 ERA in 217 IP
Danny Salazar: We are projecting him to essentially repeat his 2015 season, while GMs are (over?) paying for continued growth. Maybe this is a reach by desperate GMs rolling the dice to catch up and fill empty pitcher slots. It's a gamble, though. (Cederholm)
2015: 14 wins, 3.45 ERA in 185 IP
2016: 11 wins, 3.87 ERA in 137 IP
Aaron Sanchez: Does not have strong projected skills, as he struggled with his command as a SP in 2015. However, his combination of an extreme groundball tilt and mid-90s stuff gives him an impressive ceiling. He's fulfilling it so far this spring: 15/3 K/BB in 13 IP. With his current 380 ADP, Sanchez carries some nice profit potential. (Nickrand)
2015: 7 wins, 3.22 ERA, 1.28 WHIP, $4 in 92 IP
2016: 15 wins, 3.00 ERA, 1.17 WHIP, $20 in 192 IP
James Shields: A model of durability (8 straight seasons with at least 33 GS), but a few cracks are showing: doubled his walk rate; LHB beat him up; and HR followed him around all year. Still deftly avoids DIS starts and FpK/SwK point to a Cmd rebound, but if the 2nd half represents the tip of the decline, then DN: 4.00+ ERA. (Hershey)
2015: 13 wins, 3.91 ERA in 202 IP
2016: 6 wins, 5.85 ERA in 182 IP
Huston Street: Early warning or 2nd half aberration? Previously reliable FpK was M.I.A. all season. Typically elite Ctl became a real 2nd half problem as both ERA/xERA, H% soared and LHBs suddenly owned him. Even with velocity now dipping under 89 mph, SwK says he's still missing bats. Now owns both performance and Health risk. (Thompson)
2015: 40 saves, 3.18 ERA in 62 IP
2016: 9 saves, 6.45 ERA in 22 IP
Noah Syndergaard: Highly anticipated debut from flame-throwing phenom who didn't disappoint. Late-season gopheritis was neutralized by dominance and GB tilt. Control, repertoire, poise and youth all point to sky-high ceiling, which could come quickly. With luck… UP: 18 wins, 2.50 ERA, 200 Ks. (Thompson)
2015: 9 wins, 3.24 ERA, 166 K in 150 IP
2016: 14 wins, 2.60 ERA, 218 K in 184 IP
Masahiro Tanaka: Forearm and wrist woes that shelved him for all of May looked like the beginning of the end, but elbow held up throughout 2nd half. And despite being more HR-prone, command and GB% remained near-vintage as velocity actually ticked up. Despite October surgery to remove bone spurs, skills say he's worthy of risk allocation. (Thompson)
2015: 12 wins, 3.51 ERA in 154 IP
2016: 14 wins, 3.07 ERA in 200 IP
Tony Watson: SwK dip and fewer sliders explain the Dom loss, but change-up got better and raw skills still have K/IP potential. Ability vR has paid off with the largest workload of any reliever, since 2013 (224 IP). Sustained excellence + increasing LI + these skills = closer-worthy arm. "Draft skills, not roles" posterboy. UP: 20 SV. (Sporer)
2015: 1 save, 1.91 ERA in 75 IP
2016: 15 saves, 3.06 ERA in 68 IP
Free Weekly eNewsletter
The industry's #1 analytical weekly e-mail newsletter is ABSOLUTELY FREE!
More Information
Shopping Cart
Listen to Baseball HQ's weekly audio programs.
Subscribe today!
Learn More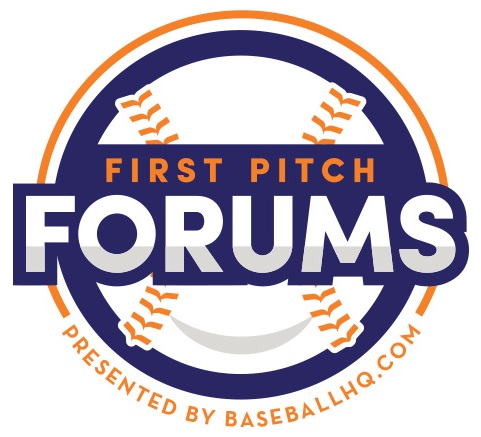 "Beyond the Wisdom of the Crowd"
Sat, February 25th: CHICAGO
Sun, February 26th: ST. LOUIS
Fri, March 3rd: DC/VIRGINIA
Sat, March 4th: NEW YORK/NEW JERSEY
Sun, March 5th: BOSTON
Sat, March 11th: LOS ANGELES
Sun, March 12th: SAN FRANCISCO
REGISTRATION NOW OPEN!